St Augustine Watling Street (Tower and Steeple)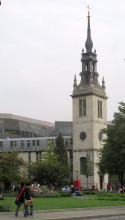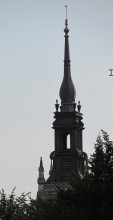 St Augustine Watling Street, tower and steeple of 1695.
Just to the East of St Paulís Cathedral, just by the St Paulís Churchyard and essentially within the precinct, is the remaining tower of the bombed Christopher Wren church of St Augustine Watling Street. There had been a church on the site since the 12th Century at least, and Strype, the historian, tells us that the fraternity of St Austinís met there for celebrations from the late 14th Century. Two monuments are recorded from the pre-Fire church, to Henry ReadWilliam Dere, both of whom died in 1450. After destruction in the Great Fire, Wren rebuilt the Church in 1682-3, as a rather small structure, 51 ft long, 45 ft wide, and 30 ft high in the central nave, with two aisles separated by Ionic pillars. The interior has been described as rather plain, but pictures of the interior do show a couple of small wall monuments, as well as a grand altarpiece, tall, Baroque and with several Corinthian pillars and four painted panels with a central oval above depicting Christ. The Church also had a pulpit Ďof oak finely embellished with carved Cherubims, Leaves, Fruit &c'. A tower and spire was added a few years later in 1695, Ďbeing a Tower with Acroteria, a Cupola, a Lantern adorned with Vases, and a Spire whose lower Part is of a parabolical Form.í
.
Second World War bombing destroyed the Church, but happily the tower survived with the beautiful steeple, impossibly fragile-looking, slender and elegant. A brutalist excrescence has been added to replace the nave, and forms the St Paulís Choir school. But the view with St Paul's dome behind remains as Wren intended.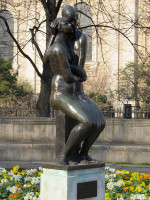 Georg Ehrlich's sculpture 'Young Lovers'.
Close by is statue called bronze group entitled The open space and flowers around do not indicate this as Watling Street, but the remaining street starts a few paces away, and here is the Arthur Phillip Monument, noted on a separate page.

Christ Church Newgate ruins, just north of St Paul's // St Martin's Ludgate to West // East to St Mary le Bow

Another surviving Church Tower - All Hallows Staining // and St Alban's Wood Street

City Churches // Christopher Wren // London sculpture // Sculptors

Visits to this page from 1 Oct 2014: 3,693