St Alban's, Wood Street, and its former sculptural interest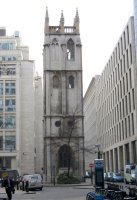 Tower of St Alban's, Wood Street.
St Alban's Wood Street stood just north of Guildhall, south of London Wall. Only the tower from "Wren's 1682-7 church survived bombing in World War II, yet it is worth recording on these pages for two reasons.
Firstly, it is a rare example of a Gothic Wren design, 'another of Wren's attempts at Gothic, but it is hardly worth description' as a Victorian Gothicist architect sneeringly dismissed it. The site is supposedly where the 8th Century king, Offa, had his palace; St Alban's Abbey owned the church in the 11th Century, along with several others in the City, and the church as described by Stow in 1600 had some Roman bricks amongst the stonework – as indeed, St Alban's Cathedral does. Stow described this pre-Fire church as 'a proper thing, and lately well repaired', but by the 1630s it was apparently dilapidated and was pulled down and rebuilt, only to be destroyed in the Great Fire of 1666.
The body of Wren's new church consisted of a short nave running in the direction of Love Lane, with north and south aisles of just three and two bays respectively. The surviving tower is also not large, just 12 ½ ft x 11 ½ ft, and just over 90 ft high, and the pinnacles are 19th Century replacements; it is thought Wren copied the design of the tower from the pre-Fire church.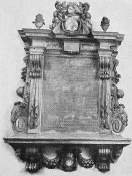 The Harvie monument, d.1597.
Secondly, the monuments in the church were significant, including several to the Harvey [Harvie] family, most notably the pre-Fire monument to William Harvie, d.1597. The Harvie monument came from St Michael Wood Street along with others – that church had monuments as far back as 1392 (Henry Bambrough of Skardborough), and also Sir John Cheke, d.1557, tutor of Edward VI, and others including the merchant of London Richard Wynne, d.1688. We may also note that the pulpit in St Alban's, carved with leaves and fruit and which had a hexagonal sounding board, was presented by Benjamin Harvey (d.1684), and his monument, richly carved with cherubs, an urn and an eagle at the bottom holding his family shield, survived until the WW2 bombing. Some of the monuments had interesting epitaphs, and we may note the pre-Fire one 'Of William Wilson, Joane his wife, // And Alice, their daughter deare, // These lines were left to give report // These three lye buried here; // And Alice was Henry Decon's wife, // Which Henry lives of earth, // And is the Serjeant Plummer // To Queen Elizabeth…'
Worth mention too is the large hour glass displayed in the church, once not uncommon, which the preacher could use to check his sermons were not too long or too short.
All were swept away in the WW2 bombing, and what remains is simply the tower, looking small and incongruous among the modern office blocks, unprotected even by surrounding ruins or a garden.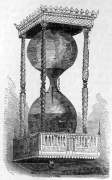 The St Alban hour glass.
Another surviving Church Tower - All Hallows Staining // or tower and steeple of St Augustine Watling Street
City Churches // Christopher Wren // London sculpture // Sculptors
Visits to this page from 1 Jul 2012: 7,849