Arthur Phillip Monument, in Watling St, St Paul's Cathedral end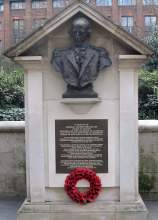 Admiral Arthur Phillip, by C. L. Hartwell.
At the western end of Watling Street, by St Paul's Cathedral, stands the monument to Admiral Arthur Phillip, founder and first Governor of Australia, 1738-1814. There is a fine early 20th Century bust, showing the Admiral as a refined, rather thin man with a high forehead and fashionably curled hair, in his dress uniform. This bust stands fills a pediment, with below, a plaque recording that he was born in the City of London in Bread Street Ward, and the memorial, of 1932, was originally at St Mildred's Church Bread Street, which was lost to bombing in World War 2. The bust and accompanying plaques were salvaged from the ruins. The bust is by the sculptor Charles L. Hartwell, and according to those estimable and thorough people at the Conway, is a resin copy of the original. The plaques, they say, are by different hands, originally both by W. Hamiton Buchan, and the one now replaced by Sharon A. M. Keenan dating from 1976 - I did not observe the signatures. These plaques on the sides of the monument are in low relief and have descriptions underneath. The one shows the landing from the ship, which is simply delineated but evocative. The second shows the fixing of the site of Sydney, with five figures, the centremost being Arthur Phillip, and the others, from left to right, Surg. J White, Lieut. George Johnston, Capt John Hunter, and Capt. David Collins. This panel is somewhat let down by the figures, which do not work well at this scale, though the windswept flag and tree in the background are good.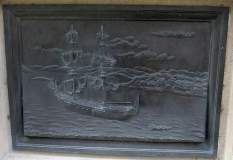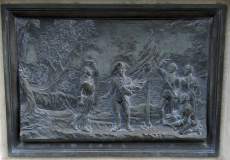 Panels on the Arthur Phillip monument.
The original of the bust, without the two plaques, stands in St Mary le Bow, Cheapside.
Arthur Phillip died in Bath, and in Bath Abbey, among the many monuments, is a simple plaque with surround and a small portrait medallion to his memory, with the inscription, also beneath the London busts, that 'To his indomitable courage, prophetic vision, forbearance, faith, inspiration and wisdom was due the success of the first settlement in Australia at Sydney, 26 January 1788'.
Those interested in matters Australian may wish to see the page on the sculpture on Australia House, Strand.
Close by to the Phillip Monument, by St Paul's Cathedral, is the church tower and steeple of St Augustine Watling Street.
London pages // C. L. Hartwell
Visits to this page from 4 Feb 2012: 4,828