John Belcher RA, FRIBA (1841–1913)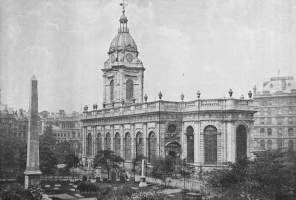 St Philip's Cathedral, Birmingham, by Thomas Archer.
The Victorian/Edwardian architect John Belcher made frequent use of sculpture in the designs of his buildings. Many of the New Sculptors contributed, and other significant sculptors of the time.

Belcher studied architecture in Paris, and then explored medieval Germanic towns, and was then first apprenticed and then a partner to his father, also called John Belcher. A while after the latter's retirement in 1875, he entered in partnership with James W James, then from 1885 was first assisted by, and then in partnership with Beresford Pite (until 1897), another interesting architect who favoured a unity of sculpture with architecture, reflected in that they were both founder members of the Art Workers Guild in the 1880s. From 1897, he took on John James Joass, who like his predecessor became a partner of Belcher, from 1905, and when Belcher died in 1913, continued the practice.
Belcher used a variety of styles, but is most familiar as an Edwardian Baroque architect, favouring white Portland Stone, sometimes combined with red brick or terra cotta. Working in partnership with the equally talented Beresford Pite, and later J. J. Joass, it is not obvious in some buildings how much is his and how much his partners' design, but it seems clear firstly that he worked in harmonious collaboration with their similar instincts, so in a sense it does not matter, and secondly that as he became less well in the late 1900s and his influence on the firm's designs waned in favour of Joass, so the buildings became rather plainer.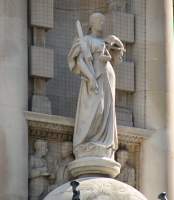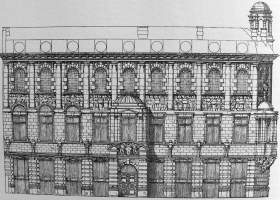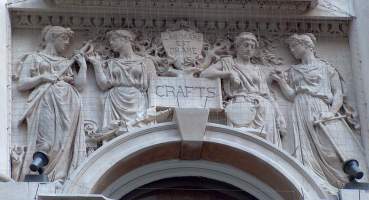 Plan and sample sculpture from the Institute of Chartered Accountants building.
His surviving buildings in London are several. The most important ones are in or close to Moorgate in the City. The earliest of these, of great influence on other architects, is the Institute of Chartered Accountants, just off Moorgate in Great Swan Alley. This building, unfortunately hemmed in by narrow streets, is liberally encrusted with architectural sculpture by Hamo Thornycroft and Harry Bates.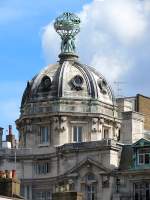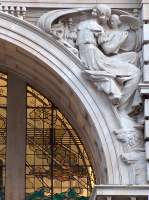 Dome of Electra House, Belcher and Joass, and detail of architectural sculpture.
Just down the road is Electra House (completed 1903), the subject of a separate page on this site, with sculpture by Alfred Drury, F. W. Pomeroy, George Frampton and Goscombe John. And continuing north brings us to Finsbury Square, wherein is found the former Royal London Friendly Society building, with a great keystone head by Alfred Drury, and other sculpture.
A very familiar building to the west of town is the former Whiteleys Building, completed in 1912, a massive building with sculpture by A. Broadbent and Crosland McClure. And these two sculptors also collaborated on the much slighter ornament of Belcher and Joass's Royal Society of Medicine building close to the back of John Lewis, at the corner of Henrietta Place and Wimpole Street.
Not far off along Oxford Street, nos. 158-162, the block next to HMV on the corner of Winsley Street (down which can be seen the spire of Butterfield's All Saints Margaret Street), is also by Belcher and Joass, though here the ornament is scant indeed. It is illustrated half way down the page on eastern Oxford Street.
Rather better, opposite the excellent Norwich Union building in Piccadilly, on the other corner with St James Street, and just one block down from the Ritz, is the Royal Insurance Building by the partnership, also late Edwardian, with a panel again by Alfred Drury, ceramic lions, and pairs of unpleasant cherubs higher up – see the Piccadilly page.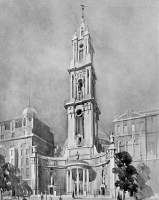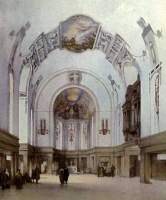 Holy Trinity Kingsway, exterior and interior.
Inevitably, some of Belcher's buildings have gone. Only the frontage of Holy Trinity Kingsway is preserved, as the outer shell of the Food Standards Agency. His influential Mappin and Webb building built at the end of Queen Victoria Street in 1870 was demolished in the 1990s, and lost too is a building in Hanover Square which had a frieze of figures at 2nd floor level, and other ornament higher up.
He also has some significant buildings outside of London. In Colchester is the landmark building of that town, the Town Hall, featured on the Colchester page on this site, and the tower can be seen to the right here as the background picture. In Cambridge, his is the Guildhall. And in Lancaster, he made the huge Ashton Memorial, which I have seen only in pictures, but which in spirit seems to be a noble Edwardian Baroque version of the Mausoleum.