F. W. Pomeroy RA (1856-1924)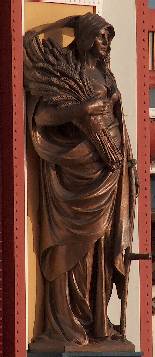 Agriculture on Vauxhall Bridge.
The sculptor F. W. Pomeroy was born in London, and worked at a firm of architectural carvers before becoming one of the many sculptors trained by W. S. Frith at the South London Technical School of Art, where he also was taught by Dalou. In 1881, he was able to enter the Royal Academy Schools, winning many prizes, and from whence he went to Paris (working under Mercie) and then Italy through a travelling scholarship. On return to London, he became an important figure in the New Sculpture movement, showing works at the Arts and Crafts Exhibition Society from 1888, and at the Royal Academy from the same year.
His early work consisted mainly of bronze ideal statues, often in small size, and much decorative modelling and carving. Later on he seems to have done rather more in the way of monuments. His Nymphs of Loch Awe was bought under the terms of the Chantrey Bequest in 1897. He was elected ARA in 1906, and RA in 1917.
Many of his female figures, for architectural adornment especially, have a characteristic solidity and muscularity of Amazons, but his style is firmly within the New Sculpture movement.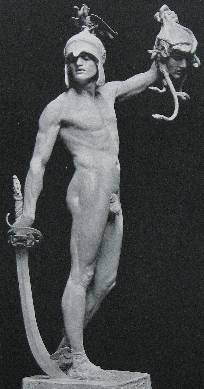 Perseus
Perhaps Pomeroy's best known statuette is Perseus, which was much reproduced and exists in versions in several museums, one of several nude male figures he sculpted. His largest outdoor works must surely be the four enormous figures on the upstream side of Vauxhall Bridge in London, unnoticed by so many people hurrying across the Thames every day. Dating from 1907, they represent: Pottery, Engineering (with a nice piston engine), Architecture (holding a miniature St Paul's Cathedral - see this page) and Agriculture (with a scythe).
Some of his other notable works are Dr Hook in Leeds City Square, Gladstone in the Houses of Parliament, the effigy of Dean Hole in Rochester Cathedral and the Boer War Memorial at Guildhall. Among much architectural decoration, we may mention exterior and interior work on Sheffield Town Hall, and also on the exterior of Paisley Town Hall, and in London figures for Electra House in Moorgate, now the City of London College, and the figures of Justice, Truth, Fortitude and the Recording Angel for the Central Criminal Court, Old Bailey. The last of these, shown below (click to enlarge), is surely one of the most exquisite profile figures in Victorian sculpture.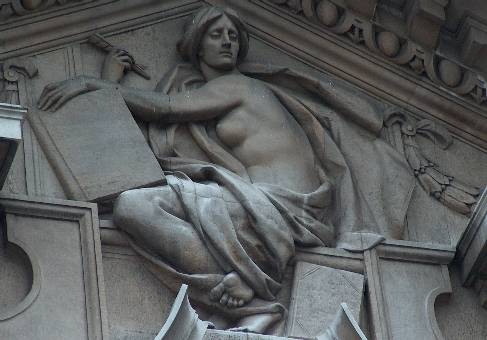 Recording Angel figure for the Old Bailey.
Visitors to this page since 13 Mar 2014: 6,218