St Peter in Thanet Parish Church Monuments
St Peter in Thanet, the Parish Church of Broadstairs, lies a little inland from the station. It is a low building of flint, with a short battlemented tower of the 15th Century, one full-length and one short aisle not much less high than the nave, which dates from Norman times. Inside, the feel is of breadth in the nave, height in the aisles, the two being separated by short, heavy pillars and rounded arches. The monuments, over 40 of them, are scattered around the walls and on the spandrels between the arches. They include a couple of grand panels from the late 17th Century, about 10 18th Century monuments, including a pair of altar tombs, then a good collection of 19th Century panels with examples from almost every decade of that century, which is good for those seeking a representative collection of the age. The collection is rounded off with five panels from the inter-War years of the 20th Century. Along with plain panels and simple Classical designs, the Church is particularly rich in obelisk monuments, and has as well two cartouches, and a few pieces of figure sculpture alongside the various draped and undraped pots in high relief.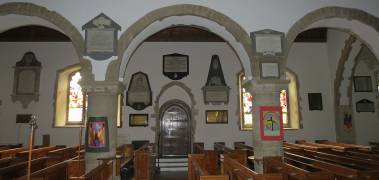 St Peter in Thanet, interior view with monuments.
Monuments
Altar tombs to Manases Norwoode and the heirs to the Pawlyn family:
We start with the two blocky altar tombs and the ledger stone (flat slab set in the floor) between them, this latter dedicated to Manases Norwoode, d.1636, of Dane Court and Norwoode. The ledger stone is interesting in that as well as the inscription and shield of arms, it bears a relief portrait of the deceased, showing a middle aged man with curled hair and pointed beard, and wearing plate mail – his funeral helm in plate is also in the Church. To either side are more shields of arms, six in all.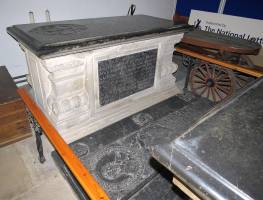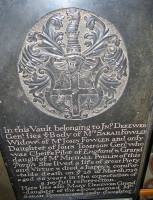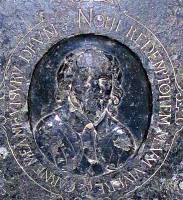 The altar tombs, and slabs to Sarah Fowler and Manases Norwoode.
Sarah Fowler, d.1726, 'Widow of Mr John Fowler and only Daughter of John Tompson General, who was Cheife Pilot of England & Grand daughter of Mr Michall Poulin of this Parish'. Also Mary Dekewer, her grand-daughter (and thus a link to another grand family, noted further down this page). An altar tomb, thus a great chest, made of pale stone, with heavy, squat pillars at the corners, panel on the side, and a large slab of black marble on top, with the inscription, which also notes that this is the vault belonging to Ino [John] Dekewer (or De Kewer). As often the case with a ledger stone, above the inscription is a depressed circle, within which is the relief carving of a coat of arms, which is here beautifully preserved and crisp in detail. A panel on the side of the monument records the death of John Dekewer etc.
Robert Huggett, another grand altar tomb, to the 'sole Heir of the Pawlyns, and ancient Family of STONE in this Parish', and wife Sarah (Omer), d.1737, and son Paulyn, d.1751 (the eldest son, Revd. Roger Huggett, also has a memorial, noted further down this page). With a similar great black slab on top to the Sarah Fowler tomb, and another splendid coat of arms, with stags. On the side of the tomb is a commemorative panel to Mary Brook, d.1729, aunt of Robert Huggett, who erected the tomb.
A sign by the monuments notes the complex family tree of the Norwood family.
17th Century tombs to the Lovejoy family:
George Lovejoy, d.1685, with a long Latin inscription. A large wall panel, white marble and gilt, with figure sculpture. The inscribed panel is a perfect oval with a wreath of carved olive leaves around it. This is within a rectangle, with the four corners filled with low relief ribbons winding upon themselves to fill the space. To left and right are pilasters, which in a fashion of the time, have the ornament on the shafts rather than the capitals: a mix of fruit and flowers hanging from a cord knotted at the top (picture below right; colour changed to increase contrast). Outside of these are the S-shaped scrolls common on such monuments, but unusually instead of having one, there are two on each side, with the inward sweeping curve filled with naturalistically carved flowers, fruit and grain. Above is an entablature with a low relief frieze of leaves and flowers, crossed bones at the sides to remind us of mortality (thus Memento mori), and with a prominent gilt winged cherub head staring out from the centre, plump and self-satisfied in its expression. On top, the pediment, almost semicircular, broken at the top to fit a cartouche, with gilt shield of arms. To left and right are free-standing figures of angels. She on the left as we look at the monument has her gaze directed upward, and carries in one hand some mass of drapery or bag; her clothes are loose, vaguely Classical, leaving the arms bare and with split skirts mid-thigh to show muscular legs. She on the right is more medieval in dress, with a sleeved garment on top, with straps crossed between the breasts, a belt under which her upper garment flares out, and a thicker skirt underneath which falls to the ground behind. There is an easy grace to these figures, showing the hand of a skilled sculptor. Underneath is a suitably solid shelf, and then a small, broad panel with a further inscription to Elizabetha Lovejoy, d.1683(?); the panel is carved as a hanging drape, with fringes at the bottom edge, which is the convention. At the sides, the usual supporting brackets have here been transformed into pendant pineapples. A splendid thing. There is a black floor slab to George Lovejoy too, with inscribed shield of arms, and the date in an oval written as if on an open book, within a low relief wreath of olive leaves.
Elizabeth Lovejoy, d.1694, noting her various bequests, to the Vicar, hospitals, and mostly to the School & Hospital at Islington, and the School at Wicomb (Wycombe) in Buckinghamshire, and that 'She died of an Apoplexy before She sealed or Finished her Will // So that it took no Effect as to her Real Estate but after many finites (?) and Controversies was Judged good as to her Personal Estate.' A separate panel on the base notes that 'Lennard Diggs of Chillham Castle, one of her Executors, proved her said Will, and according to the same caused her Grave Stone to be laid and this Monument to be Erected to her Memory.' And an impressive construction it is, a Classical panel in the grand manner rather similar at first glance to that of George Lovejoy, but differing in most of the detail. The central panel, with gilt border of repeating patterns in low relief, is flanked by two Ionic pilasters, with the shafts decorated with low relief floral carving, and outer scrolls of flamboyant size bearing further vegetative carving, including small festoons of different flowers. Above this is an entablature and a segmented pediment, open to admit a large cartouche bearing a painted shield of arms. To left and right of the pediment are standing sculptures of cherubs, in exaggerated poses of mourning. At the base, another shelf, a central apron bearing the Lennard Diggs panel already noted, and generous scrolly supporting brackets. In a mix of white and black and white streaked marble, most effective and rich in effect. Both the Lovejoy monuments are in excellent condition, ensured by Elizabeth Lovejoy, who left money so that the monuments would be kept in good repair.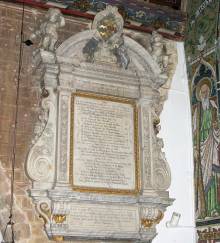 Elizabeth Lovejoy panel, d.1694.
18th and 19th Century monuments to the Dekewer (De Kewer) family: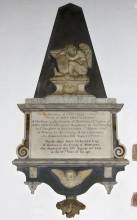 Obelisk monument to Elizabeth DeKewer, d.1814.
18th and 19th Century monuments to the Gray family:
See below the monument to Thomas Reynolds, who married a member of the Gray family.
Other 18th Century monuments
Ann (Underdown) Coke, d.1753, Stephen Underdown Gore, and numerous others of the Underdown family added later, through to John Underdown, d.1805. A typical 18th Century panel, with closely set capitalised inscription covering the whole surface, with a coloured marble border, and an upper shelf above which is a shield of arms, painted, surrounded by heavily carved foliage. At the base, the main panel has somewhat of a curve, to allow for a crossed pair of palm leaves, and beneath this, awkwardly mounted on the wall, is a winged cherubic head. There may well once have been side pieces and more at the base.
Thomas Reynolds, d.1754, and wife Susanna (Gray), d.1780. A cartouche, with the roughly oval central panel of pale stone surrounded by carved drapery and scrolls, with two small winged cherub heads to the lower sides (see picture above left). A fairly basic type of a style of monument that could extend far further in terms of the complexity of the sculptured surround; this one is a calm composition, emphasised by the straight hanging folds of drapery towards the base.
George Culmer, and wife Sibylla, d. 1767[?].George Culmer was the son of Joel Culmer. A cartouche, with violin-shaped central panel of pale stone, surrounded by darker border of scrolls and Acanthus leaves, with four small winged cherub heads dotted around, peeking from behind. These heads, and a line border between the central panel and the frame, are gilt. At the top, a relief of a pot with a painted shield of arms on it, against a piece of black backing (see picture above centre). At the base, a cloud shaped element with an indistinct date within it. Below this, in place of a corbel, are two plump, gilt childish heads touching one another, conceivably representing the twin souls of the deceased - a picture is at the very top of this page.
The Revd. Roger Huggett, d.1769. He was Vicar of St George's Chapel, Windsor Castle for a period, and was the eldest son of Robert Huggett, whose altar tomb is noted above; there is a reiteration that the latter was 'Sole Heir of the Pawlyns'. The monument was erected by Roger Hugget's son, John Huggett, d.1783, 'who being bred in the Sea service was employed as Commander of Large Ships in many Voyages to New England'. John Huggett's wife, Mary Huggett, d.1780, is also commemorated. Large tablet with a rounded top, allowing for spandrels (triangle shapes above the curve) containing low relief carving of simple festoons held on flowers. To the sides are flat pilasters (flat or two-dimensional pillars), and above is a shelf on which is a bell-shaped dark panel containing a cartouche with painted shield of arms; festoons hang from the sides of this cartouche too. At the base, another shelf, a curved apron, bearing a small winged cherub head with clouds behind, side supports of the jelly-mould type, and at the very bottom, a central support carved with an acanthus leaf. Another good, richly ornamented obelisk monument.
Sarah Lancaster, d.1797. A tall obelisk monument, with both a draped and festooned pot on it, and an oval containing a carved relief portrait of the deceased. Beneath, the white inscribed panel is surrounded by a yellow marble frame, and there are side-pieces, pale again, with scrolls at the top and leafy designs carved all the way down. At the base, little feet with sunflowers carved in low relief, and a central small apron with two winged cherub heads, almost cheek to cheek (see picture above right).
19th Century monuments
We start with members of the Mockett and Isacke families, and then cover the rest, recalling that we have already covered the monument to the 19th Century member of the De Kewer family:
Monuments to the Mockett family:
Monuments to the Isacke family:
Other 19th Century monuments
Anthony Calvert, d.1808, 'one of the Elder Brethren of the Corporation of the Trinity House', with upper shelf, lower feet, and beneath and between them, a curly piece of drapery, nicely carved. On the top is a wide oriental-looking urn or pot, and the shaped backing has been cut to form a pediment. The lower part of the monument, between a separating shelf, consists of the inscribed panel, curly sidepieces with coloured marble, a lower shelf supported on brackets, and a curved apron beneath in black marble. This has its own, bell-shaped supports, and in between, a winged cherub head. At the base, a corbel of folded Acanthus leaves. The eminent John Bacon the Younger was the carver - we shall see a more significant piece of carving by him in the Capt. Burton monument, noted further down this page.
Ann Brown, d.1812, husband Robert Brown, d.1832, and three infant children. The panel has slanted outward sides, a shelf above, and on this is a plinth bearing a tall obelisk of dark-coloured marble, with a more prominent top. Upon this is a small, high relief sculpture of a mourning girl, her arms cradling a pot standing on a tall plinth. She is dressed, as expected, in Classical garb, and the diminutive scale means that the lines of her drapery are simple, but nevertheless fine. Her pose is cross-legged, a casualness familiar from the 18th Century, but uneasy to modern eyes. To the sides of the main obelisk are two miniature ones, and these have relief vases or pots upon them, and carved flowers on each base. Below the carved panel is the usual apron, between two supports, each with a stylised four-petal flower upon it. The marble for this monument is highly veined, both the light and the dark.

Later obelisks: Ann Brown, d.1812, and Josias Alexander, d.1839.

Catharina James, d.1815, erected by her children, Charles, Elizabeth and Catharina. White panel with side pilasters, each with a ring near the top, a shelf above, and on top of this an elegantly chaste urn, wide of body with a narrow stem, with tied drapes on the handles. At the base, a segmental apron, blank, and under each pilaster, a miniature segment with concentric rings. The backing, shaped with a segment of a circle at the top for balance, is in a beautiful red brown and pale marble, rather later than was usual for such coloured monuments.
Annabella Bunbury, d.1818, with a poem beginning 'There was a time when Beauty's brightest bloom// Adorn'd the slumb'rer in yon darksome tomb...' Panel with an upper shelf on which rests a small pot in high relief on a small rectangle of black marble. At the base, a painted shield of arms, and corbels to the sides in the shape of waterlily-like flowers, just opening.
Charlotte (Stuart) Cockburn, d.1822, 'of Lime Street Square, London', a public square off Lime Street which no longer exists. Shaped identically to the Elizabeth Mockett monument of the previous decade, except lacking the painted arms at the base.
Richard Blackburn, d.1822, rather plain panel with small block feet and a narrow upper shelf, on a rectangular black backing.
Thomas Sheridan, panel of 1825, commemorating the author and his friendship with 'no less than' Jonathan Swift, with a very long inscription in tiny letters. Styled as a casket end, with outward slanting sides, thin shelf or lip above, on which is a pediment-shaped lid, and resting on double-ball feet, the whole standing upon a small shelf held by two curved brackets. On a black backing, and signed by W. Wood.
Captain Richard Burton, d.1832, son John Burton, d.1833, Sir Richard Burton, d.1855, father of the Captain, and his wife Lady Burton, d.1865. With a mourning girl, sprawled over a heap of military trophies, including cannon, rapier, spear etc. Behind, in low relief, is a tall plinth bearing a casket tomb, so we can take this as the wife of Captain Richard Burton mourning at his grave (see picture at top of page). The sculptor of this excellent piece is the younger John Bacon, whom we met in the Anthony Calvert monument, with much more minor carving, noted above. The backing is cut almost in the shape of a Gothic window, and has slight clouds above with a sunburst coming through. The inscription is on a panel beneath the shelf supporting the carving, and beneath that, the backing panel is cut to a curly apron shape, and bears a low relief coat of arms.
Elizabeth (Blackburn) Taddy, d.1834, her daughter Sarah Underdown, d.1843, mother Elizabeth Blackburn, d.1847, and father Thomas Blackburn, d.1850. The latter gentleman was Deputy Warden of the Cinque Ports. Casket end, with lid in pediment form, with central projection with a shield, acroteria at the sides carved with anemone patterns, and a symmetrical drape wound around these elements. The casket is supported on lion's feet, resting on a small shelf with upside-down bell shaped corbels. All on a black, shaped backing made in three parts.

Typical 19th C black and white panels: Elizabeth Taddy, Paulin Huggett and Gertrude Booth.

Josias Du Pre Alexander, d.1839, and wife Mary Alexander, d.1867. An obelisk monument, with the black obelisk well under half the height of the monument. In front of it is a lidded pot or urn carved in high relief, with asymmetric drapery and a leafy body. This sits on a casket end, with shelf, and little lion feet underneath, and the inscription taking up most of the space in between. The casket stands on a shelf, held up by two curly brackets carved with Acanthus leaves. Below is a generous apron, with upon it a carved shield of arms. Good work, very late for an obelisk monument, and made by Richard Lawrence. A picture of it is above.
Paulin Huggett, d.1842, and Mary Ann Huggett,d.1844, his wife. Rather short obelisk monument, the breadth of the obelisk not being much less than its height, in front of which is a relief sculpture of a tall pot, draped asymmetrically with a cloth, and on a base with a dove flying in front of a sunburst, allegory for the flight of the soul to heaven (see picture above; you will need to click to enlarge). This base sits directly on the block which contains the inscription to the monument. Below, two supports, and on the backing panel, which curves downward in the centre at the bottom, is a painted coat of arms. By the mason George Cooper of Canterbury, who signs several works in Kent churches.
Gertrude Booth, d.1843, small tomb chest end, with shelf, carved with repeating patterns, and above it a lid bearing a high relief carving of a rose stem – with open flowers, buds as yet unopened, and several leaves (picture above right). The symbolism of course being that the broken branch means that the rose in bloom will wither now. The piece has two feet in the shape of stylised flowers, and there is a black shaped backing. By Thomas Denman of 83 Regent Street, London.
Sarah Hodgson, d.1844, daughter of Lord Harris of Belmont in Kent, and wife of the Vicar, the Revd. John Hodgson, whose monument is noted below. A stone Gothic monument, with rectangular outline, containing a three-light blind window in which the white marble inscribed panel is placed. Between the arches are pendants, nicely carved, and there is crocketing (little spikes or serrations) from their points. The sides are like buttresses below, clustered pillars above, and there is a shelf at the top and bottom. A satisfying composition.
Revd. John Hodgson, d.1870, Vicar of the Church. We take this monument slightly out of order to keep it next to that of his wife above. Mid-Victorian Tudor Gothic monument, with the central panel, with extremely wide arch, and made in white Carrara marble, within a pale stone surround, with square pillars attached at the sides, a crocketed balustrade above, and two pinnacles, one of which has been broken. Below is a line of small quatrefoils carved in relief, each within its own square panel, above a shelf with mouldings supported on two brackets, similarly moulded. A typical example of this type of memorial.
Lieutenant Frederick Redman, d.1857, 'of the 1st Regiment Bengal NI, killed in action at Cawnpore, East Indies... repelling one of the assaults of mutineers and rebels...'. A small monument with much carving, being made in the form of a hanging drape, typically found in earlier monuments and not usually as late as this date, with upon it, a trophy (crossed weapons, here behind a coat of arms), and two diagonally crossed poles, with between them a scene of many huts in low relief on one side, and burning buildings on the other, again in low relief; billows of smoke are carved at the top of the monument. Union Jack flags, in very low relief, are under and to the sides of the main decoration, and at the base there is a stone support. An odd one.

Mid-Victorian carved panel to Lieut. Frederick Redman, d.1857.

David Mitchell Aird, d.1876, panel with receding sides, upper and lower shelf, cut to pediment shape above and with scrolls to either side. A further shelf and a small apron below. All rather chunky and with a minimum of carving, as opposed to cutting. The backing is shaped around the monument, with upper and lower projections. Signed by the stonemasons, Elliott [and] late G. Miles, Ramsgate.
Harold William Abernethy, d.1895, plain plaque with oval carved with slight wreath and central bird, and the motto 'Salus per christum' (salvation through Christ). Held by two small blocks.
Revd. Alfred Whitehead, d.1898, Vicar of the Church for 26 years and with other titles. If the monument had been in pale stone throughout, it would have looked High Victorian, with its thin, Gothic pillars with extra ornament, central panel with trefoil top and low relief cut-out patterning, and upper line of grapevine ornament. But the Gothic text and the bright marble and alabaster colours give its later date away. A charming work.
Other 20th Century monuments
The three Mockett family panels have been noted above, and there are two more 20th Century monuments in the Church:
Arthur Glyn Price, d.1921, erected by the Old Boys of Selwyn House. A panel made of tiles, unusually, with shield of arms, and frame of Serpentinite.
Major Spencer John Herapath, d.1925, wife Mary Ada Herapath, d.1938, and relatives through to 1987. Carved as an open book, on the facing pages of which are the inscription. With a surround of dark marble with white streaks.
These pages do not usually note floor slabs, or ledger stones, but as well as the George Lovejoy stone noted above, we may mention in passing that there are a good collection of well-preserved 18th Century ones in the Church, including for example that to the White family, after 1740, with a songbird on the shield of arms.
Brasses:
There are several ancient brasses including three pairs of praying couples. As is generally the case, these are extremely satisfying from an aesthetic point of view, with an economy of line but showing a liveliness of figure and a sense of personality.
Also there are a few modern brasses, of which that to Latham Tomlin, d.1900, of Dane Tower, is typical of the breed, with blackletter inscription for extra difficulty in reading, and a border of repeating patterns, in this case leaves, and above the inscription, a shield of arms surrounded by more adventurous leaf designs.
Also in the Church:
Funeral helm of Captain Manasses Norwood, d.1636, whose great tomb chest or altar tomb is noted above (the spelling of 'Manasses' having one or two middle 's's). Such helmets used to be not uncommon in churches, but many seem to have disappeared or have had to be locked away in recent years. Indeed, there used to be two in St Peter's.
Apart from the monuments, we may note the following:
The painted ceiling, 1900s or thereabouts, with charming half-figures of angels, all pastel colours and soft, Arts and Crafts faces; note that some have four wings. Also roundels with busts of saints.
Bright 19th and 20th Century stained glass, nicely setting off the painted ceiling. On the largest window, note the rabbits and squirrels among many nicely-caught natural features. The faces of the girls show the artist had a penchant for Pre-Raphaelitism, always welcome.
Reredos with mosaic: a triptych design, with panels showing the Crucifix in the centre, flanked by angels, and on the walls above and beside the great window, further, larger panels with standing figures of Saint Peter and Saint Andrew, relevant texts, and angels on the chancel arch. The saints are in the story-book style popular in late Victorian times and thereafter, perfectly competent and designed to give a visible picture at a distance rather than be looked at too closely, when they appear naïve. The central altar table triptych is far superior work, glittery Byzantine style mosaic, presumably from the workshop of Salviati. (A brief note on him, and mosaics in London, is on this page).
Wooden pulpit, with overlapping arches.
Stone font, octagonal, with slender stem. It dates from 1746 and was the gift of John Dekewer.
Memorial panel showing Christ with female and male figures praying, white marble in relief, with a border of pinky alabaster with green leafy insets.
Slate panel noting the restoration of the Church in 1962-7 and commemorating a churchwarden, Harry Steed, d.1967.
Two highly carved chairs, with strapwork not dissimilar to that found on some early 17th Century tombs.
A board recording the bequests of John Dekewer, d.1762, to the Church and poor of the Parish of St Peter. Also several boards listing benefactions; some of the principal names we have seen on the monuments can be traced here, for example churchwardens Edward Mockett and Paulin Huggett.
The Brass eagle lectern.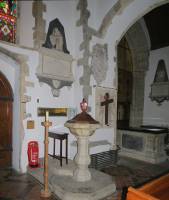 18th Century font.
Outside, there is a war memorial in the form of a churchyard cross, more of a column actually, with the cross a small thing at the top like a lantern, above little shields bearing the crossed keys of St Peter. And behind the Church is a remarkably large graveyard, which I have not explored.
The pictures of the monuments inside the Church are included here with kind permission of the Vicar and Churchwardens of St Peter's Church; see their website at http://www.stpeterinthanet.org.uk/aboutstpeters.htm.
Sculpture in Margate Church (St John the Baptist)
Sculpture in some towns in England // Sculptors // Introduction to church monuments
Visits to this page from 27 July 2015: 7,064