Margate Parish Church (St John the Baptist) Monuments
The Parish Church in Margate, St John the Baptist, commands a fine aspect from something of a hill, found by continuing up the High Street from the town centre all the way. It contains a goodly number of monuments, the interest of this page, but first a few words on the building itself. It stands in its churchyard, and is a long, low building save for the three storey tower with spire. It is built of flint, with freestone dressings at the corners and around windows and portico. Rather than a higher central nave and two lower aisles, there are three equal height pointed roofs, with the West Tower at the end of the northernmost one.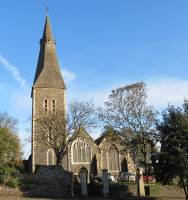 St John the Baptist, Margate.
The building was originally put up as a small chapel at ease of the mother church at Minster, also in Thanet, in Norman times, later becoming a separate Parish Church in its own right. It was extended as the town grew, to its present length. After the normal periods of prosperity decline and neglect, it was restored in the 1870s by Ewan Christrian, PRIBA, who restored and redesigned many churches, and his is the spire of the North Tower, replacing a very short one (see the engraving below), as well as a new porch, also on the north side, augmenting the one to the south, and he also removed galleries from inside; further changes have taken place in modern times.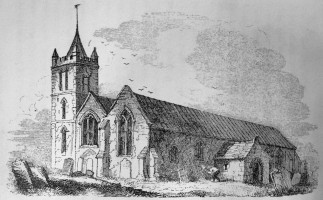 View of Margate Church before the tall steeple was added.
Inside, the Church really is rather large, with its three long aisles and lofty wooden roofs, and though the side aisles are divided from the nave by Gothic arches with solid Norman pillars to the north changing to later octagonal shafts further down, this is open enough to enhance the sense of space rather than restricts it. There remains a small gallery at the West end from which the whole interior can be best seen. All down the walls, and up in this gallery, are the monuments.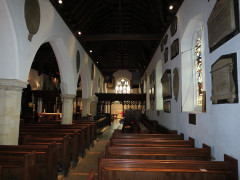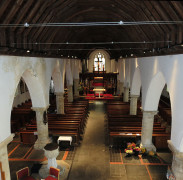 View of nave, and aisle with monuments.
Monuments
There are over 60 stone wall panel or mural monuments within the Church. There are four from the 16th and 17th Centuries, with writing on black panels, Classical frames and much decorative carving, of whih the Cleybroke monument has a pair of characteristic kneeling statues and the Valentine Petit memorial has decorative figure sculpture. From 1700 is a cartouche monument – a shield shaped panel surrounded by carved drapery, cherub heads and so forth, an elegant sculptural and ornamental alternative to the more architectural rectangular Classical monuments of the times. Minor sculpture of the 18th Century can be found on two of the memorials, and towards the end of that century are a couple of rather plain oval panels, and the first of the white panels on black backings which dominated the early 19th Century. Over half the monuments in the Church are of this white on black type, with a range of simple designs, with some minor sculptural decoration, through well into the Victorian period. Intermingled among them are several obelisk monuments, where the upper part of the monument consists of a black panel cut to obelisk shape evocative of Egypt, and hence death and rebirth. The mid-Victorian period saw a renaissance of Gothic monuments, as blind windows, and there are two of these, both from the 1860s, in St John the Baptist. Finally, in the 20th Century, World War 1 saw a rejection of ornament and a move to austere, unornamented panels, and there are several of these in the Church. Regrettably, nearly all the monuments are either unsigned or seem to have had their signatures deliberately obliterated, but the productive partnership of Bacon and Manning is represented by one monument, and there is another by the relatively obscure monumental mason W. Wood. We consider them in date order:
16th and 17th Century Monuments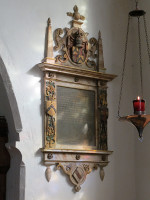 Monument to Henry Crispe, d.1588.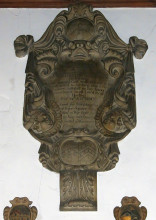 Cartouche to Captain John Petit of Dent de Lyon, d.1700.
Monuments after 1700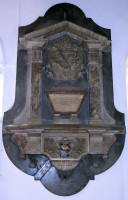 William Payne monument.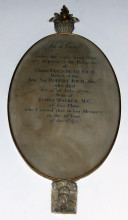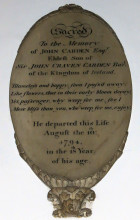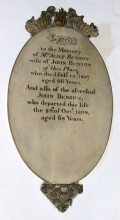 Compositions based on the oval: Rich, Carden and Benson.
19th Century Monuments:
Mary North, d.1802. An oval panel not far off the circular, rounded at the edge, resting on a small support carved with little leaves.
William Brown, d.1799, and wife Martha, d.1804, erected by her brother Joel Culmer. At the very end of the period of coloured marbles, and with a mix of white, streaky black and white, slight pinkish tint, and brecciated or lumpy light grey on black. An obelisk monument, with the Egyptian connotations of death and rebirth, the obelisk here being something over 3/5 of the height of the monument, and slenderer than some – we shall meet a couple of the more broad obelisk styles below (monuments to Coghlan and Slater - see below for pictures of all three). Upon it is a pot in low relief, partially draped and with leafy branches across and by it, rather nice, and a cameo of a female face. Above, a roundel with two more relief profiles, male and female, young, and so close their noses almost touch; a bow is carved above with two small festoons. The obelisk rests on a shelf, at the sides of which are two lanterns in the form of shells. Beneath, the lower part of the monument, consisting of the inscribed panel with borders, a lower shelf, and a curvy apron with a small winged cherub head at the base. A good example of this type of monument, grander than the normal panel. A generation later, the genre was popular in three dimensions in the many obelisks found in Victorian cemeteries.
Nathaniel Hodges, d.1806, and son James Hodges, d.1804. Rectangular panel with black border, upper shelf, above which the black marble is cut to form a convex-edged shape, taller than a pediment, shorter than an obelisk, not unpleasing. On this is a device of two oval disks, one partially in front of the other, each with three cut crescents, and a crown on top. Two supporting blocks at the base. Curious.
Isabel Rachel Rebecca Akers, d.1797, and Edmund Fleming Akers, d,1807, infants. A plain panel with pointed top on similarly shaped black backing.
Henriette Louise Vardon, d.1807. A chest tomb, or altar tomb if indoors, is a great brick shaped monument usually with pilasters (relief pillars) at the corners, and either a flat panel or a slanted lid or some pot or other ornament on top. For two-dimensional mural monuments, we have the 'chest tomb end', as if looking from one end of such a monument. These are a very popular design, and this is the first of several examples in the church. Thus to the sides of the panel (the end of the chest tomb) we have fluted side pilasters, to the top, an upper shelf bearing a flaming urn, against a black backing cut to a wavy shape, and at the base, to two feet below little leafy corbels underneath the pilasters.
Alice Benson, d.1807, and husband John Benson, d.1808. Long oval panel with upper and lower minor sculptural ornament; at the top, shells, some scrolly leaves or seaweed, and a small central flame, and at the base, a triangular support with symmetrical leaf designs.
Ann Maddison, d.1808. Another oval, plain, with a tiny supporting shelf with leafs carved in relief.

Casket tomb ends: Lewes Agassiz, d.1807, and Thomas Eysham, d.1837.

Lewes Agassiz, d.1807 (perhaps 'Lewis' would be the modern spelling), and wife Mary, d.1810. As we have the chest tomb end, so we have the casket tomb end, where the three dimensional version familiar from the Churchyard is a casket-shaped piece standing on short legs, lighter and more elegant than a chest tomb. On this example we have the sloping sides, upper shelf and lower rounded feet, but the casket lidless, and the black backing cut to have its own little feet and a pediment shape above.
George Readhead, d.1810, from a fall from his horse. A plain, horizontal oval, less usual than the type with the longer diameter vertical, and the only example in the Church.
Ann Sawkins, d.1810. Panel with narrow inscribed border, upper shelf bearing acroteria (the 'ears' we have already met before) and a pot with drapery carved in relief, against a black backing panel like a mini-obelisk, but too broad and short to be such. At the base, another bit of backing panel, in a segment of a circle and enclosing a painted shield on a roundel. Carved leafy corbels at the sides. This is the first of several of the tablets from this period where the mason has aimed for something a bit out of the ordinary, and more experimental than the usual.
James Cross, d.1813. A panel with broad border, upper and lower shelf, squared off above and below, the former with a central area slightly projecting, with a low relief carving of a pot, small, but nicely carved with leaves and repeating balls. The base is cut with two small feet bearing roundels, and the whole monument is in a pleasant combination of white and grey marble, an early 19th Century translation of the grander Classical monuments of the 17th and 18th Century.
Lt. Col. John Robert Coghlan, d.1814, 'who after having distinguished himself in the memorable battles of Talavera, Vittoria, the Pyrenees, Nivelle, Nive, and Orthes, fell gloriously leading on his regiment to the heights of Toulouse. A fine obelisk monument, of the type where the top is not much narrowed from the bottom, giving a coherent single shape to the whole. The obelisk is around 3/5 of the total height, and has upon it a high relief carving of a crossed flag and sail, the latter wound somewhat round the mast, and in front, a painted shield of arms. Two cannon complete the martial assemblage, wholly appropriate for a soldier. Above, a wreath and ribbon. The lower part of the monument consists of the inscribed panel, as a casket tomb end with outward sloping sides, prominent upper shelf with slight entablature, and resting on ball feet, a convention. The casket sits on a thin shelf, and below, the backing panel is triple curved to allow for two fluted corbels, a similar arrangement is adopted in the later monument to Letitia Brooke below, and it may be by the same mason.
Thomas Walker, d.1815. A casket end, resting on double ball feet, no ledge underneath this time, a shelf above, and on this, a broad ewer carved in low relief with a small drape across it, and a tiny painted sun. The discoloured backing panel is cut into a curved pediment with large acroteria. Below, a painted shield of arms.
Frances Slater, d.1817, son George Slater, d.1817, and husband George Slater, d.1822. An obelisk monument, a little unusual in design. There are two inscribed panels, each as a casket end, the lower with ball feet, the upper with briquettes, and resting on the shelf which divides the obelisk backing from the lower half of the monument. There is a low relief carved pot on the top of the upper panel, so most of the obelisk is in fact obscured. The middle shelf rests both on the lower panel and on two odd pilasters, with another shelf below, and an apron with shield of arms and two small clusters of leaves, and fluted jelly mould corbels to the sides.
Ann Sawkins, d.1818. A casket end monument, with outward slanting sides anda fluted lid, resting on two balls rather than feet, and supported below on a small shelf; there is a small black backing.

Herriott Collier Phillips, d.1819.

[Her]riot Collier Phillips, d.1819, and Frances Burrell, d.1833. An interesting monument, with the panel below a shelf which supports a thick, fluted pillar or pedestal in relief with a small flame on top, against a backing cut as a very short obelisk with oversized acroteria or 'ears' to the sides. At the base, a pair of winged cherub heads amidst the clouds (see picture above, and the detail of the cherubs at top of page).
Jacob Sawkins, d.1819. A plain panel with thin upper shelf, which may once have been a border all round; the husband of Ann Sawkins noted above.

Matilda Squire, d.1822, work of the mason W. Wood.

Matilda Squire, d.1822, signed by the mason W. Wood. Another simple but unusual panel. The inscribed panel has truncated corners, and the black backing has an equal border around these, with the outer space filled by a recessed anemone-patterned spandrel shape; a single little leaf is central to the base. At the top, a shallow dish in high relief with the common low relief leaf patterns on the lower body.
Letitia Brooke, d.1823, as a casket end, thus with outward-angled sides to the panel, and a pointed lid, and resting on little feet, in this case S-shaped scrolls, which themselves stand on a lower shelf. Above the casket is a painted shield of arms, and the whole is on a shaped black backing panel, with the lower edge curved, to allow for two fluted 'bobble hat' termini, perhaps intended as stylised flowers.
Lt. John Jarvis, d.1789, and wife Ann, d.1800, erected by their son Daniel Jarvis, in 1825 – see below for his monument. Panel with small shelf with patterning, upper section cut roughly to the shape of a pediment, with anemone acroteria and central half-circle. Very small feet below, and on a black backing panel.
Elizabeth Leach, d.1825. As a casket end, with upper lid, on which stands small bowl in high relief with a leafy pattern on the body, against a black almost triangular backing panel. The casket stands on the familiar double ball feet, resting on a shelf, and below, the backing panel, pyramid rather than obelisk is cut as a rounded apron.
Elizabeth Phelps, d.1829, cut to shape as a casket end, with no sculptural decoration; on a black, shaped backing, cut to give a narrow border all round rather than a blockier shape: the same is done with the panels to Maria Waddington, John Robason, and the Taddy family, as opposed to the more usual convention of having a more simply shaped backing (e.g. Robert Salter), or one cut to make a particular shape in its own right (e.g. Nathaniel Hodges).
Mary Brooke, d.1830. Panel with slight upper shelf and top cut to pediment shape, the base with a shelf and cut as a segment of a circle. On a black backing panel.

Sir Thomas Staines, designed by Bacon & Manning.

Sir Thomas Staines of Dent de Lion, d.1830, and wife Sarah Tournay Bargrave, Lady Staines, d.1832. A short obelisk, if we can so call such a broad shape. The interest is in the relief carving upon it of the hulk of a ship, on stormy sea, with all sails and masts gone bar one sagging one; above a military coat of arms with two wreathed arms, medals, and motto (if you like ship sculpture, see this page). A further coat of arms is on the base, and the work is signed by the sculptors Bacon and Manning of London – this is John Bacon Junior, eminent in his own right, and his partner in monument making for some considerable time, Samuel Manning.
Elizabeth Nichelson, d.1831, and daughter Elizabeth, d.1828. A tomb chest end with tiny feet and a pediment, on a black shaped panel.
Maria Waddington, d.1832. Panel cut to the shape of a casket end, with acroteria and pediment rather than a simple lid; the backing panel follows the contour of the casket, giving a distinctive shape.
Robert Salter, d.1833, and wife Susanna, d.1850. Panel with pointed base, upper shelf, and a curly pediment directly upon it, made of a pair of scrolls, large in the centre, small at the corners, to enclose stylised flowers and leaves. At the sides, instead of pilasters, shapes broadening downwards and enclosing low relief hanging drapes.
Daniel Jarvis, d.1833. With a pediment above thin double line of repeating decorative shapes, and enclosing a wreath and two outward turning leafy branches carved in relief, and the whole of a black backing panel.
William Hunter, d.1785, and others of his family, with a note that the memorial was erected by George Yeates Hunter in 1833. Crisp Classical panel, with broad frame, the sides being decorated with downward pointing torches, and the top, with S-shaped repeating patters, acting as the entablature below a shelf and rimless pediment bearing central circlet with a painted shield of arms. Two heavy curved brackets at the base.
John Robason, d.1834, and wife Elizabeth, d.1828. An irregular hexagon, with similarly shaped black backing.
Francis Forster, d.1835, and wife Margaret, d.1854. As a tomb chest end, with an inscribed border around the inscription, and further lines cut to show a pediment and acroteria; the only sculptural ornament is a small wreath in the pediment, and ringed foliage, stylised, on the little feet. On a black, shaped backing.
John Gore, d.1836, and wife Theodosia, d.1847. As a tomb chest end, with wide rim at the top bearing a low relief repeating pattern, a pediment-shaped lid, and the feet carved with leaves; the black backing panel curves down at the base to allow for a small carved shield of arms and motto on a ribbon.
Edward Dering, d.1836, his wife Mary, d.1858, and his sister Margaret Dering, d.1818. Panel cut with upper, protruding pediment shape bearing a low relief shield of arms, and at the base with blocky feet. On a black backing.
Thomas Clements Eysham, d.1837, and wife Genevieve Elisabeth Eysham, d.1835. As a casket end, with a flat lid with repeating wave patterns in low relief, and upon it, a wide lantern with delicate S-shaped arms and a lid. At the base, the feet are of the upturned bobble hat type. A compact, neat monument.
George Watson, d.1837, and wife Sarah, d.1833, and three unnamed infants. The inscribed panel is a circle within a square of black, and the spandrels as four small shell-like designs.
Ann Turner Brown, d.1838 (lost paint makes it look more like 1837 but the last Roman numeral is there). Just into Queen Victoria's reign, and already looking Victorian. Panel with upper pediment and entablature, repeating S-shapes on the latter and geometric shapes on the edges of the former, and enclosing a wreath of tied together olive leaves or some similar plant, with a lozenge of arms in the centre. The carving is of good quality. With a black border made of visibly separate pieces.
Latham Osborn, d.1839, and son Latham Tomlin Osborn, d.1842. A casket end, with the upper lip bearing a low relief repeating pattern, and a triangular lid; at the base, curved feet, and the whole on a pentagonal black backing. Another Latham Osborn is noted below.
Samuel Brooke, d.1842, wife Alice, d.1832, daughter also Alice, d.1838, and son Charles James Brooke, d.1833. Plain panel cut with a pediment and vanishingly slight feet, on a black backing. The pediment bears a low relief carving of a shield of arms and a ribbon.
Edward Brooke, d.1845, erected by his wife. As a tomb chest end, with upper and lower shelf, the former with minor decoration, and above, a lid of pediment form. To the sides are curly sidepieces, with anemone designs on the lower scroll. Such scrolled sides are a fairly common way of making a Classical tablet less rigid and austere than a straight-edged border or pilasters. Likewise, the rounded off feet.
Latham Osborn, d.1846, wife Elizabeth Osborn, d.1849, Lt Thomas Osborn, d.1829, John Curling Osborn, d.1831, and daughters Frances Osborn, d.1864 and Jane Jessard Osborn, d.1871. Panel with upper entablature and pediment on similar design to the panel to Ann Turner Brown, with shield of arms and palm fronds in the pediment.
Ellen Clarborne van Zuylen, d.1857. Another pedimented panel, but here the style is different, with a chunky solidity given by the breadth of the side pilasters and their bases, and the weight of the entablature. The pediment, by contrast, is undersized. A conscious effort to arrive at a new interpretation of the Classical panel.
Richard Manger Smithett, d.1858, wife Mary Mockett Smithett, d.1870, and daughter Elizabeth Frances Sankey, d.1859. With an upper shelf, erect crucifix on top, and a backing cut in a segmented circle.
John Boys, d.1861, wife Martha Boys, d.1861, and two sons, John, d.1816 and Athelstan, d.1816, children. Rectangular panel with upper shelf, and painted shield of arms below, on the curved black backing.
George Yeates Hunter, d.1866, and wife Mary Ann, d.1872 (we saw the monument of William Hunter earlier). Shaped as a Gothic arch, with narrow border and near the top, a crucifix in a circle. The black backing is also Gothic in shape. The overall effect is rather modern.
Thomas Boulden, d.1867. Another Victorian Gothic panel in stone, with the inscription in the blank window, quatrefoils etc above, and crocketing on the outer roof. At the sides are attached pillars with leafy capitals; the base of the monument was obscured by a panel when I visited. Competently carved and typical of the architectural carving on many buildings of the period.
Mary Boys, d.1868, husband John Harvey Boys, d.1870, and Athelstan Harvey Boys, d.1873. Similar to the John Boys panel noted above.
William Troward Gilder, d.1871, and wife Sarah Maria (Boys), d.1894. Plain panel with upper shelf on a black backing.
Susannah Hart, d.1871, and husband John Thomas Hart, d.1874. Another plain panel with upper shelf on a black backing.
William Frith Hunter, d.1873. As for the Richard Smithett memorial above, with a crucifix at the top.
Sophia Jacobs, d.1876. The same again as the William Hunter panel with a crucifix, except that the sides of the panel slope inwards as we go down, thus as if a casket tomb, but without feet.
20th Century Monuments:
Percy Wanstall, d.1913, and sons Robert Sloye Wanstall, d.1916, and Elton Cyril Wanstall, d.1915. Plain panel with bevelled edges and black backing.
Lt Col. Marbrook Doughty, d.1917, Lt. R. Cecil Doughty, d.1918, their mother Frances Charlotte Doughty, d.1918, and Frederick James Doughty, d.1946. An unusual example of a WW1 panel hearkening back to earlier times with ornament rather than the austere plainness found in the other monuments. The main panel has inscribed upon it pictures of an aeroplane and a machine gun, and above the upper shelf, is a low panel with military insignia in low relief, and drapery in a wavy arrangement which looks modern rather than Victorian, but is unusual indeed at this time. I would think that there were originally hanging drapes on each side of the main inscription, covering the curious shaping we see now. On a black backing.
Daisy May Cornford, d.1945. Plain panel with bevelled edges.
Brasses
I did not see the ancient brasses in the Church. There are several modern brasses from the late 19th and earlier 20th Centuries:
Edward Dering, and wife Mary, with small shield at arms and inscribed line border, undated, but the black letter font suggesting between 1870 and 1910.
Rt Hon Edward R King-Harman, d.1888. A somewhat more ornate Victorian brass, with Gothic border with crocketing, pinnacles at the edges, small trefoil tracery, and at the left hand side, coat of arms in a Gothic trefoil window. A characteristic ornamental piece.
Anthony Blackburne Cobb, d.1923. Plain, equating to the plain marble panels of the period.
Percy Harry Richard Venner, d.1934, and Maud Edith Venner, d.1966. Plain horizontal panel with inscribed line border.
Also in the Church:
A variety of hatchments, painted, gilded and well cared for - one is pictured at the top of the page.
An octagonal stone font, shown below, with crumbling low relief decoration of shields and flowers, and empty niches around the base.

Considerable woodwork, including roof and pews from the Victorian restoration, and screen from the 1920s with figures above it of the Crucifixion and two female saints.
Stained glass, late Victorian.
A colourful Reredos with Crucifixion and various saints, painted.
A typical brass Eagle Lectern (see picture at top of page).
Finally, outside in the Churchyard survive a goodly number of headstones, including a group of double-headstones, some of which are pictured below, and the odd chest tomb and casket, adding considerably to the ambience of the Church.
The pictures of the monuments inside the church are included here with kind permission of the church authorities; the website of St John the Baptist, Margate is at http://www.stjohnschurchmargate.org.uk/churchfamily-history/.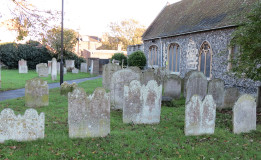 Sculpture in Margate // Sculpture in St Peter, near Broadstairs
Sculpture in some towns in England // Sculptors // Introduction to church monuments
Visits to this page from 20 Jan 2015: 5,966