St Mary Magdalene, Reigate, Surrey – Monuments
St Mary Magdalene, Reigate is a large, broad church, of great age and much changed over the centuries. It has a square tower, with battlements, not that high at four stages given the length and breadth of the body of the Church, but appearing so from the roadside, which is lower. The tower is late 14th Century apparently, concealed behind a 19th Century refacing of Bath stone.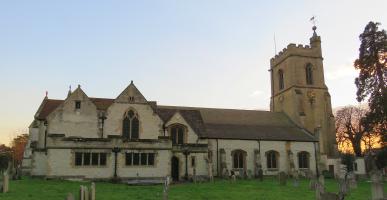 St Mary's, Reigate.
Inside the breadth of the Church is apparent, with the nave separated from the aisles by an arcade of arches on columns which are not parallel on each side. This, and the differing treatment of the columns, are a clue to the enlargements and alterations over the years, with restorations in the 19th Century first obliterating much of the older work, and then, under the architect George Gilbert Scott Junior, son of Sir George Gilbert Scott, somewhat redressed from the late 1870s - a very heavy restoration of the Church, which was at the point of collapsing. It was he who faced the Bath stone on the tower, replacing the original Reigate stone. The north transept was built as late as 1908, by the brother of George Gilbert Scott Jr, John Oldrid Scott, a notable church architect in his own right.
The principal monuments are at the altar end and in a chapel on the northern side, with the balance mostly along the walls of the aisles. There is one rich and flamboyant 18th Century monument in Reigate Church, with five full-size marble figures, plus cherubs and ornament, to Richard Ladbroke, which is worth a visit in itself. And more ancient, a curious construction, much altered, comprising two linked tombs, each with two reclining figures of alabaster – the Elyots (or Elyotts) and Bludders. Also there is a kneeler monument of some size in a niche, who is Katherine Elyott. And around a score of other panels from the 18th and 19th Century, with three nudging into the 20th Century, so giving a fair range of the more minor monuments of the times.
View of the interior of the Church.
We start with the grand monuments to the Elyots and to Richard Ladbroke, and then cover the rest:
Tomb of the Elyots: Richard Elyot Elder and Younger, d.1608, 1612
The Victoria County History volumes for Surrey note that this is the remains of a larger tomb: 'The Elyots [or Elyotts] of Reigate and Albury, who were connected by marriage with the Skinners, left a tomb which till 1845 stood against the north wall of the sacrarium, but was then taken down, its beautiful canopy destroyed, and the remains, including the recumbent figures of the two Richard Elyots, father and son, who lived at the mansion called the Lodge and died respectively in 1608 and 1612, placed in the north chancel. The statue of the father, with hands joined in prayer, is a good piece of work. Upon the front of this tomb were the kneeling figures of Rachel, widow of Richard Elyot, senior, daughter of Matthew Poyntz, of Alderley, Gloucestershire, and their six surviving daughters'
So what do we have today? Better than mere remains, for there are the two grand effigies of the knights, surrounded by alabaster, and with a large roundel bearing the shield of arms. The whole is a bench-like construction, with a lower fore-portion, on which is a bed with the elder Richard Elyot lying recumbent, and behind this, raised up, is the figure of the Richard Elyot the Younger, lying on his side, head propped somewhat uncomfortably on his elbow. The two make a fine group.
Elyot and Bludder tombs, early 17th Century.
The younger Richard Elyot is shown as a rather aged figure, the skull-like nature of the head accentuated by the swept-back hair, which draws attention to the roundness of the forehead and the roundness of the eye-sockets, and a beardless chin above a ruff, with the neck tight-bound underneath, so making the head appear rather detached from the armoured upper body. This torso has grand shoulders in plate armour, and the arm the figure leans on shows well his broad cuff, so rather a powerful and dashing appearance contrasting with the weak Elizabethan head above. But then the lower body, with a puffed-out pantaloon style construction, only partly squashed down underneath his hip and overall disturbingly bulky, making his rather thin legs below look emaciated by comparison. Although on his side, there is no appearance of restfulness or comfort in the pose of those legs. Not a great success overall.
The elder Richard Elyot, as the quote above indicates, is far better. The view we have from the front is a profile one, and we see a powerful body, well-proportioned, in tight-fitting armour emphasising the vigour and strength of the limbs beneath, above which the head is that of a patriarch, with flowing beard and sagacious features. His head is raised up on two cushions, and he lies easily, hands in prayer, damaged but what is left showing some character, and with thighs and lower legs of far more muscularity than his hapless son; the feet are missing. Leaning over to look more closely at the portrait from above is a rather disconcerting experience, for along with traces of colour to hair and beard, the face is made of a red-veined marble or alabaster which gives the impression of an ancient, ruined skin with blood vessels running underneath; together with the eyes, one a little lower and less open than the other, and the gnarled nose, it is disturbingly lifelike - see picture at top of page, far right (you will need to click to enlarge).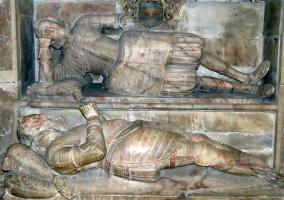 Richard Elyot effigies, father and son.
On the sill at the top of the monument are the remains of small, battered figures, who are likely among the daughters noted in the quote above, with the largest being perhaps the wife. However, one at least belongs to the monument described below, to Thomas and Mary Bludder. In front of the base of the tomb is the black marble inscribed panel, with a Latin inscription, still perfectly readable more than four hundred years after it was made.
Sir Thomas Bludder, d.1618, and wife Mary (Herries) Bludder, d.1618
Jammed up against the left hand side of this monument we have the second one, to Sir Thomas Bludder and his wife Mary, a box-like affair with surviving outer pillars in polished dark marble, and a canopy or roof above, and two full-length recumbent figures underneath on top of a chest tomb. Behind, on the inner wall of the recess, is their inscription, showing the likely position of the Elyott panel before that monument was mutilated; a second panel is on the front too. The figures of the couple lie on their backs next to one another, he a little taller, and in front, she behind. As for the younger Richard Elyot, Sir Thomas is wearing armour with an oversized garment over waist and upper legs, part trouser, part pantaloon, and with articulated armour in front; It looks odd, but not so much so as the younger Elyot. His wife wears a long cloak over arms, body and feet, perhaps a shroud, and a good on her head. She has a large ruff, and her clothing underneath the outer wrap is a long shapeless garment with many folds, typical of kneeler monuments of the time. Both figures are damaged, having lost their praying hands, and with wear to the faces, she much more than he. The Victoria County History refers to the 'diminutive figure of a female child, removed from its position at its parents' feet on this monument', so that one of the figures above the Elyott monument presumably belongs to this one.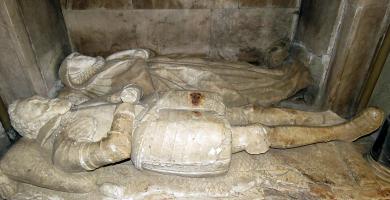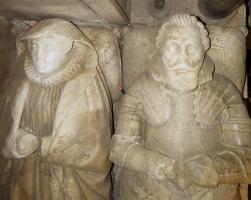 Sir Thomas and Mary Bludder, d.1618.
Katherine Elyot. d.1623, fifth daughter of Richard Elyot the Elder, is in the south chapel, in a pointed niche with the dark inscribed panel from the monument is in front, but which has nothing to do with her original surround: this would have been Classical of course. The Victoria County History mentions her tomb 'with a canopy of alabaster or coloured freestone', which was the norm for such pieces; she would likely have been under a round-headed arch, with pillars to the sides. Her stance is that of a conventional kneeler, of the type found from Tudor through to beyond the end of Elizabethan times. Thus we see her in profile, hands raised in prayer, kneeling on a tasselled cushion. Her head in this case is bare, showing wavy hair tied close to the scalp, a young, rather plump face, and she wears a very large ruff. While her loose shirt, with frills at the cuff, shows some shape to her body, her skirt is one of those unflattering shapeless things supported by a cage-like affair, showing no hint of legs underneath; a broad ribbon of cloth is carved hanging from one arm, down, and folded on the ground. In front of her lies a block with her prayer book on a separate book rest upon it; this block would originally have been upright and formed the normal prayer-desk found in such monuments. Some paint still remains, but not much; the hands look to have been recut rather than decayed to their current simplified form.
Before leaving these monuments, we may note that in front of the altar set into the floor are several slabs, with and without brass inscriptions, to others of the Elyott and Bludder families.
Richard Ladbroke, d.1730, by Joseph Rose the Elder
Now to the grandest monument in the Church, to Richard Ladbroke. It is centred on the reclining figure of Ladbroke, dressed in Roman toga and really rather grand in appearance. His face is anything but Roman, and he wears a periwig, but his powerfully muscled chest and limbs fit with the Roman martial tradition. One hand rests on a skull and holds a book open with one finger, the other holds a crown, combining learning and majesty with an emblem of death. Behind him, a tall obelisk bears the inscription, and upon it rests a cartouche of arms, once painted doubtless, now blank. On either side are tall pillars of brecciated marble, with Corinthian capitals, holding up an entirely broken, curved pediment, with raised central portion, a Baroque completion of a structure which is essentially based on a Roman triumphal arch. On the wings of the pediment are reclining angels, one with a trumpet, the other perhaps a bow; between them is a circle of winged cherub heads within a sunburst. At the top, on the mini pediment topping off the monument, is a central pot and two unclad putti. To the sides of the main structure are wings, with pilasters to the sides, so framing the outer niches of the tripartite arch. Here stand two more girls, full sized statues with heads turned slightly inwards to draw the eye to the subject of the monument reclining between them. She on the left is Justice, carrying her scales, and she on the right is Truth, with her mirror, and wound about her other arm, a snake, symbol of Wisdom. (For more allegorical statues of Justice, see this page, and for statues of Truth, see this page.) The sculptor was Joseph Rose the Elder, who has one other large monument to his name, and with others in his family, was a maker of ornamental plasterwork. More details on the Ladbroke monument on this page.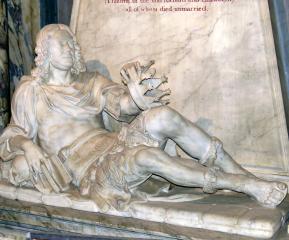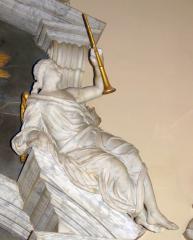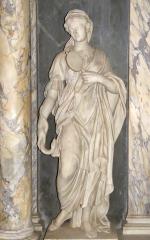 Richard Ladbroke, d.1730: monument, reclining effigy, angel, and statue of Truth.
Other monuments
We take them in date order:
Sarah Savage, d.1739(?) wife of Richard Savage – the upper part of the panel seems to have worn away, but we may reasonably assume it was to the husband, and possibly others. A cartouche monument, with a violin-shaped central panel surrounded by hanging drapery, tied in knots at the upper side, hanging down, and unusually, caught up on two trumpets (cherub heads are more usual) and looped around them. At the base, a winged cherub head acts as a corbel, and at the top is a small cartouche, now blank but once doubtless with painted heraldic arms.
Three other cartouches, of similar shape and size, hang higher up on the walls under the tower, and I could not read them. All of similar basic design, with variations in drapery, and one of which has both a cherub head at the base and a knight's helm above the coat of arms, thus a titled personage. Together they form a nice ensemble showing the artistic freedom given by this type of monument. To the right, there is the shape on the wall of a further monument, now removed, and also there is a black-panel Classical monument, with heavily designed border, upper shelf and pediment, and lower portion bearing a still-painted cartouche of arms above a sea shell, and with a gadrooned (corrugated) shelf above. An interesting thing, but again I could not read it. Likely late 17th or early 18th Century.
John Earle?? Another high up panel which I could not make out the inscription of. Classical panel with frame, curly side pieces with heavy chains of simple flowers on the outside, and above, a swan-necked pediment, open at the top (a broken pediment) to insider a shield at arms with a coloured surround. At the base, a second narrow panel flanked by curly brackets, and under this, drapery and a central winged cherub head - see picture at top of page, second from right. An interesting piece, presumably from the late 17th Century or early 18th Century.

John Bacon Jr's monument to Robert Petrie, d.1803.

Robert Petrie, d.1803, 'a Physician of great Eminence and successful Practice at Lincoln. Of distinguished general Talents; possessed of much acquired Knowledge; his Conduct through Life was regulated by Principles of the strictest Probity and Honour'. White panel with thin shelf, and recessed part in the base bearing a small carving of a bird about to take flight, which is the top part of the coat of arms beneath, with the motto 'Fide sed Vide'; a contraction of the Latin phrase, translated as 'Trust, but be careful in whom you trust'. The black backing is cut to a tomb chest end shape with little feet below and a pediment above; within this is a wide, Oriental style lamp carved in relief. This neat little monument is signed by John Bacon Junior, an important and prolific sculptor and monument maker.
Elizabeth (Ladbroke) Denton, d.1807, and her sisters Ann Ladbroke, d.1800, and Hannah Ladbroke, d.1817, plain panel.
Henry Howard, d.1811, heir to Lord William Howard, First Baron of Effingham. White panel with slanting sides, a carved pediment on top with scrolling and flowers, and a curvy apron below.
Ann Birkhead, d.1812, and son Charles Birkhead, d.1807, a lawyer of the Inner Temple. Plain white on black monument, with central panel cut with feet, a shelf on top, and the family shield of arms, on a similarly-shaped black backing, and signed by John Bacon Junior, who made the Robert Petrie monument noted above.

Charles Harriott Smith, scroll panel to R.S.Cotton, d.1821.

Robert Salisbury Cotton, d.1821, carved as a sheet of parchment, folded in the middle and with the lower one draped over three books and rolling up at the base. Panels carved as unrolling scrolls or parchments are widespread, but this one is more elaborate than most – there is a satisfying asymmetry while preserving the overall balance of the composition, and the books, one lying flat, one upright, the other resting spine upwards, give a sense of casual intellectualism. The work of the sculptor C. H. Smith of 5 Portland Road, London. The Smith family produced a number of sculptors, of whom Charles Hariott Smith was among the better ones.
John Sanders, d.1826, plain white panel with nipped corners on a rectangular black backing.
George Holroyd, d.1789, and wife Eleanor Holroyd, d.1827, erected by their son. Panel with a key pattern inscribed around the inscription, and a shelf above on which is a pediment shape, unusually framed by drapery, knotted at the sides, and with a flower in the centre; a small painted coat of arms is within. All this on a dark grey backing panel cut with curved top and base. By C. Smith, sculptor of Gloucester Place, New Road London.
Harriet Clements, d.1831, white marble panel with frame, and heavy pilasters to the sides. On top of these are a pair of acroteria with the usual anemone carving, and between these on a shelf is a carved pot, broad and semi-draped, with a black backing cut to the shape of a pointed arch. At the base of the panel is a further shelf with mouldings, below which is a curved apron bearing a simple coat of arms on a curly lozenge, and to the sides, two brackets, each bearing a carved, stylised flower, and one of which bears the name of the sculptor, Colecom of Merstham, a village just a few miles away - see this page for a bit more on this sculptor.
William Garratt, 'Commander of the ship British Viceroy, who died at Calcutta', but without giving a date of death. Presumably 1830s or later. Panel with shelf and upper pediment, bearing a small cross with the motto 'Our hope is in Jesus', on a rectangular black backing. Signed by W. Holdsworth; there was a Yorkshire family of stonemasons of this name, who may have been responsible for this humble plaque.
Captain George Lewis, put up in 1833, panel with upper shelf and triangular top, on a similarly shaped black backing. By a Brighton mason.
Joseph Foskett, d.1840, carved as a tomb-chest end, more elaborate than some. To the sides of the central portion are receding ends, with a shelf above on which is a curved or swan-necked pediment style lid, carved with central acroteria, little flowers etc, nicely proportioned. At the base of the sides are feet carved as small flowers, and the whole is on a black shaped backing. Signed by Colecom of Merstham, whom we met in the Harriet Clements panel noted above - see pictures above.
George Purling, d.1840, panel cut with small feet, with a chunky upper portion cut to lid or pediment shape, with a painted and carved coat of arms in the centre. A line of repeating ovals is carved beneath. On a shaped black backing. Made by the Patent Works, Esher Street, Westminster.
William Dalrymple Dowson, d.1850, and relatives through to 1861. Tomb chest end panel with upper and lower shelf, lid above, feet below, on dark backing panel with its own feet, by Thomas Gaffin of Regent Street.
William Hackblock MP, d.1858, MP for the borough and magistrate for Surrey. Also his wife Caroline Matilda, d.1842, and son William John Martin Hackblock, d.1842, a young boy. Tall panel with upper shelf bearing an eared pediment, without entablature; the centre of this is occupied by a carved, gilt stag resting on a crest. At the base, a thick block enclosing a roundel with shield of arms, gilt and painted. The black backing panel is cut to the same outline as the monument, giving a striking appearance, and there are two grey supporting brackets. Distinctive.

Mid and Late Victorian vertical panels: Hackblock and Blomfield.

Catharine Harriott Blomfield, d.1879, wife of John Bowmer Collison, Surgeon Major, retired, her Majesty's Indian Army. A typical mid-late Victorian monument, being like a two dimensional shrine. The inscription is beneath a Romanesque arch supported on two pilasters, with a projecting canopy above supported on two larger outer pillars, with carved capitals and reddish bases. On top is a central scrolly effort, with an oriental-style vase or flaming urn, symbolic of eternal life, with two smaller ones to the sides. At the base, to the sides of the pillars are scrolls, and underneath, a broad slab with empty panel supported on two curly brackets with a central apron bearing a little cartouche. The combination of several types of marble and stone, with a variety of simple ornament, is characteristic of the period. By the stonemason H. Summers of Red Hill, not a familiar name.
Morrison and Moore families, emplaced 1910, recording the death and movement of the remains of various individuals from 1835 onwards. Panel with surround of pinkish-brown alabaster, characteristic of the period.
Captain Malcolm Gerald Pawle, d.1917, who died on active service at Lahore, Captain Bertram Pawle, d.1915, killed in action at Hooge Flanders, and Captain Derek Weatherall Pawle, d.1915, killed whilst defending Fort Gurin, Cameroons campaign. Arts and Crafts panel, with stone surround carved with leaves and abstract decoration, and coloured medals, the whole being a landscape composition with side pilasters, upper and lower shelf and cut ornament.
Revd. Walter Earle, d.1922, Arts and Crafts panel in pale marble with a slightly carved sigil and a nice border of green and gilt mosaic.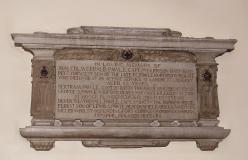 Pawle monument, WW1.
Also in the Church:
Ancient fittings are few, with most of the furnishings being 19th Century:
Outside:
The Church has an extensive burial ground behind and beside it, well cared for, and containing a range of the usual crosses, headstones and tablets, many with low relief carving of pots, flowers &co. There are a fair number of 'eared' tablets as shown here.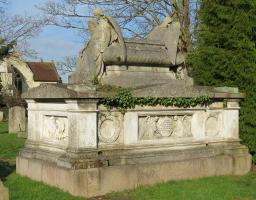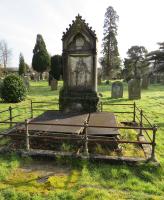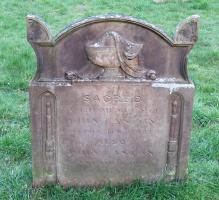 Waterlow monuments, late 19th Century, and typical eared headstone, 1840s.
The outstanding monument, bigger than all the rest and with sculptured angels, is that to Walter Blanford Waterlow, d.1891, and his wife Rebecca, d.1869. The monument is a great block faced in white stone, with panels on each long side commemorating husband and wife with a little shield held by two angels carved in high relief (see picture above right). On the short front towards the path is a relief carving of the Good Samaritan, now quite worn but still good. Up on top of all this is a sarcophagus, with a full sized seated angel at each end, slender and nicely draped. Really good work, though in its exposed position, rather doubtful if much of the sculpture will see out another century.
At a little distance, we may note a large Gothic panel above the entrance to a crypt, also to members of the Waterlow family; this includes a decent statue of a standing woman in Classical garb, hands spread out (picture above centre, you will need to click to enlarge).
Among those buried in the churchyard are the Victorian painters John Linnell and Samuel Palmer, the former a genre painter of rustic scenes, and the latter known for his romantic, other-worldly images of landscapes, either at night, or glowing with bright colours. The picture below is of the Samuel Palmer's monument, of the type known as a raised ledger.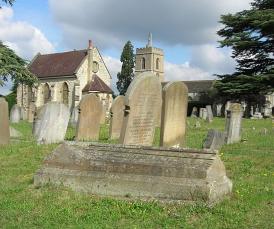 Samuel Palmer's grave (picture by Mary Lambell).
With many thanks to the Church authorities for permission to show pictures from inside the St Mary's: their website is at http://www.stmaryreigate.org/our-buildings/. And thanks to Mary Lambell for the information she provided; she is the writer of the informative guide to St Mary Reigate.
Richard Ladbroke monument // Sculpture in some towns in England // Introduction to church monuments
Visits to this page from 19 Mar 2016: 9,218