Sculpture in Bridge Street, Manchester

Keystones at 64 Bridge Street.
Bridge Street in Manchester, a continuation of John Dalton Street, at first sight seems to offer little to those - admittedly not the majority of the population - searching for sculptural interest, but includes one building which is of great interest. No. 64 Bridge Street, dating from 1879, is an otherwise typical four storey + attic block in terra cotta with paired palazzo-style windows on the first and second floor, each with narrow granite pillars and a keystone, and it is these keystones that are what we have come to see. Each bears a sculpted head of a bearded man, not unusual for keystones (see this page for lots of examples), but their type is unusual. They are 19th Century faces, without any attempt at making them proud or noble or glorious, but simply portraits of ten or so gentlemen (they seem to be mostly repeated at the higher level), with their various peculiarities of face and expression. One has sticking out ears, and close-set eyes, one, wearing a stiff upturned collar (for each has enough of the chest to see his clothing), has stylish side-brushed hair, an alert expression, contrasting with a particularly bushy moustache, several have sardonic expressions. I do not know what this building started out as, though it would be findable in an old postal address map. However, I like to think that these are portraits of the proprietors or directors of whatever firm originally occupied the building. Or another possibility is that as this was a street where several carvers and stone workers were based (indeed, no less a personage than the Manchester sculptor John Cassidy apparently lived on this street), it may be that they were intended as exemplary portraits of Manchester people. Regardless, I see them as an assemblage of real, unembroidered people of their time, and as close as we will get to meeting a 19th Century individual from the city.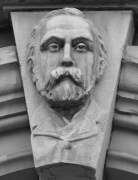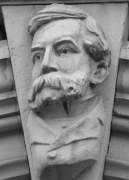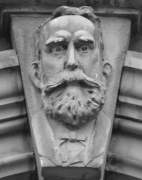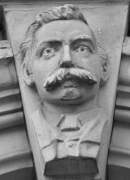 Four of the keystones showing Manchester businessmen, or whoever.
The building is otherwise unremarkable but nicely put together - little panels with crisp terra cotta festoons of small fruit, perhaps apples, a ballustrade above the highest principal floor, and at the corner, a short tower with an ogee dome.
We should mention two other buildings in the street. Directly opposite is the block called Kenworthy's Buildings, no. 83 Bridge Street, dated 1902 on the open pediment of the portico. At the top of this building, surrounded by terra cotta panels with flourishes and two fanciful grotesque fishes, is the face of a satyr carved in stone. (More satyr sculpture on this page; and pediment sculpture on this page.) It is a vulgar thing, with mouth open to show snaggle teeth and a large tongue, but is otherwise well formed. Perhaps it was put up deliberately making fun of the building opposite. Certainly, as with the decoration on no. 64, it has a lack of seriousness combined with a casualness which would make it difficult to imagine it in London. Good for Manchester.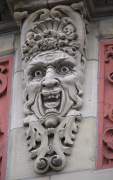 83 Bridge Street, gargoyle of a satyr.
Our third building is a bit of Manchester's social history: the one-time premises of the Manchester and Salford Street Children's Mission, in a narrow building clad in pinky faience (i.e. terra cotta), with nice minor ornament, and high up, two panels showing smiling children's faces indicative of the aspirations of the organisation. I learn from the Web that this charity still exists today, generally called the Wood Street Mission after its current premises, and that it was founded in 1869 'to provide spiritual and practical support for poor children in the slum areas of central Manchester and Salford' (information from the John Rylands University Library website). This building must date of course from close to the turn of the century rather than as early as 1869.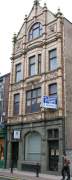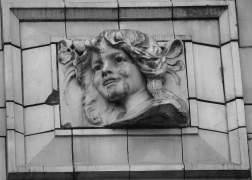 Manchester and Salford Street Children's Mission, and the two busts in high relief.
Manchester sculpture pages - Albert Square
Sculpture in some towns in England // Sculptors
Visits to this page from 13 Mar 2014: 4,980