Also in Hastings
In the Old Town, St. Clement's Church is of interest, partly because Rossetti was married here. On the sea front is much Georgian and Victorian architecture, in particular the excellent Pelham Crescent by the architect Joseph Kay, dating from the 1820s, and thus contemporary with the Nash terraces in London. Approximately parallel to this, in the rear courtyard or carpark of a large store, are a pair of very corroded limestone sculptures of a unicorn and lion, heraldic in style from the Royal Coat of Arms (see this page for more on heraldic unicorns). Apparently they are the work of the sculptor J. G. Bubb.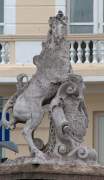 The Hastings Unicorn, by J. G. Bubb.
In the main part of the town ('New Town'), Holy Trinity Church, on Robertson Street, dates from 1851-9 and is by Teulon. Next to is is an ornate fountain to Sarah, Countess of Waldegrave, with much corroded limestone statue, erected by public subscription 1861 (see picture further up the page).
Half a minute away on Claremont is the Brassey Institute, now containing the town library. A good building by the architect Vernon, dating from 1878, it combines a blocky Gothic tower on one side with otherwise largely Italianate detail. It is worth exploring - the porch has a small mosaic frieze, and there are a couple of portrait sculptures inside. Most interestingly, though, in the lending library are two long paintings by E. A. Armitage, from 1874, showing processionals of heroines from the past.
The Town Hall is in Queen's Road, a castellated effort in sandstone by Henry Ward. Opposite is the former Gaity Cinema, once the Marine Palace of Varieties, dating from just before 1900. The modest Queen's Arcade runs underneath.
A little inland is the White Rock Cafe, some sort of leisure centre, which has half a dozen roundels showing coloured cherubic figures, confident decorative work by the essentially 20th century sculptor Gilbert Bayes.

Roundel by Gilbert Bayes.
Facing the sea and walking rightwards or westwards along the shore is a pleasant stroll to Warrior Square (1850s-60s, though sadly some demolition has been undertaken), where facing the sea is a bronze statue of Queen Victoria (1902), one of several versions of the subject by F. J. Williamson. The date is 1902 and this is a characteristic work by the sculptor. The modest pier which divides Hastings proper from the St Leonards/Warrior Square district is by E. Birch. Warrior Square has its own station on the line from London, and visitors alighting here can visit the main street with its several antique shops before walking along the beach through to central Hastings.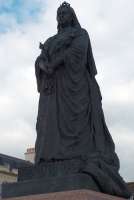 Queen Victoria, by F. J. Williamson.
Sculpture pages // Statues in English towns // Eastbourne
Visits to this page from 23 Nov 2011: 6,226