Statues in Chatham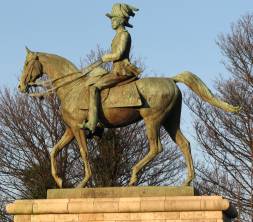 Kitchener of Khartoum, at Chatham.
The naval town of Chatham in Kent has two worthy statues from the Victorian/Edwardian era. Thomas Waghorn, on Railway Street, is a noble bronze figure in a cape, gesturing with his right hand, and with an unrolled map over his left knee. A successful pioneering look. The sculptor was the prolific and talented H. H. Armstead, and the date is 1888.
Also in bronze is the equestrian figure of Kitchener of Khartoum, by Sydney March, dating from 1912. This statue originally stood in Khartoum. A serious work, and an excellent horse, from a sculptor who specialised in portrait busts and war memorials.
We must also take note of the Old Town Hall, now a cinema, which is an excellent building of 1898-9, apparently by the architect George Bond, and with four allegorical figures on the balustrade, of much worn stone. We see a blindfolded Justice with sword, a Britannia with trident, a figure of Wealth with cornucopia, and perhaps Oratory with a musical instrument. Worthy, but anonymous as is so common for architectural sculpture.
Formerly, there was a camel-riding General Gordon at Chatham, by Onslow Ford, after which the small figure in Victoria Tower Gardens is taken.
Apparently in Chatham Parish Church is a bust of John Law, Archdeacon of Rochester, by W. G. Nicholl, dating from 1827.
Finally, we may mention that in nearby Rochester, in the museum is a tile panel from the interior of the Theatre Royale in Chatham, showing a girl with a guitarlike instrument, of no particularly artistic pretension.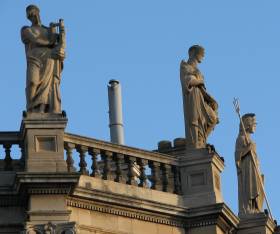 Three of the figures on the Old Town Hall.
Rochester // Sculpture pages // Statues in English towns
Visits to this page from 23 Nov 2011: 6768