Monuments in Christ Church with St Ewen, Bristol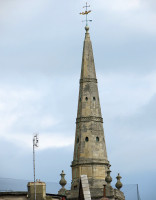 The tall spire of Christ Church with St Ewen, Bristol.
Conspicuous by its central position in Bristol at the end of Corn Street, Broad Street, and the curve where High Street joins Wine Street, and fine and notable spire, bearing a golden dragon weathervane, Christ Church with St Ewen was put up in the 1780s (completed 1791) by William Paty, an interesting architect who was also a stonemason, and one of whose relatives carved a monument within the church. It replaced one of three ancient churches in the vicinity, and was consolidated with St Ewen, which stood nearby, at the same time. Southey wrote that 'A wordly-minded man effected, by dint of begging and impudence, a union between the two parishes of Christ Church and St Ewen, for no other conceivable reason than that he might be rector of both'. At least one of the monuments in the Church was brought from St Ewen, and several other earlier monuments in the church must have come from the Norman predecessor Christ Church. I have seen reference to early monuments to Dr Standfast, Rector of Christ Church for 51 years, and Chaplain in Ordinary to King Charles II, and also a certain Thomas Taylor, d.1654, a master of the Company of Bakers, but if these still exist they are not seemingly on public display.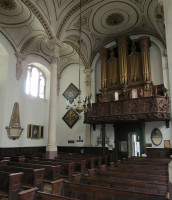 The decor, white and gilt above, rich wood below, and the organ.
The church has a bright interior, with much white paint and gilding and rather Catholicy décor. Of this, we may note the altar, with crucifixion and two sculptures of saints in niches, heads in windows above and below, half-angels in spandrels at the top, and more minor sculptural adornment, all these presumably contemporary with the church, and plausibly carved by one or other of the Paty family. A painted St Michael sculpture, rather too sweet, is noted on a panel as being designed by a former priest, and dated from 1918 or thereabouts, just about as late as such figures were produced in this style, which feels more familiar over a generation previously in the 1870s. We may note a rather grand organ, the balcony of which bears carved figures, decorations and cherub heads in wood, along with free-standing trumpeting angels given individually, a brass panel notes, with the dated ones from 1902-7. A brass eagle lectern is of the type familiar from mid-Victorian times.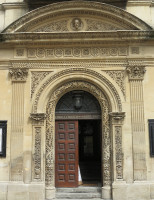 The ornate, carved door frame facing Corn Street.
Outside, we have already noted the dragon weathervane (see picture at bottom of page), and the octagonal spire sits on a square tower bearing corner pots. The main exterior sculptural decoration, though, is confined to the impressive doorframe, where the Romanesque arch is heavily carved with oak leaves in a repeating pattern, most satisfying to the eye, paralleled by tall panels with conventional pots and ornament in low relief in a light, Louis IV style, intended, no doubt, to reduce any sense of ponderousness to the portico. It is surmounted by an entablature frieze of stylised flowers, and a curved pediment bearing more low relief carving and a portrait head of Christ with a halo in a roundel.
We now note the small selection of monuments in the church, mostly in the porch. They consist of about a score of panels, from the second half of the 18th Century and first half of the 19th Century, with three plain 20th century examples. The oldest monument which I saw has a sculptured female figure upon it, and several of the monuments are signed by the masons or sculptors who produced them. In date order then:
Thomas Holmes monument, d.1761, by James Paty the Younger.

Thomas Holmes, d.1761, and 'Also beneath this Trophy of the Victories of Death', wife Mary, d.1789, and daughter Elizabeth. The long inscription on a panel with receding, slanted side borders, shelf above and below, and above, an obelisk with an attached rather than relief sculpture of a mourning woman. She reclines on a tomb chest, one arm protectively around a pot, perhaps the reliquary of the ashes of her husband, the other holding the curved handle of some lost item: it is difficult to say what it might have been. She is dressed in classical drapes, and her nose is classical, and the column of her neck, but cheeks, small chin and above all the little pursed mouth are those of an 18th Century portrait miniature. The work of a skilled sculptor, with a variety of drapery over the body and legs, and naturalistic in the poise of hands and the quirkiness of the feet, with long toes and a toughened heel. Oddly, one of the feet of the tomb chest is missing, so it looks a little off balance, and we must presume this was done to avoid confusing the outline of the female feet in front. A single flower lies fallen on the ground. The whole in a range of coloured marbles. Beneath the lower shelf under the inscription is a small apron between two brackets. This has upon it two painted shields, and it is between them that the sculptor signs, as Jas. Paty F, standing for 'James Paty fecit'. James Paty the Younger was from a significant family of Bristol monumental sculptors and architects, working from the 1720s through to about 1800, and responsible for a variety of memorials in the Bristol churches and surrounding areas. William Paty has already been noted as the architect for Christ Church with St Ewen.

Monument to Martha Lewis.

Martha Lewis, d.1750, and children George, d.1769 and Martha, d.1737, with a note that the monument was removed from St Ewen in 1791. Very similar to the Thomas Holmes monument, but with a casket tomb on top in front of an obelisk and, alas, no mourning girl. No signature that I could see.
Christopher Raymond, d.1754, wife Dorothy, d.1802 [?much cut over], daughters Lucy, d.1809, and Ann, d.1810, and four unnamed infants. The inscription as if on an upright tombstone, with curly carved pediment, part-covered by a long, asymmetric drape which falls in two loops down the left hand side, giving a strong outline but less than convincing in the detail. It rests on a heavy lower block, with further inscriptions to Ambrose Gilbert King, d.1825, and wife Anna Maria, d.1845, a granddaughter of William Raymond. Two small shields at arms are included on the monument.
Robert Bolster, d.1767, and unnamed wife and two children, on a plain panel.
James Banister, d.1772, and wife Anne Banister, d.1796, plain plaques, with elegantly cut script.
William Baylis, d.1788, linendraper, and family to 1825, on an oval plaque, slightly domed, in a dark rectangular surround. Above, a shelf supports an elegant Classical pot, fluted, covered with an asymmetric drape, and with a shaped backing. Below, a deeper shelf with a sunburst, above a single bracket carved with many wavy-edged leaves. The leaves and sunburst, despite their lesser prominence, are the most carefully carved part of the monument, and were picked up in the design of the Townsend monument noted below.
Elizabeth Whittaker, d.1800, the panel being designed to fit an oval, very classical, with the inscription on the lower half, and the upper half occupied by a chaste urn with near-symmetrical drapes in a Robert Adam fashion. A little bracket at the bottom goes almost unnoticed. Elegant.
John Townsend, d.1800, eminent surgeon of Bristol, and Samuel Townsend, d.1801, Dry-salter, the panel with solid Corinthian pilasters with fronded branches winding symmetrically up the columns, a fluted upper with shelf, and a black backing at the top carved as a baroque pediment enclosing a shield at arms and with the remains of two crossed branches. At the base, the small apron has a carved sunburst, and a supporting corbel with ornamental leaf designs. A solid, well proportioned monument overall.
Thomas Urwick Carless, d.1800, a worn inscription and eulogy, plain panel with inlay border of darker brecciated marble, which when I saw it was laying on the ground in the porch, the backing wall looking as if there had once been an upper shelf, unless a different but similarly sized monument had been affixed there.

The Weeks monument, 1801, by Drewett and Co. of Bristol.

Jeronoma Weeks, d.1801, and daughter Mary Ann, d.1823, the former with a poem referring to the concept of the sculptured monument: 'Columns and labour'd Urns but vainly show/An Idle scene of decorated Woe…'. Alas, no columns here, or rather very modest ones at the sides of the monument on the apron, but at least there are two rounded pots, not that 'labour'd' perhaps, flanking the tall obelisk on which the inscription is written. The apron bears a coat of arms and a crossed branch design above a bell-shaped bracket, which is signed by the mason, Drewett and Co, Bristol. Several carved tablets by William Drewitt of Bristol may be found in the city.
Thomas Tyndall, d.1804, and wife Marianne, d.1803, carved as a tomb-chest end, with side pilasters, slightly slanting and projecting below the base to form little legs, with a repeating pattern on the shaft and vague shell designs as capitals, a broken swan-necked pediment incorporating stylised flowers and anemone patters, with a painted central shield at arms, and beneath, a striated bracket-cum-apron with a further pendant flower. All on a black, shaped backing. Rather an unusual design, though the elements are all very familiar, and it works rather well. See the later Thomas Tyndall below, and we may note that someone of that surname was an upholsterer to the church in the 1690s.

The open book monument to Revd. Thomas Ireland and wives, by Henry Wood of Bristol.

Frances Ireland, d.1795, and Lucy Ireland, d.1815, wives of Revd. Thomas Ireland, d.1816, rector. Including a joint eulogy of the two wives, as if to demonstrate that the husband placed them on an equal footing. The inscriptions to them on one page, and to him on the other page, of a monument carved as an open book, the top of the page self-consciously turned over, the whole on a black backing with upper shelf, lower fluted shelf with room for a motto. Above, cut as a blank eared pediment, and below, two supports, one of which is signed by the sculptor-mason, Henry Wood of Bristol. Henry Wood was a prolific monumental mason, originally from London, who bought up the works of the statuary Thomas Paty of Bristol, one of the more prolific of the Paty family whom we met in the person of James Paty above.
Christopher Shapland, d.1819, silk mercer, and wife Hannah, d.1828. Pale panel with receding pilasters, fluted, top shelf, and above, a casket. On a shaped dark backing, with small bracket incorporated.
Thomas Shellard, d.1824, and wife Mary, d.1800, as a casket tomb end, with little lion feet, standing on a shelf, with a black backing.
Hannah Hosier, d.1830, husband Stephen Hosier, d.1836, silk mercer, and son Joseph Hughes Hosier, d.1807.A large panel with receding side pilasters, with carved upon them a air of upturned torches, symbols of extinguished life. At the top on the pediment, a relief pot, classical, with a repeating design at the rim, large acanthus leaves below, and fanciful handles.
Henry Bate, d.1835, native of Liskeard in Cornwall, as a simple tomb chest end on a black backing, with a small bracket signed by H. Wood of Bristol, whose more ornate monument to the Ireland family we noted above.
Susanna Niblett, d.1838, and husband Isaac, d.1860, as a chest tomb end on a dark shaped backing, rather chunky, with a roundel of arms. By the mason Richard Toleman of Bristol, who is obscure.
Thomas Tyndall, d.1841, and wife Mary Sybella, d.1822. A chest tomb end, with fluted pilasters, shield of arms in the pediment, and minor repeating patterns carved on upper and lower shelves, on a meagre black backing. Rather less elaborate than the monument noted above to the earlier Thomas Tyndall.

Revd. Robert Watson, d.1842, by Tyley of Bristol.

Revd. Robert Watson, d.1842, Vicar of Bristol Temple and rector of the Parish, wife Ann, d.1825, and niece Sarah Lansdown, d.1844. Panel with large quatrefoil top incorporating a decorative cross, all on a shaped black backing. More a design for a headstone than a wall monument. By T. Tyley of Bristol. There were several Tyleys of Bristol, producing some good work, active from the end of the 18th Century to mid-Victorian times, and their work is found in other Bristol churches, Devon and Gloucester.
John George Harper, d.1925, churchwarden, on a black panel with a narrow border, looking of a much older period.
Albert Greenway Hort, d.1935, Roland Greenway Hort, d.1945, and Richard Greenway Hort, d.1946, three brothers, all connected with the church. A plain panel with the names picked out in red.
James George Griffiths, d.1949, churchwarden etc, plain panel as above. These last three monuments are typical of most post-WWI monuments - we can understand the reaction against ornament and ostentatious decoration after the traumas of war, but it seems to me that these modern monuments, with their avoidance of all sculptural enrichments except in the very rarest of cases, have gone too far for too long, and it is time to bring back a more decorative and sculptural treatment, to renew the long tradition of British church memorials, much as the art nouveau period sculptors and artisans did around the beginning of the 20th Century.
Finally, the pictures of the monuments inside the church are included here with kind permission of the church authorities; the website of Christ Church with St Ewen is at http://www.christchurchcitybristol.org/index1.html.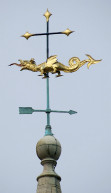 The dragon weathervane.
Sculpture in Corn Street, Bristol // Just along Corn Street, a sculpturally decorated bank
St Stephen's Church // Ruins of St Peter's Church, Castle Park // Ruins of Temple Church, off Victoria Street // Statues along Broad Quay, Bristol
Sculpture in England // Sculpture pages // Introduction to church monuments
Visits to this page from 13 Mar 2014: 6,924