Durning Library, 167 Kennington Lane - late 19th Century architectural sculpture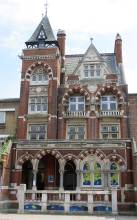 Durning Library, Kennington Lane, by Sidney RJ Smith.
This most interesting Victorian building, at the corner of Kennington Lane, Lambeth, in South London, is the work of the architect Sidney R. J. Smith, famous for the old Tate Gallery building (Tate Britain) on Millbank, on the other side of the River Thames. It is in fact not far away from that building, as the Thames can be reached by going a few hundred yards away along Black Prince Road. Sydney Smith designed several other areas in the area, including at West Norwood, South Lambeth, and Balham, also Streatham, though I have not seen that one. The name comes from the donor, Jemina Durning Smith, and the building was put up in 1888-89 as one of the early Free Libraries in London. It is on these pages as a modestly sized sculpturally decorated late Victorian building.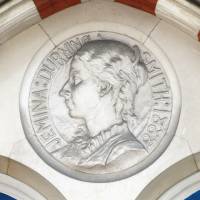 Jemina Durning Smith.
Durning Library is an example of Victorian Gothic, three bays wide, with three principal stories, with the tower being somehow prominent despite being not much taller than the rest of the building, even including its pointy roof, very Victorian indeed. Beside this is a gable with three light window forming an attic storey. The ground floor has an arcade in front, with several arched windows, and small pillars. The building is mostly dark red brick, with some terra cotta, and white dressings, including white and red alternating around the tops of the arches. There is a fair amount of minor sculptural ornament which adds greatly to the merits of the building.
Above the ground floor is a roundel with a relief portrait of the donor, Jemina Durning Smith, and the date 1888, which also appears elsewhere on the building, see below. She is shown here as a thin-faced woman with pinned back hair and a frilly collar. There are carved details including minor leafy designs at ground floor and higher.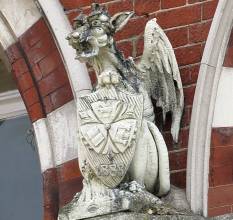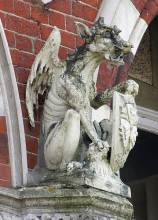 Two views of the dragon sculpture.
Between the arches of the upper windows is a projecting capital, much enriched with carved leaves, and on this sits a small dragon – I thought at first it was a sphinx, but looking more closely, it certainly is a dragon, though with a rather squat body and short neck in the manner of a City of London dragon (for lots of pictures of dragon sculpture, see this page). The beast crouches with sharply bent legs in heraldic fashion, its raised forepaw on the top of a shield. He has rather small wings, and a bony body, a snarling face with pop eyes, and appears to be made of moulded white clay or terra cotta. The shield bears the date 1888, and is a smaller version of a shield above the monster on the façade. The shield bears three smaller shields, with a castle, open book, representing the library, and some ungulate, seemingly a sheep or lamb.
More or less parallel with the upper shield on the tower is a panel, this time in carved white limestone, with a central shield with a relief carving of some waterbird (head and neck only) biting on a horseshoe. On the one side of this is a grotesque monster, web-footed and bat-winged, and on the other, a swan (swan sculpture is noted on this page). Behind is naturalistically carved leafy branches.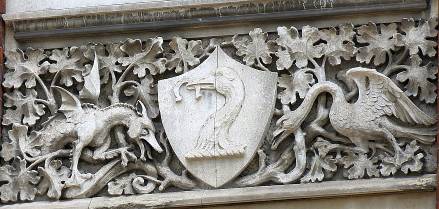 Panel with relief carving.
Higher up still, the upper corners of the tower are embellished with gargoyle dragons, helping to give a satisfying spiky look to the building, and on top, the tower and gable have further spikes.
Altogether a characterful and splendid building on a modest scale: would that architects built like this today.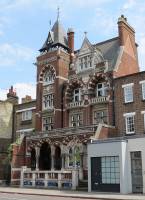 Also in Kennington: St Mark's Church, Kennington // or Eastwards to Walworth Road sculpture // Or to the Doulton building along Black Prince Road
Architects page // London sculpture // Sculptors
Visits to this page from 1 July 2015: 4,180