St Volodymyr [Vladimir the Great] of Ukraine, Holland Park Road, West London, by Leo Mol
Along Holland Park Road, close by one of the entrances to the park, is a statue of St Volodymyr, or Vladimir the Great of Kiev, a 10th Century prince of Novgorod who conquered Kiev and the surrounding lands and established Christianity in the region. The statue stands on a granite plinth with inscription, noting it was erected by Ukrainians in Great Britain in 1988, and the signature of the sculptor, Leo Moll, on the base gives the date of the work as 1987.
Profiles of statue of St Volodymyr of Ukraine, by Leo Moll.
Volodymyr is standing, holding a crucifix on a tall shaft in one hand, his other on the rim of his shield. He is shown in middle age, with rather a strong-featured face, with hooked nose and moustache but no beard, and has a small crown with a crucifix on the top. His outer robe, a priestly garment with a further cross on the front, covers most of his body, which is swathed on the right hand side in a Tanagraean figure style. A good modern figural work, worthy of the increased attention given to it in light of the 2022 invasion of Ukraine.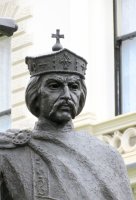 The sculptor, Leo Mol (1915-2009), originally Leonid Molodozhanin, was born in Ukraine, and worked as a potter (his fatherís career), and as a stained glass artist before turning to sculpture. In the late 1940s he settled in Canada, in the city of Winnipeg. Although the occasional female nude by Mol appears on the market, most of his sculptural works were given by him to the city of Winnipeg itself, and are housed there in a sculpture garden. Apart from the Vladimir statue, he was commissioned to make various commemorative portrait statues of modern statesmen, and much of his other work seems to consist of slender ideal nudes, figural groups in a rather more solid, mid-20th Century idiom, and (in the sculpture park) animals. I am not aware of other public sculptures by him in the UK.
We may note en passant that two or three miles to the east of this statue, south of the western part of Oxford Street down Duke Street (opposite Selfridges) is the Ukrainian Catholic Cathedral in London, an interesting example of the work of the Victorian architect Alfred Waterhouse, in his characteristic terra cotta. It was built by him as the Kingís Weigh House in about 1890, but has been in the possession of the Ukrainian Catholics in the 1960s.