An Alphabet of Allegorical Sculpture - U is for Unity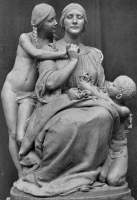 Alfred Drury's Unity.
Only three allegorical groups of Unity leap to mind – a bulky group on Cardiff City Hall by the sculptor Henry Poole, and two works by Alfred Drury – a freestanding group, and a panel in Sheffield. I do not have a picture of the Sheffield panel, which shows a central allegorical figure holding her hands out, which are clasped by subsidiary female figures. It shows Unity in two senses – through the clasping of hands, binding the figures together, and through the various figures being of different continents – Europe, America, Afria and Asia, thus a Unity of Nations.
The other Unity group by Drury, depicted at the top of this page, in in Aberdeen. Again we see a holding of hands, and of course the family group hearkens to mind a Unity of the Family. The composition pulls inwards to the centre, with the children looking towards their mother, she gazing downwards, into the composition rather than outwards and forwards. There is an ovalness to the grouping, and the base especially, of the folded hem of the woman's skirt and the lower leg of the seated infant, form a boundary above which the group is contained. And yet, in the absence of a title, we could have as easily put this group as representative of Motherhood, or Fruitfulness.
Our other example of Unity is the group by Henry Poole, entitled Unity and Patriotism, which is one of the massive architectural sculpture groups on the City Hall, Cardiff. Next to the central figure, on the left as we look, stands a female figure holding a sphere, a common symbol of Unity. The figures on the right of the group are clearly associated with Patriotism, so it seems reasonable that everything on the left would fit with Unity, but the significance of the angelic figure is unclear, and whatever she once held is broken. The lionskin on the floor would seem to pertain to Patriotism again.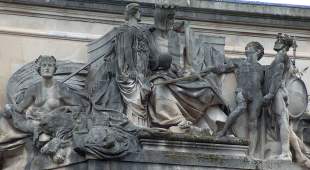 Henry Poole's Unity and Patriotism.
Back to Allegorical sculpture - T // Onward to Allegorical sculpture - V // Full Alphabet of Allegorical sculpture
Sculpture in London // Sculpture in England // Sculptors
Visits to this page from 10 June 2012: 4,764