Edward William Wyon (1811-85)
The Victorian sculptor and medallist E.W. Wyon specialised in portrait sculpture.
E.W. Wyon statues, Criterion Theatre.
Edward William Wyon was born into a family of prominent medallists, his father being Thomas Wyon Sr, who bore the official title Chief Engraver of the Seals. He became a prolific Victorian sculptor who was best known for his portrait busts, including preparing a goodly number of works for reproduction in Parian porcelain. He studied at the Royal Academy Schools from 1829 and exhibited his work there from 1831, living at a variety of London addresses before settling in 1857 at Allsop Terrace, which may refer to a terrace of houses in Allsop Place behind Baker Street Station.
Wyon exhibited profusely at the Royal Academy, his subjects being mostly portrait busts and portrait medallions, mixed in with a few works depicting scenes from Shakespeare and allegorical and ideal subjects. In the 1840s he made a few funereal monuments, including a very fine one to Barbara Hofland, d.1840, on the exterior wall of Richmond Parish Church, South West London/Surrey.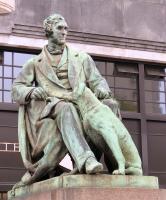 Richard Green statue, Poplar, East London.
In the 1850s he worked for Wedgwood, and for the Art Union, making reduced-size busts and other works in Parian porcelain as noted above; not all of these being after his own original subjects, and his most popular piece was a small version of The Eagle Slayer after the sculptor John Bell.
Wyon achieved enough eminence and skill to be chosen as the sculptor of three of the statues on the rear of Burlington House (see this page), now home of the Royal Academy, but at that time part of the London University. In the 1860s he also made a seated portrait statue of Richard Green, a notable shipowner and doer of good works, which can be seen in Poplar, East India Dock, outside All Saints DLR station. Around the same time he made reliefs and keystone heads for Drapers' Hall, and his statue of Britomart (from Spenser's 'Faerie Queen'), exhibited at the International Exhibition of 1862, was also chosen to be one of the statues in Mansion House.
In the 1870s, Wyon's public work includes caryatids for the Fitzwilliam Museum in Cambridge, and back in London and of slightly earlier date, the four figures, and I think the other sculpture, on the facade of the Criterion Theatre building which fronts onto Piccadilly Circus - one of these is shown at the top of this page. However, overall, his production of sculpture seems to have declined from about 1870, and he exhibited for the last time at the Royal Academy in 1876.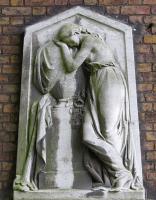 Wyon's monument to Barbara Hofland, Richmond Church.
Looking at Wyon's work, his portrait busts in Parian and Wedgwood's Black Basalt are well executed, characterful in some cases (e.g. James Watt, Cobden), a bit too Classically perfect in others, such as Byron, but this may be because of the material, which tends to purity and cleanliness. His medallions include several showing infants or putti at play, in an overly sweet manner appealing to Victorian taste. His historical and ideal female figures are better, and he favoured a long-haired type with a full and curvy rather than Classically muscular figure.