John Bell (1812-1895)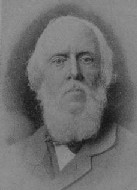 John Bell, sculptor.
The neoclassical sculptor John Bell is most familiar for his America group for the Albert Memorial, The Eagle Slayer, of which a version stands in the grounds of the Bethnal Green Museum of Childhood, and many rather overly sweet Parian figures of girls and cherubs. He was born in Hopton, East Anglia, where his wealthy parents had their residence Hopton Hall. He grew up in Yarmouth, and aged 16 went to London to study first at Sassís art school and then, in 1829, at the Royal Academy Schools, before setting up as a sculptor in 1832. He exhibited at the Royal Academy from that year all the way through to 1879.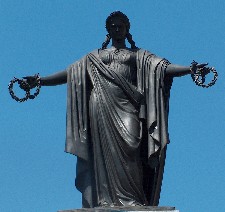 Summit figure from the Crimea Memorial.
His earlier work was largely mythological in subject, particularly girls described by Richard Barnes in his 1999 book on the sculptor as Ďa style somewhere between ethereal classicism and romantic idealism, coolly erotic in white marbleí. An early success was Dorothea (1839), and later came the Abyssinian Slave, Andromeda, Ariadne, The Octoroon (another chained nude girl), and Una and the Lion. All these were reproduced in miniature in Parian porcelain, by Minton and other manufacturers, and it is a characteristic of Bellís statues that many of them were reproduced in a variety of sizes and materials. This included works in iron for Coalbrookdale, including a version of The Eagle Slayer, girls acting as lampstands, and fountain statues shown in the Great Exhibition, where a variety of his other statues were also shown, and large terracotta statues of the Continents produced by Blashfield for the terrace wall of the reassembled Crystal Palace. We should also mention the sentimental Babes in the Wood (1839, now in Norwich Castle Museum), the best known of several children and cherubs he made.
As noted above, his most significant work was the America group for the Albert Memorial, centred on a buffalo, with three figures representing America, the United States and Canada, and two male figures behind for Mexico and South America.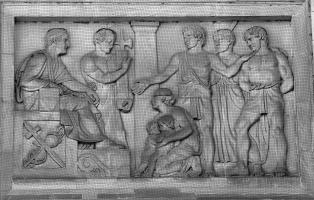 One of John Bell's relief sculptures for the Derby Guildhall.
Bell was also the sculptor of a few portrait statues, including Falkland and Walpole for the Houses of Parliament, Cromwell, of which a version exists in Warrington (where he also has four decorative females for the Coalbrookdale gates), and a statue of Clarendon inside the Foreign and Commonwealth Office. His monuments include one of the massive Guildhall pieces, the monument to Wellington, with the Duke, and figures of War and Peace, male and female respectively, the Crimea Guards Memorial in Waterloo Place, London, and the Artillery Memorial in Woolwich. A version of Armed Science, a warrior woman, was made by Doulton for a memorial to fallen soldiers in Norwich Cemetery, a funereal statue of James Montgomery now stands in the Sheffield Cathedral precinct, and a plaster statue of Francis Chantrey, whose work strongly influenced Bell, is in Norton Church, where Chantrey is buried.
Unfortunately, many of Bellís other works have been destroyed, most significantly over a dozen at Crystal Palace when it burnt down, and a collection he bequeathed to the borough of Kensington, which was lost to bombing in WW2. Apart from the works whose locations are noted above, there is a collection of his Coalbrookdale iron works at the Museum of Iron there (which I have not personally visited), and in the V&A is a half-sized Eve, rarely on show. In Derby, he has two panels on the exterior of the Guildhall. Lots of his ideal works survive as Parian figures, but Bellís style, which can tend to the over-pure on his marbles, is further adapted to become over-sweet and sentimental on the miniature scale Ė the Parian figures therefore cannot be taken as truly representative of the mood of his original works.
Bellís style then for his full sized statues was classical, his female figures tending to the heroic, large of limb and wide-hipped, and where clothed, to the Hellenistic rather than the Hellenic. A few of his male figures are excellent, and I would single out the figure of War on the Guildhall Wellington Monument and The Eagle Slayer in this respect, and the Roman faces of the high relief figures on the Sheffield Guildhall.
Bell died in 1895, and is buried in Kensington Cemetery, in Hanwell.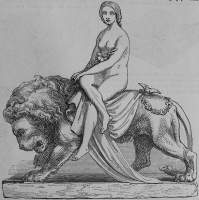 Una and the Lion.