George Edward Wade (1853-1933)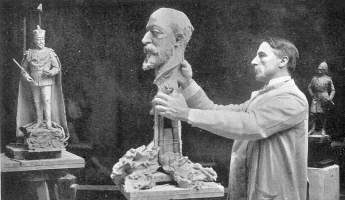 G. E. Wade at work on his Edward VII.
The sculptor George E. Wade is perhaps best known for his charming bronze statue of a young girl on the Victoria Embankment to Lady Somerset (Temperance). He was self-taught, and is recorded, somewhat obscurely, as having 'drifted inot sculpture, having seemed to regard it as a destiny to accept rather than a vocation to be won'. He exhibited from 1887, and at the Royal Academy from 1889, and received patronage from the nobility which helped ensure his success. His studio was first in Pont Street, and later, off the Fulham Road, close to that of Albert Toft.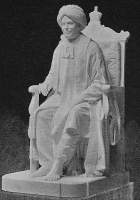 Muthuswamy Monument, Madras.
Much of his work consists of busts and memorials. Among these are a bust of the Duke of Clarence in marble, the first bust of King Edward VII in 1902 (he has a statue of Edward VII in Stanley Gardens, Bootle, Liverpool), the William Booth monument in Mile End Road, London, and a bronze of Catherine Booth, and Canon Wade. Abroad, he made the Sir John MacDonald memorial for Montreal, Canada (a memorial to him is also in St Paul's Cathedral), and the seated figure of Tirnvarur Muthuswamy (the first native Indian High Court judge under the British) at Madras, India, along with Colonial portraits of Arthur Havelock, Governor of Madras, and Acworth, Civil Commissioner of Bombay. He also made a colossal statue of Queen Victoria for Ceylon, which from a poor picture on the web looks considerably imposing.
Wade also produced some ideal and allegorical works, including Truth (for comparative statues of Truth, see this page), Death, and Despair; an Aphrodite, and a St George and the Dragon. As well, in Norwich is his rather ambitious Boer War Memorial, with a splendid angel on top, described on this page.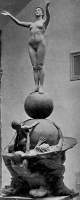 Wade's Truth.
His style is rather varied, and from the small number of works of his I have seen, it is difficult make generalisations. He was clearly no anatomist, and his figures have a certain slightness or lightness rather than an emphasis on solidity and mass. He tended to favour rather simple drapery, with the exception of the Norwich Boer War angel. He did however have a keen sense for the dramatic silhouette, which is found in a number of his works, both ideal and portraits.
Visits to this page from 30 Jul 2012: 9,064