Thomas Thornycroft (1815-1885)
We know Thomas Thornycroft for four important sculptural works – Boadicea in her chariot at Westminster, the Commerce group for the Albert Memorial, his equestrian Queen Victoria by Liverpool's St George's Hall, and the companion Albert, of which versions are also at Halifax and Wolverhampton. An important lost group by him was the Poet's Fountain, near Hyde Park Corner, which according to the National Archives, was removed by Westminster City Council in collusion the Ministry of Works in about 1950 and apparently destroyed a few years later in what seems to be a typical fit of barbarism. This enormous work, designed together with his sculptor wife and son, included marble statues of Shakespeare, Chaucer and Milton, and below them, three of the Muses in bronze – Tragedy (Melpomene), Comedy (Thalia) and History (Clio). Above was a figure of Fame.
The heroic statue of Boadicea in her chariot by Westminster Bridge, just off Parliament Square, is one of the must-see sculptures in London, an epic and outstanding work. It was cast in bronze and emplaced only some years after the sculptor's death. More on this group on this page.
The Liverpool Queen Victoria is one of the best QVs, showing her seated side saddle on her horse, with a long, hanging skirt - see this page. Both she and Albert nearby are on superb horses, which were a specialty of Thomas Thornycroft. As noted, another Prince Albert by Thornycroft is in Halifax, and another in Wolverhampton. Versions of both the Victoria and Albert in miniature bronzes were produced, and occasionally come up at auction.
The Albert Memorial Commerce group by Thomas Thornycroft is a highly classical, very calm work, and gives opportunity to study his figures in repose. What a contrast to the Boadicea.
Apart from this, there is apparently a statue of Charles I by him in the Houses of Parliament, which I have not seen, and in Chester, there is a statue of Richard Grosvenor, 2nd Marquis of Westminster, in the park which bears his name. Also, with his wife Mary, a monument in Ledbury to John Hamilton-Martin. A further work with her was a James I, apparently in the Central Criminal Court, Old Bailey.
Thomas Thornycroft was born in Cheshire, studied under the sculptor John Francis, and in due course married the latter's daughter, Mary, who became an important sculptor of children, mainly on behalf of the Royal Family. He exhibited at the Royal Academy from 1836. One son of Thomas and Mary Thornycroft was the prolific and important sculptor Hamo Thornycroft; another became a submarine engineer and founded the military hardware company which became Vosper Thornycroft.
Thornycroft died in 1885, and was buried in St Peter, Wolverhampton. There is a monument by him there to his father, with a relief portrait.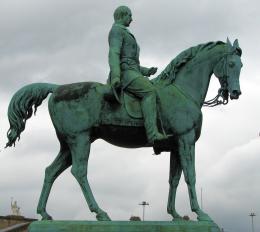 Albert, by St George's Hall, Liverpool.
Visits to this page from 23 Nov 2011: 7,444