William Theed the Younger (1804-91)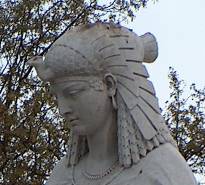 Theed's group Africa for the Albert Memorial.
The sculptor William Theed was born in Staffordshire, his father, William Theed the elder being a sculptor and a craftsman at Wedgwood, known for his major work, Hercules and the Thracian Horses for one frontage of the Buckingham Palace complex. The younger Theed studied at the Royal Academy Schools, then worked for the sculptor E. H. Baily. Five years on, in 1826, he went to Rome, where he was to stay a total of 22 years, during that time working in the studios of Thorwaldson and John Gibson.
Returning to London in 1848, Theed enjoyed a good reputation, being a favoured sculptor of Queen Victoria, and was commissioned to produce many portrait statues, busts, and large monuments. He showed work in the 1851 Great Exhibition, and among other high points were a group for the Albert Memorial, and five standing figures on the Inland Revenue side of Somerset House, representing Manchester, Edinburgh, Glasgow, Belfast and Dublin.
As well as these sorts of things, Theed also sculpted various ideal girls - Ruth, Sappho, Diana, Psyche etc, some rather on the coy side, and at least two of these (Musidora and Sappho) were reproduced in Copeland porcelainware.
Apart from the works noted above, Theed's statues may be seen in St Paul's (Henry Hallam), Manchester (Monument to Chetham in the Cathedral, Gladstone and Thomas Bright for the Town Hall, and James Watt in Piccadilly Gardens), Huddersfield (Robert Peel), Winchester (David Williams monument in the Cathedral), and Prince Albert statues for Grimsby, and in Australia in Macquairie Street, Sydney. He was also responsible for three of the portrait statues (Bacon, Locke, Adam Smith) on the rear of Burlington House, the home of the Royal Academy. And for a nice recumbent statue as part of a monument, see Countess De Salis in Harlington Parish Church.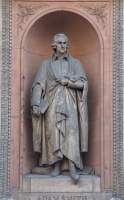 Statue of Adam Smith.
Theedís portrait statues are always good, and typically slightly serious looking. At their best, they are dramatically posed, though are able to convey strength and presence even when in repose, as is the case with the Manchester James Watt, depicted here.
<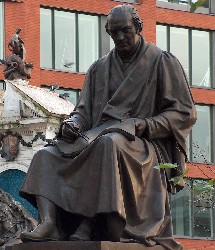 James Watt in Manchester.
Visits to this page from 23 Nov 2011: 9,581