E. Caldwell Spruce (1865-1922)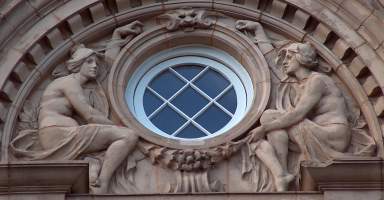 Arts and Crafts girls by E. Caldwell Spruce for the Yorkshire Building Society, Leeds.
E. Caldwell Spruce, more of a modeller than a sculptor, was born in Cheshire in Knutsford in the 1860s and worked in a local tile factory before taking up a post as head designer and modeller at Burmantofts Art Pottery in Leeds. Burmantofts, familiar as a producer of architectural terra cotta and faience for grand buildings in Leeds, Manchester and other cities, had started out in the 1840s as a brick maker, then a maker of piping and salt-glaze wares, but transformed in the early 1880s into artistic production, taking the name Burmantofts only in 1888. During his time at Burmantofts, Spruce also worked as a teacher of modelling at the local school of art. He then spent a period in Paris, exhibiting at the Paris Salon from 1905, before returning to Leeds.
Spruce exhibited a number of ideal works and busts, but the majority of his work is the terra cotta architectural sculpture he made for Burmantofts. In his home city of Leeds, we can see examples of both his busts and architectural work. The Art Gallery has his busts of Lord Airedale (Leeds's first Mayor) and Samuel Wilson, the latter a purposeful and bewhiskered bronze. In Briggate, at the corner of Duncan Street, is a rather splendid terra-cotta building put up for the Yorkshire Building Society, with two pairs of high relief figures of girls by Spruce, and a variety of cartouches, drapes, hanging fruit etc, presumably also of his design. The girls, nearly nude, are lovely creatures with arts and crafts faces, graceful necks, and rather muscular bodies. The pose, reaching up a hand to enfold a round window, is more awkward than it looks at first sight, and that arm looks somewhat long as a result.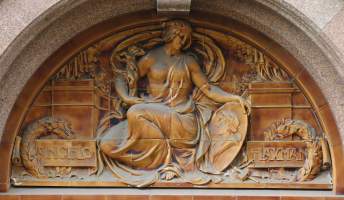 One of four panels by Spruce on the Midland Hotel, Manchester.
For Spruce's Burmantofts work, the enormous Midland Hotel in Manchester has four excellent panels with allegorical figures, one of which is signed by him. The drapes are nicely done, particularly on the allegorical figure of Sculpture, shown here, and again the figures are somewhat muscular in the arms, and have arts and crafts hairstyles (more allegorical figures of Sculpture are on this page; and a companion panel is shown part way down the Allegorical figures of Architecture page). Again, it is likely that the rest of the decoration on that building – consisting of heraldic lions, dragons, cherubs, and grotesques in low and high relief – is also by Spruce, or at least designed by him. Certainly the festoons and fruit are in similar vein.
Our final example is one of Spruce's full figures, called The Alarm, dating from 1907. We see a muscular, but not ideal male nude; the treatment of the torso is similar in others of the artist's figural works.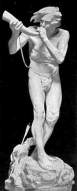 The Alarm.