Sir William Ernest Reynolds-Stephens (1862-1943)
The sculptor W. E. Reynolds-Stephens was born in North America to English parents, and the family returned to England when he was a young boy. After first training as an engineer, he gave this up for art when aged 20, and attended the Royal Academy Schools 1884-87, exhibiting a watercolour there for the first time while still a student, in 1885. In 1887 he exhibited as a sculptor for the first time. He was much influenced by Alfred Gilbert and Reginand Frampton, and exhibited at the Arts and Crafts Exhibition Society. Characteristically, then, he did much interior decoration work - mantlepieces for chimneys and the like, and church furnishings - and used a variety of materials in his sculptural work, including precious stones and ivory. He also made ideal statuettes such as Lancelot and the Nestling, Guinevere's Redeeming, and several other Arthurian subjects. A tablet work, Youth - Happy in Life and Love and Everything by Reynolds-Stephens is depicted on this page. In Renaissance fashion, Reynolds-Stephens's ability to work freely in a variety of arts meant he could excel in decorative pieces.
In 1911, the Chantrey Bequest bought Reynolds-Stephens' A Royal Game (1906), a full size work showing Queen Elizabeth I playing chess with the King of Spain, using ship-pieces over the world chessboard - a most ornate and impressive work. In 1905 he was one of the founder members of the Society of British Sculptors, and he was President of that body between 1921 and 1929. He was knighted in 1931.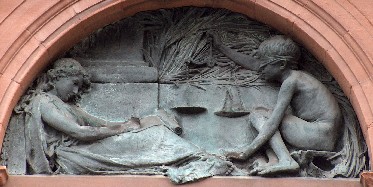 Lunette by Reynolds-Stephens in Croydon.
Small statuettes by Reynolds-Stephens are in the collections of Warrington, the Harris Art Gallery, Preston and at Nottingham Castle Art Gallery and Museum. The Archbishop Davidson Memorial at Lambeth Palace is by him, and a bronze lunette above the door to the National Westminster Bank in Croydon is also his. He is also responsible for the unassuming portrait bust of Charles Lamb in Giltspur St, London (see bottom of this page for picture).
Visitors to this page since 23 Nov 2011: 5,666