James Frank Redfern (1838-1876)
The sculptor J. F. Redfern is best known for his series of 30 figures for the west front of Salisbury Cathedral. He was born in Derbyshire, on the estate of Beresford Hope, the wealthy MP and writer on architecture. Spotting Redfern's incipient artistic merit, Beresford Hope sent him to study under J. R. Clayton, of the famous stained glass company, Clayton and Bell. He also studied abroad for 6 months under Gleyre in Paris and elsewhere.
Lively saints by Redfern for Salisbury Cathedral.
Most of his work seems to be for churches. Apart from the Salisbury Cathedral figures, he sculpted the reredos and 10 figures for the south porch of the cathedral in Gloucester (see this page), a St Peter and St Paul for Ely Cathedral, and further figures for Bristol Cathedral.
Redfern was also the sculptor of the Virtues for the Albert Memorial - respectively Justice, Hope, Fortitude, Charity, Prudence, Humanity, Temperance and Faith - I particularly like Fortitude, with her outsize club. In the City, in Lothbury, next to the Bank, he has a frieze of little figures, small and high up, and presumably the supporting angels lower down, on no. 7. Most of his works have a nobility to them, a clean, good-looking classicism, particularly in the faces of his female subjects. But his poses and drapery tends to the Gothic, appropriate for his various work for churches. His promising start was cut short by his very early death, aged just 38.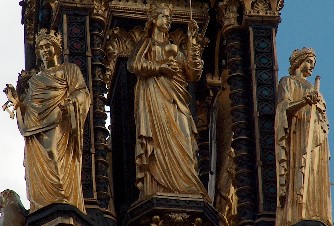 Three of the Virtues on the Albert Memorial.