Henry Alfred Pegram RA (1862-1937)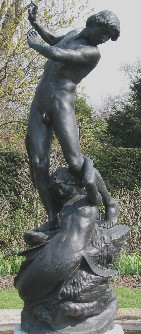 Hylas, by Pegram.
The sculptor H. A. Pegram was born in London and studied at the West London School of Art before attending the RA Schools from 1881. He was studio assistant to Hamo Thornycroft from 1887-91, and his early work was also influenced by Alfred Gilbert. His first work exhibited at the Royal Academy was in 1888, entitled Death Liberating a Prisoner, and this work won a bronze medal at the Paris International Exhibition the following year. He produced various ideal works - female and occasionally male nudes - and lots of portrait busts, as well as some architectural sculpture.
Pegram became ARA in 1904 and RA in 1922, but his greatest successes came earlier rather than later in his career. Two of his works were bought under the terms of the Chantrey Bequest: Ignis Fatuus (1889) and Sybilla Fatidica (1904). An example of his ideal work on permanent display is the Hylas in Regents Park, shown at the top of this page (if you like mermaids, there is a page on them here); a rather poor photo of a panel with ideal figures by him, Love the Laggard is shown on this page. In 1898 he made the bronze candelabra for St Paul's Cathedral, and in the crypt, his are the memorials to the astronomer William Huggins and George Clement Martin. His architectural work includes friezes at 20 Buckingham Gate, Westminster (1895) and at the United University Club, Suffolk Street (1906) as well as the relief at the entrance to the Imperial Institute, South Kensington (1891-2), sadly demolished in an act of academic barbarism. His too, I believe, are the mighty Atlantes supporting the door of Drapers Hall, Throgmorton Street - see the Caryatids and Atlantes page.
In Norwich, there is a large seated bronze statue in Shakespearean pose by Pegram, of a 17th Century philosopher/physician called Sir Thomas Browne in the market square (shown on this page). The Cunard Memorial in Liverpool is also due to Pegram. And in Cardiff City Hall, his is the figure of Llewelyn the Last, though I have to say that this is not particularly typical of his work.
Pegram's work is strong on composition and decorative feeling, his figures graceful and, in his work from the 1890s and 1900s, is Symbolist in style. Undoubtably it is this work which is his best, and his female figures especially are beautiful in concept, form, and pose.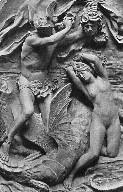 Perseus and Andromeda
Visitors to this page since 22 Nov 2011: 5,991