Harold Parker (1873-1960/62)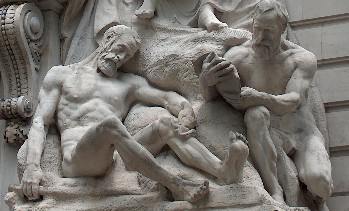 Sculpture by Parker at the entrance of Australia House in the Strand.
The sculptor Harold Parker was born in Aylesbury, but was taken as an infant to Australia, and it is there that he grew up. He studied at the Brisbane Technical College, and then, following the path taken by a previous generation of Australian-trained artists, came to England in 1896 and settled there. He continued as a student in London, first with W.S. Frith at the South London Art School, , and exhibiting at the Royal Academy from 1898 through to 1947. He became a member of the Society of British Sculptors in 1906. In 1908 his Ariadne was bought under the terms of the Chantrey Bequest.
Mythological and allegorical figures formed a large part of his output, along with portraits, and a few sculptures of animals. In his figure sculpture, he had a particular interest in the musculature and surface forms.
Important and powerful outdoor statuary by Parker in London can be found at the entrance to Australia House, on the Strand, in his groups Awakening of Australia and Prosperity of Australia (1913-18) (described on this page). Apparently sculptural decoration by him dating from 1940 is on the County Library, Hertford, but I have not been to see it.
Parker was much feted in Australia, and in his later years returned there and settled, but apparently abandoned sculpture to work as a painter.

Typical nude by Parker.
Visitors to this page since 22 Nov 2011: 4,568