James Havard Thomas (1854-1921)
The sculptor J. Havard Thomas was born in Bristol, but is also claimed by Wales, as his parents were Welsh. He studied in the Art School in Bristol, then went to South Kensington, and then in 1881/2 went for three years to Paris where he worked under Jules-Pierre Cavelier (Alfred Gilbert, Edouard Lanteri and the American sculptor George Grey Barnard also studied in the same atelier). He returned to London in 1884, where he won commissions for a range of busts and public statues, including a statue for W. E. Forster for Bradford two of Samuel Morley for Nottingham and Bristol, and Edmund Burke also for Bristol (see the Bristol Broad Quay page for both of these) and for Massachusetts Avenue, Boston, USA. He changed track with a move to Italy in 1889, turning to busts, statues of ideal nudes, male and female, and relief plaques also showing ideal figures. He attracted some controversy with the production of an entirely nude sans-figleaf male statue of Lycidas, rejected by the Royal Academy, but afterwards bought for the nation as a bronze cast now in the Tate Britain collection. He returned to England in 1906, later first teaching and in 1914 becoming the first Professor of Sculpture at University College's Slade School, and it was while holding this position that he died suddenly in 1921.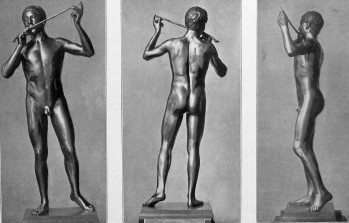 Thyrsis, typical ideal nude by J. Havard Thomas.
His Welsh parentage gave him an edge in competing for Welsh public sculptural commissions, most notably the group of Boadicea and her daughters in Cardiff City Hall (a small model of this is in the Manchester art gallery), and the national Museum and Art Gallery there includes examples of his ideal works, including an excellent Slave Girl, a dancing male nude entitled Castagnettes (again, a second version is in Manchester) and a decorative panel of ideal figures in low relief called Agriculture. One of his last statues is abroad, an equestrian Harcourt Butler for Lucknow in India. His teaching position at the Slade gave him much influence with a later generation of sculptors, including H. W. Palliser.
Visitors to this page since 13 Mar 2014: 4,660