Charles Leonard Hartwell (1873-1951)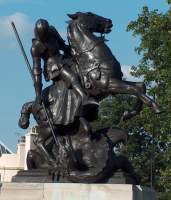 St George and the Dragon, by C. L. Hartwell.
The early 20th Century sculptor C.L. Hartwell has various public monuments in England and abroad, and also made ideal works in bronze.
C. L. Hartwell was one of those interesting sculptors born in Victorian times who came to prominence in the early years of the 20th century, and maintained a sympathy with the earlier school well into the 1920s and beyond. He was born in Blackheath, studied in Kennington under W. S. Frith, and then attended the Royal Academy Schools. He then apparently worked in the studios of Onslow Ford and Hamo Thornycroft, the latter having an obvious influence on his style. He exhibited at the Academy from 1900, and his work A Foul in the Giantsí Race was bought under the terms of the Chantrey Bequest in 1908. In 1915 he was elected ARA, and full Royal Academician in 1924.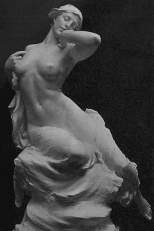 Dawn, a typical nude by Hartwell.
Much of his work shown at the Academy consists of marble portrait busts, stylish and sympathetic. He was responsible for a number of memorials, most notably the St George and the Dragon at St Johns Wood (in front of St John's Wood Chapel close to Lordsí Cricket Ground) commemorating local people killed in World War 1, a notable feature on the bus ride from Baker Street to Finchley Road. A copy is in Newcastle. He made the sculpture for the Wimbledon War Memorial, and a Britannia and two children (Britannia protecting the small nations) for the Commercial Union Assurance war memorial, and the war memorial for Bushmills, County Antrim. Among his monuments are those to William Ramsay in Westminster Abbey, Arthur Phillip, first Governor of New South Wales, in St Mary le Bow and by St Paul's Cathedral (a picture is on this page). in the City, and George Alexander in Chorleywood, and on a much larger scale, the Marlowe Monument in Canterbury, with figures dating from 1926-28. Small bronze figures by Hartwell occasionally surface, including several ideal nudes, most notably The Rising Tide, The Magic Call, The Sirens, The Awakening, and Dawn.
In London, along with the St George, we have two further readily accessible outdoor works by Hartwell. In the City, in King William Street, he was responsible, along with H. W. Palliser, for the stone figures decorating the Narodny Bank building, and in Regentís Park, in St Johnís Gardens is his wholly excellent The Goatherdís Daughter, depicted here.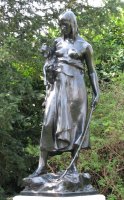 The Goatherd's Daughter, Regent's Park.