Joseph Gott (1786-1860)
Joseph Gott's family came from the vicinity of Leeds. He studied in London from 1798-1802, under John Flaxman – a remarkably early start – and entered the Royal Academy Schools in 1805, winning a silver medal in 1806. He went to Rome in about 1822, encouraged and sponsored by Sir Thomas Lawrence. Rome was to be Gott's base for the rest of his life, sending works home to be exhibited in the Royal Academy. There is no evidence that he knew the two best known British sculptors also living in Rome at that time – John Gibson and R J Wyatt – but he did stay with Joseph Severn. Gott found patronage in the family of his rich second cousin, Benjamin Gott, a woollen manufacturer based back home in Yorkshire, and in another wealthy Yorkshireman, George Banks.
Gott's work includes a variety of rustics and shepherds, animals – especially dogs – and many portrait busts and medallions, typically in Roman costume. Among his ideal figures, the most characteristic are girls, lightly draped, with Greek foreheads and noses, but their softer faces and chins putting them firmly in the early part of the 19th Century. He was known for his cherubic children, and the naturalness of his dogs.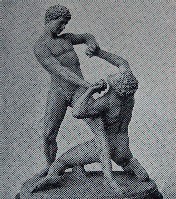 The Greek Wrestlers, now in the collection at Nottingham.
Many of Gott's works remain in private hands. However, a good group of Greek Wrestlers is in Nottingham, and a statue of Ruth in York. A Dying Spartacus is in the John Soane Museum in Holborn, London. Several little maquettes by him are in the public galleries - including the tiny but characteristic one of Little Red Riding Hood in the V&A, and three in the Cardiff museum. Several pieces of sculpture by Gott are in the collection of the Leeds City Art Gallery, and a monument is close by in Leeds Parish Church; another monument by Gott is in Bradford Cathedral, to William Sharp, with a conventional but well done composition of a semidraped girl lounging on a pillar bearing a portrait of the deceased. He did not make that many monuments, but we might also mention a plaque to the 5-year old Emily Cadogan in Durham Cathedral, and another panel with two female figures in Walton on Thames Parish Church, to Mary Williams.