Henry Charles Fehr (1867-1940) - some other works
This page is an addition to the note on H. C. Fehr, and depicts some more works by this most excellent sculptor.
Fehr produced several portrait statues, very different in mood from his ideal works, with a tendancy towards the epic and dramatic in pose, as shown in his John Hampden in Aylesbury, below left. His statue of James Watt in Leeds, below right, shows a nervous energy in the figure. Both statues show the highly worked finish to the clothing which is a feature of Fehr's work, and he has had more success than many with the use of modern (ish) clothing as opposed to classical drapery.
The main note on Fehr showed the female figure from the Colchester War Memorial; here is the male one, a St George, very art nouveau in an Alfred Gilbert style, and a tour de foce in its own right - a fantastical figure of myth and romance.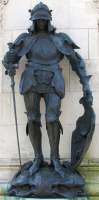 Fehr's St George from the Colchester War Memorial.
Another example of Fehr's imaginative sense is in the dragon on the top of the dome of Cardiff Town Hall. The picture on the left below is included to show it level, as opposed to looking up, and its surprisingly large size can be appreciated. This dragon lies somewhere between heraldry and pure decoration, with its sinuous body coiled round so that it can stand upon its own back.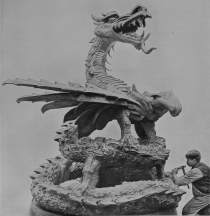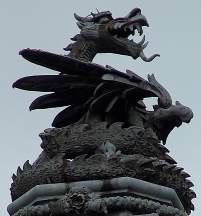 The Cardiff Town Hall dragon sculpture.
The two nudes below are typical of Fehr's art nouveau, sensual realism style. The one on the left is an Arthurian theme, The Passing of the San Grael, and the one on the right is called Hesitation. They are archetypical Fehr girls, with careful modelling to the torso, arms and lower legs, wide waisted and small-breasted, with shorter rather than longer hair, and with a certain lassitude favoured by many art nouveau artists. Alfred Drury made some rather similar compositions, but his nudes are always a little fuller in the figure.


Nudes by Fehr: The Passing of the San Grael, and Hesitation.
And finally, an example of Fehr's work in terra cotta, a pair of decorative young knights, with swirling designs to the boots and elegant curving helms. Good things indeed.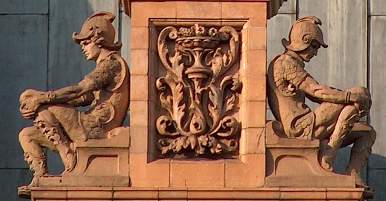 H. C. Fehr main page // Sculpture pages
Visitors to this page since 22 Nov 2011: 5,021