Charles Bell Birch ARA (1832-94)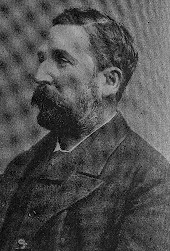 C. B. Birch.
The sculptor C. B. Birch was born in Brixton, London, but received most of his art training in Berlin, where his family moved while he was a child. His master at the German Academy of Arts was Christian Ranch. He returned to England aged 20, and entered the Royal Academy Schools. He won a £500 prize in an Art Union of London competition for a Wood Nymph. Following the success of his stirring Lieutenant Hamilton memorial, he was elected ARA in 1880. His career was somewhat up and down, with periods of success and decline. Nor was he able to manage his financial affairs well. In later years, Birch suffered poor health and a declining output, and at his death, a contemporary journal wrote that 'The property of the late Mr C B Birch ARA amounted to no more than £277. These are parlous times for sculptors not in the fashion…'
Birch's The Last Call, and an illustrator's view of it.
Birch was a versatile artist, who tried various forms of sculpture, and painted portraits and water-colour pictures at times too. However, his style to some extent always reflected his training in Berlin, with what has been described as 'a naturalistic veneer upon a classical foundation'.
Portraiture was considered one of Birch's particular strengths, and he produced a variety of portrait busts, as well as full statues, the best of which is Disraeli. The Last Call was one of several dramatically posed figures of noble soldiers portrayed in moments of extreme action: others include General Earle and Lieutenant Hamilton, and we should mention also Mazeppa, and Retaliation, which is rather reminiscent of John Bell's The Eagle Slayer. In different vein, he made some nude female figures, including The Faun and a rather superior Lady Godiva, his ideal type being full of figure and rather Pre-Raphaelite of face - looking at the thing, pictured below, we can see the strong debt to German 19th Century sculpture.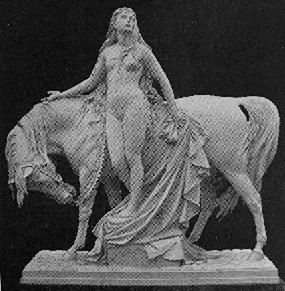 Lady Godiva.
His most familiar work in London includes the Griffin at Temple Bar in the Strand – more a spiky dragon really – and the Queen Victoria on New Bridge Street (Blackfriars Bridge). The latter is familiar not just in London – identical ones were made for Scarborough Town Hall gardens, Derby Royal Infirmary, Newcastle Under Lyme (Station Walks Park), Aberdeen, Guernsey, in Australia in Victoria Square, Adelaide, and, apparently, for Oodeypore in India.
A plaster copy of Birch's Lieutentant Hamilton memorial may be seen in the National Army Museum, near Sloane Square in London. The Chadwick Memorial in Bolton, Victoria Square, is by him, as is the Earl of Dudley in Castle Street, Dudley. On the steps of St George's Hall, Liverpool, are his portrait statues of General Earle, and the saturnine Disraeli.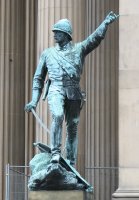 Liverpool's General Earle.
Finally, Birch was one of four artists asked to model equestrian statues in the ultimately doomed venture to place sculpture on Blackfriars Bridge (noted on this page).
Visitors to this page since 22 Nov 2011: 9,188