John Birnie Philip (1824-1875)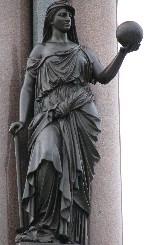 Geology from the Albert Memorial.
The sculptor John Birnie Philip exhibited at the Royal Academy from 1858 almost through to his untimely death of bronchitis at the age of 48. He received a number of commissions for public sculpture, most importantly for the podium frieze on the Albert Memorial, where he was responsible for the architects and sculptors, as well as allegorical statues of geometry, philosophy, geology, physiology, and angels on the spire. Another key work is his allegorical figures for the front of the Foreign and Colonial Office on Whitehall, where he did the side with 'Art', 'Law', 'Commerce' and so forth. He also did 8 figures of kings and queens for Westminster Palace.
Several works by Birnie Philip are in churches and cathedrals. We may pick out major works for St Mary Sudley (Gloucestershire) and the reredos for Lichfield Cathedral, also the tomb of Dean Lyall in Canterbury Cathedral and Lt. Col. Willoughby Moore in York Minster. In London, the doorway of St Michael Cornhill is by him, showing a warlike scene with the saint standing in triumph on Satan (see the Cornhill page).
His style tends to the serious, with his female figures stern and solid rather than beautiful. But his compositions can be graceful, and a particularly elegant example of his work is the fountain girl by Smithfield Market in London. An example of his non-figurative architectural work is the decoration on the piers of Blackfriars Bridge.
E. Roscoe Mullins was a pupil of his, and we may mention in passing that the painter and illustrator Cecil G. Lawson married one of his daughters.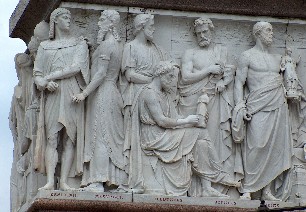 From the frieze of the Albert Memorial.