St Laurence Upminster, London/Essex - Monuments
Upminster Church has a collection of 18th and 19th Century panel monuments, including one sculptured half-figure, and works signed by Westmacott and by the local stonemason Sturdy of Romford. There is a fine collection of brasses, and although the fabric of the Church is mostly 19th Century, the tower is medieval.
Upminster, now in North East London, once in Essex, , has a modestly sized church, St Laurence, which dates from ancient times, much rebuilt in Decorated style in 1861-62. The oldest part is the low West Tower, of the beginning of the 13th Century, with a 15th Century broach spire as the most distinctive feature, though well-grown trees mean that it cannot be seen from any great distance. From the outside, most of the rest of what we see is 19th Century. The same is true inside, but some of the arches supporting the barrel-shaped roof are of the 14th Century. There are around a score of panel monuments in all, one with a fine early 18th Century bust, and several ancient brasses of high pictorial quality, mounted on four modern boards.
Monuments
We look at them broadly in date order, but taking the main families represented each as a group.
Elizabeth [Goodlad] Dugdale, d.1701, and relatives. White panel with upper shelf bearing a swan-necked pediment with a curly urn in the middle, a strangely proportioned grouping, which likely previously bore some upper ornament - see picture at top of page. At the base a gadrooned (corrugated) shelf with a shield of arms and relief carving of crossed branches, descending to a scrolled terminus.

Branfill family:

Captain Andrew Branfill, d.1709, his wife Damaris Branfill, d.1721/2, and their son Andrew Branfill, d.1750. A large monument with a marble half-figure statue of the Captain. He is shown as a proud man, head a little upward turned, surrounded by a vast wig, wearing a cravat or neck-scarf above contemporary clothes, as can be seen by the visible arm with sleeve and thick cuff. Such a half-figure, here carried down to the waist or a little below, all concealed by the drapes, is not so usual, but here gives a sense of grandeur to the portrait. It stands on the upper shelf of the large frame to the inscribed panel, which has at its base a heavily gadrooned shelf. Below this, a small horizontal field and then a semicircular descent to enclose a painted shield of arms flanked by low relief branches; to right and left of this are carved winged cherub heads, and some flowerlike pendant at the base. The strange proportions may reflect some reconstruction after damage. Captain Branfill was indeed a figure of substance, having purchased Upminster Hall in 1696, and his descendants held it for more than two centuries.

Mrs Mary (Branfill) Redman, d.1758, and her husband, Captain John Redman, and wife of their son, also Mary Redman. White marble panel with upper and lower shelf with moulding, two moulded brackets below, and painted arms above, within a small cartouche (picture below left).

Champion Branfill, d.1738, wife Mary Branfill, d.1760, and their son, also Champion Branfill, d.1770. One of those excellent monuments carved as a hanging drape, here a particularly good example, with the drape depending from a tent top-like structure above, caught up in two generous knots at the sides, and hanging freely down, with the gilt, tasselled edging normally found on such things. Above the inscription is a small cartouche enclosing a painted shield of arms (Picture above centre). Elegant.

Champion Branfill, d.1792, of Upminster Hall. An oval of dark marble with bevelled edges, on which the inscribed panel is carved with a small shield at the top, now blank, and thin hanging drapes at top and side (picture above right). Above, a relief of a wide pot or funereal urn, again draped.

Champion Edward Branfill, d.1844, noting that he was the only son of Champion Branfill, a Captain in the 3rd Regiment of Dragoons in the Peninsular War. Also his wife Anne Eliza Champion, d.1873, and others of the Branfill family through to 1905. Rectangular white panel on a black backing, the only ornament being a carved coat of arms at the base.

Esdaile family:

Sir James Esdaile, Knight, d.1793, and his wife Mary, d.1792 – information in the Church notes that St Mary's Chapel was rebuilt by Sir James in 1771. The central panel is on the side of a casket-end, so that it has outward sloping sides and a lid rather like a pediment. Both slanting sides and the pediment, which has curled sides (swan-necked), are embellished with low relief carving of flowers and vinous leaves. The monument rests on a small shelf, and protrudes further from the wall at the top than the base to give a more three-dimensional aspect.

Miss Susanna Esdaile, d.1805, daughter of James and Susey Esdaile, 'who fell a victim to bodily disease', an oval panel with a frame.

John Esdaile, d.1807, and Peter Esdaile, d.1802, sons of James Esdaile and Susey Esdaile. Plain panel.

Mary [Esdaile] Stubbs, d.1802, daughter of Sir James Esdale. Plain white panel.

James Esdaile, d.1812, with a eulogy. The panel has a superstructure bearing a festoon of oak leaves above, caught up at the sides and hanging down about half way, and ribbons. Above is an oversized block cut with two 'ears', and there is a black backing with a protrusion at the top, too small to be a pediment. An odd thing, somewhat top-heavy. Yet the carving is good, and the sculptor was Richard Westmacott, one of the famous dynasty of sculptors [see this page].

Peter Esdaile, d.1817, styled as a simple casket end, with outward slanting sides, and a pediment-shaped top. On the small supporting feet are carved simple flowers.

Frances (Humffreys) Esdaile, d.1838. With upper shelf, blocky supports, and on black backing, and signed by the local stonemason, Sturdy of Romford.

John Huntington Wharrie, d.1824, with a Latin inscription, plain panel.

Cox family: three panels above a doorway. Louisa Frances Cox,d.1827, first wife of Captain Philip Zachariah Cox, d.1858, his second wife Eliza Cox, d.1855, and the son of Louisa, Lieut. Lindsey Zachariah Cox, d.1843. Plain panels, the central one cut as a shield, and with a common upper shelf.

Benjamin Pead, d.1844, and wife Susannah, d.1842, plain white panel on a black backing, again made by Sturdy of Romford.

George Hyla Holden, d.1846, 'Midshipman of HMS Vesuvius, who, with ten of the crew, fell the victim of malignant fever in the gulph of Mexico', plain white panel with inscribed crucifix on a black backing, nevertheless signed by the mason, King of Chenies Street, London. Earliest of three panels to this family.

Luther Holden, d.1905, President of the Royal College of Surgeons. Speckled white panel on black.

Henry Holden, d.1909, Headmaster of Uppingham, and later Rector of South Luffenham etc. Another plain panel, with an inscribed cross.

Isabella Hay Slade, d.1918, plain panel of darkened metal.

Squadron Leader Charles J.F. Kydd, d.1941, Pilot Officer Ronnie A. Duce, d.1942, and Pilot Officer Maurice G.E. Coutanceau, d.1943, all of whom fell in World War II. Plain panel with inscribed RAF insignia.

Harriet Elizabeth Russell, d.1864, plain white tablet on a black backing.
Brasses
There is a fine series of ancient brasses, mounted on modern wooden boards:
Grace Latham, Elizabeth Dencort, and an unknown Woman The first panel, with three figures: Grace Latham, d.1626, the lower figure on the modern panel, a standing figure facing somewhat to the left as we view her, dressed in a low-cut top with vast collar, above long skirts. We see the lines of her closer arm, in a narrow sleeve with cuff, and delicate hands in prayer. The most interesting feature is her face, refined, with a calm, almost sad look to it, with arched eyebrows, heavily lidded dark eyes, small mouth, one side in shadow, denoted by cross-hatched lines, her hair combed back and tied up at the back. At the base, above the inscription, we dimly make out her little feet. A superior work. Above the figure of Grace Latham is to the left, a tall figure of a woman facing directly forwards, hands raised in prayer of course, entirely symmetrical except the drapery and the tiny dog at her feet. Her grim face is made more so by the invisibility of even a bit of hair, and the double-peaked headdress which frames her face; she wears a long outer cloak or mantle. She is Elizabeth [de la Felde] Dencort, d.1455 To the right on the same panel is a smaller figure of a woman, in three quarters view, with an attractive almond shaped face, all big eyes, hair back and with some headdress falling behind; her slender neck encased in a frilly collar. She has puffed shoulders, her sleeves have leaf designs upon them, and an open outer garment hanging in a foldless- sweep down to the ground; there is some ornament in front of it below knee level. Her elegant hands are in prayer, but between them we discern a small book. Another excellent piece, apparently dating from around 1560, according to the Royal Commission on Historic Monuments.

2nd panel, four figures, two standing, two mounted sideways, and an inscription: To the top left is a man, beardless and with a rather poorly delineated face, dressed in a robe, and with broad-toed feet, the figure forward, the head somewhat to the right. Circa 1530 apparently.

The other figures, I think, are reproductions from the reverse of him and some of the other pieces. We see a Clerical figure, with simply decorated borders to the vestments but no face or arms, and then the two sideways-mounted figures, outline and faceless again.

3rd Panel: Nycolas Wayte and his wife Ellyn Dencort; John Stanley Nycolas [Nicholas] Wayte, d.1542, and his wife Ellyn [Dencort], a pair of figures standing facing slightly towards each other, hands raised in prayer, both in fur-lined long robes with generous sleeves. The sketchy features are quite homely, almost smiling, but the hands, though simple, are of perfect outline. He is bare-headed, she wears a head covering of the type known as a 'pedimental headdress' on account of its triangular shape at the front to cover the hair. Her feet are covered, while his are exposed, wearing quite endearing square-ended shoes. Beneath these two figures and their inscription is another, without surviving figures, to Johes [i.e. Johannes, today 'John'] Stanley, d.1626. Garrardt D'Ewes and inscription to Hamlett Clarke and Alice [Ewes].

Nycolas Wyte & Ellyn Dencort, 16th Century brass

The fourth panel shows a figure of a knight in armour and attached inscription, with a second inscription below. Gerrardt D'Ewes, d.1591. This figure is shown as if the viewer is looking down at a carved effigy, rather than the more usual aspect, looking towards a standing figure. Thus he is depicted lying on a tasselled cushion, and his feet are on a heraldic animal, a fierce wolflike creature, vigorously drawn. Ewes is shown in full plate armour, with long sword behind him at one side; the armour is well-delineated but the face rather bland. There is much cross-hatching to indicate the shading and reflections from the armour, really quite sophisticated.

Under the figure and panel to Gerrardt D'Ewes is mounted an inscription to Hamlett Clarke, d.1636, and his second wife, Alice [Ewes, Latham] – she was the daughter of Gerrardt D'Ewes, and had first married William Latham of Upminster.
There are two more modern brass panels still in position on the walls:
Revd. John William Hopkins, d.1780, Rector. Plain brass panel set on a piece of streaky marble, rather unusual for this date.

James Edward McLean, d.1919, Master Mariner who died on board the ship Clan Kenneth, and was buried at Batavia, Java. Panel with inscribed line border.
Also in the Church
The font, late 15th Century, with an octagonal bowl.

A later panel commemorating Dr William Derham, d.1735 (no contemporary panel survives), Rector of Upminster, noting that he was the first person to accurately record the speed of sound from the spire of the Church.

A grand chair with a tall canopy over it, making it almost a throne, with crocketing at the top – apparently late 17th Century.

Ancient stained glass, the screen, and detail of Stations of the Cross

Pieta sculpture, modern, by Rosalind F. F. Hore, in memory of her husband, Revd. Michael John Hore, Rector of the Parish.

Rather spare figure of the Virgin cradling the body of Christ, in plaster.

We might also note the 19th Century recarving of the capitals to the pillars and the odd kingly head, competent as always from that time.

Small standing figure of St George, painted, standing on a small dragon.

Stations of the Cross, painted plaster, storybook style, perhaps very end of the 19th Century.

Decent stained glass from the 19th and early 20th Centuries, and some older work with a heraldic theme from the house of Latham [Lathum], dated 1630.
The Churchyard
The Churchyard, nicely tended, contains a fair selection of the usual types of non-figural monument, including chest tombs, a wooden board monument, and variations on carved crosses.
By it is the War Memorial to the people of Upminster who fell in the two World Wars, being a Celtic cross with the usual runes carved in relief, on a tall plinth bearing the names of the deceased, and raised up on steps.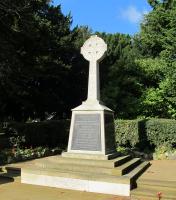 Upminster War Memorial.
With many thanks to St Laurence Upminster Church authorities for permission to show pictures from inside the Church: their website is at http://www.upminsterparish.co.uk/history.html.
West to Hornchurch // Essex-in-London churches