Shepperton Church (St Nicholas Shepperton) - Monuments
Shepperton St Nicholas, in the remotest part of old Middlesex, SW London, has a small collection of monumental tablets, including one by the sculptor John Bacon Jun.
Just north of the Thames, the most southern part of old Middlesex, Shepperton feels remote, a quiet place. In normal times Shepperton Church is generally open, says its website, as it was when I visited. It is small, maybe 60 ft long, with a modest brick tower of 1710 with a parapet fronting onto the road, and stairs outside up to the west gallery. The body of the Church – nave with miniature transepts but no aisles, thus cruciform, was reconstructed in 1614, and is built of stone and flint chequering, much reused from the old medieval church building, and there is a tiled roof. It stands in its own tiny churchyard around it.
Interior views of St Nicholas Shepperton.
Inside, the Church is small, ambient and evocative and with its length emphasised by its barrel ceiling and ranks of pews crowding in. There is a modest collection of monumental tablets, including a couple of larger ones, and one with a tiny figure. Several of the tablets are signed by the sculptors and craftsmen who made them. We take them in date order.
Monuments
Diana [Urwin] Bray, d.1743. Tall panel with pilasters supporting a heavy upper shelf with mouldings, and below, a rounded shelf with curvy supporting brackets. In place of carving, the piece features nicely coloured marbles, including a grey striated white marble for the panel, and a darker highly veined marble for the pilasters – such monochrome but dramatic pieces are fairly common from this time.

Hannah Mariah Warren, d.1768, an infant. Plain panel with upper shelf with mouldings.

Thomas Thomas Jr, d.1773, black inscribed panel with pediment, no entablature, receding sides, and deep curly brackets on either side of a blank apron, all this being in highly veined white marble, and with darker mouldings below.

Barbara Baron, d.1802, with a long eulogy, centred on the panel and with capitalised letters and words. The first of several white-on-black panels where the backing panel is cut to form the pediment of the foreground panel. The white inscribed panel has a shelf on it, with a broad, small pot carved upon it, and beneath, a lozenge of arms with two small drapes. A work by John Bacon Junior, no less, a significant sculptor and maker of many monuments.

John Bacon Jr's panel to Barbara Baron, and panel to painter John Russell RA.

John Russell RA, d.1806, and his wife Hannah, d.1816, erected by their children. Panel with upper shelf with mouldings, and supported on two pendant brackets. Russell was a prolific portraitist and pastel painter, born in Guildford, where a collection of his paintings is in the art gallery. Among his offspring were several painters, including William Russell, who gave up painting and became the Rector of Shepperton, holding the position for 4 decades.

William Whitmore, d.1806, and his daughter Mrs Anna Maria [Whitmore] Prager, d.1822, erected by his mother, Mary Nicholls Whitmore. And likely added later, his wife Ann Whitmore, d.1824. Same style as the Russell panel noted above.

Captain William Hall, d.1815, of the East India Company, and on a separate panel attached, his son Thomas Hall, d.1833. Each panel is cut with slightly protruding corners, and is on a black backing panel.

Sculpture on the Sarah Chapman monument.

Sarah [Winch] Chapman, d.1831, with a eulogy, unusual in that the inscription starts by saying the panel was erected by John Chapman, her husband, rather than starting with the name of the person commemorated. With a thick shelf bearing a semicircular pediment, if so it can be called, with a busy little carved scene of a Classically draped female resting by a funereal pot on a tall plinth, with vegetation to each side and another pot and plinth in the background. At the base, a twisted-S patterned shelf, and a triangular apron with downward-pointing ears, with an attached pot, quite broad. On a dark, highly fossiliferous backing, supported on a small block which presumably once had the signature of the carver, but if so, I could not read it. Altogether an unusual design. Picture above and at top of page.

Charles Greville, d.1832, erected by his daughter. With upper moulded shelf and cut with small feet; the backing panel is cut with a curve at the top.

Samuel Henry Russell, d.1834, of the East India Company's Engineering Corps at Madras, and his son Western Francis Haughton Russell, d.1833, aged just three years. Erected by Russell's wife, Cecil Charlotte Russell. With upper shelf on which is a draped shield of arms, and a lower shelf with a fluted, curved support running almost the full width. The backing is cut with a semicircle above, curved corners, and slighter curve below. Signed by J. Loft, Dean Street, Soho, a sculptor from Hull who made a statue of Daniel Sykes MP for that city.

J. Loft of Dean Street, Soho - panel to Samuel Russell, d.1834.

Jane Nilson, d.1836, wife of General Nilson. With upper shelf, and within a chunky border cut with pediment and moulded lower border.

William Faden, d.1836, and his sister Jane Faden, d.1833, to a similar design as the Nilsen panel noted above, but with receding sides.

Emily Anna Maria Rich Bingham, d.1837, with a eulogy, erected by her husband, Captain Parker D. Bingham RN. With upper and lower shelves, receding sides in place of pilasters, and an asymmetrically draped pot on top; the backing is carved in curves at the top to outline the pot.

Robert Elmley, d.1852, by Tyley of Bristol.

Robert Wheatley Elmley, d.1852, erected by his wife. The inscription is within an oval wreath of finely carved leaves, perhaps bay, with small berries. On a dark backing panel, signed by Tyley of Bristol – there was a whole family of sculptors and carvers of that name working in Bristol: this piece is quite late in their oeuvre.

Thomas Steward, d.1859, his wife Gratiana Maria Eve Steward, d.1854, and her sister Charlotte Priscilla Atwood, d.1854. with upper shelf and pediment, on a shaped black backing signed by Thomas Gaffin of 63 Regent Street, the most prolific maker of white-on-black panels.

Agnes Douglas, d.1864, cut with little feet, on a grey veined backing cut so that the veins pass diagonally across the panel.

William Winch, d.1876, his wife Sarah Winch, d.1869, and their youngest daughter Jane Louisa Winch, d.1863, erected by a surviving sister, Wilhemina Augusta Winch. Sarah Chapman noted above was also of the Winch family. Plain panel with cross above, on a black backing panel cut with a pediment. This modest piece is nevertheless signed by the stonecutter, E.J. Kelly of Kilburn.

William Schaw Lindsay MP, d.1877, with the inscription noting that he wrote a history of merchant shipping and ancient commerce, and other works. Erected by his wife. Another white-on-black panel, in mid-Victorian style, thus with the upper shelf decorated with repeating patterns of circles and leaves, and the base with a rolling-pin design. The shaped black backing panel is signed by the carver, Adolphus Tagnon; he has a tablet of the same design in St Ann's Church, Kew.

Ellen Douglas, d.1902, characteristic 1900s polychrome panel.

Ellen Douglas, d.1902, erected by her nephews and nieces. The inscription is on beige alabaster, with a shield of arms with red and blue inlaid glass and a thin border of gold mosaic, and a surround of darker alabaster – all very characteristic of the 1900s.

Archibald Lord Blythswood, d.1908, Lord of the Manor of Halliford, Middlesex, 'the gift of his Wife'. Well here is a treat, a flamboyant Arts and Crafts panel of the best sort. The inscription, in nice flowing script, in on a tall oval panel of pale marble, surrounded by a frame of the favoured pinky-brown alabaster. This is within a rectangular frame, the corners (spandrels) containing mother-of-pearl flowers, surrounded by white leaves and on a blue mosaic background with thin gold edging. To the sides, red-shafted pilasters, and a fine shelf above, on which rests the painted and gilt shield of arms with finials to either side. Underneath, a pair of winged cherub heads are carved in relief, below which is a floral design with a central gilt and painted cross; the supports to either side are carved with leaves. A good thing.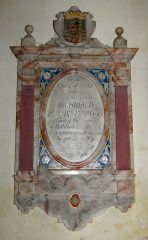 Archibald, Lord Blythswood, d.1908, Arts and Crafts panel.
Modern Brasses
There are several modern brass panels, dating from Cecil Charlotte Russell, d.1867 through to Iain Davi MacDonald, d.1995 in Croatia. The most significant to the Church is that of the Revd. William Russell, d.1870, Rector for 53 years. It is a moderately ornate example of a common style, with blackletter text in capitals, a repeating border of leaves with a red background, and quatrefoils with evangelical symbols at the corners. That to Brother James Boor, d.1887, is a little less ornate, but shows the equally common style of highlighting the principle capital letters of each word in red. And also notable is the long, slender brass to Susan Douglas, d.1888, with a lozenge of arms in enamel (picture below).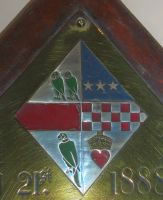 Also in the Church:
Interesting 20th Century stained glass (example below).

A reredos in dark oak, all Gothic panelling with piercings along the top.

A rood screen across the nave, adding to the rich brown tones of the interior, with wooden pews and the little gallery above – reached by the stairs we saw outside – bearing the Hanoverian coat of arms, though it (and that stair) are 19th Century; there is a second small gallery in the north transept which is of 18th Century date.

Also in panelled wood, the small pulpit, on a tapered single support.

The octagonal font, carved with quatrefoils in square panels and seated on a single broad shaft with panelling.

Two groups of flags as war memorials, together with a wooden panel listing the fallen of the Parish in WW1.

An interesting panel of brass, with a cross in the centre, and four outsize corners with the symbols of the Evangelists, and a decorative border.

Eagle lectern, different from the usual style, perhaps a lammergyre with its big claws.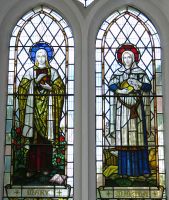 St Nicholas Shepperton's website is at https://www.stnicholaschurch-shepperton.org/church-history.html.
Go East to Walton on Thames Church