Adolphus Tagnon (active 1870-1890s)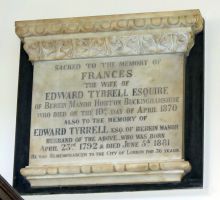 Funerary panel by Adolphus Tagnon.
Adolphus Tagnon was an obscure stone mason, responsible for two monumental panels I have seen, dating from 1870 (St Anne's Kew) and 1877 (St Nicholas Shepperton, Middx), rather plain white-on-black pieces, with similar repeating decoration. Rather better, but still quite humble, is his drinking fountain in West Street, Bognor Regis, dated 1886. He worked from Gray's Inn Road, London, and was listed as a 'mason and marble merchant' at the time he became a bankrupt in 1888.
He traded as a sculptor, mason and marble merchant from 135 and 137 Gray's Inn Rd in the early 1880s, until his bankruptcy in 1888; he then re-established himself at 340 Gray's Inn Rd, as a 'marble mason, sculptor, chimney pieces, monuments &c, worked from designs', but I have not seen any work by him from this later period.