Monuments in Christ Church Spitalfields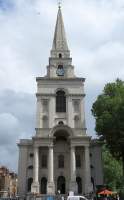 Christ Church Spitalfields, at the corner of Commercial Street and Fournier Street in the East End, is an important church by Nicholas Hawksmoor, with grand architecture, two important sculptural monuments, and a grand, tall frontage, with four Tuscan columns forming what might be described as a 'broken or open portico' as the centre is lifted up into an arch. The steeple, which reaches 225ft, is splendidly confident and considered one of London's finest. The sides of the church, in stock brick, are less impressive, however there is something of a small churchyard on the right - a real benefit to the ambience of the building, and a small oasis of calm with a few outdoor monuments. On the front railings of this space is an obelisk-styled drinking fountain in granite, by the Metropolitan Drinking Fountain Association, 1860, typical of their work.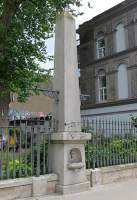 Metropolitan drinking fountain.
The church was put up under the 1711 Act, intended to build 50 new churches, which in the end managed to produce a dozen, of which Hawksmoor grabbed the lion's share. This one dating from 1714-1729, is considered by some to be his masterpiece. It was not considered so at one time, when the architect's endeavours were described as
Mr Hawksmoor has proceeded according to a set [of architectural orders] exclusively his own; but hat circumstance would have been justifiable and comendable if any improvements could be discovered. Unhappily, none are to be found.
The inside is very large, with splendidly massive composite pillars and a lofty ceiling, with a beam across the chancel on which rests an unusual coat of arms, the Royal Arms from 1816-37, we are told, and made of Coade stone. After many tribulations, the church has been grandly restored, all white and bright and very splendid.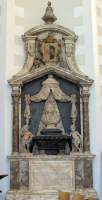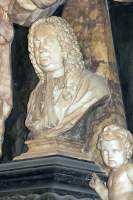 Thomas Dunn's monument of Edward Peck, and detail.
The two important monuments stand near the altar, and are to Edward Peck and Sir Robert Ladbroke:
Edward Peck, d.1736, wife Elizabeth, d.1736, son John Peck, d.1748, and his wife Deborah, d.1739, with a note that the monument was erected by their surviving son, Ino Peck, in 1737. The monument also notes that Edward Peck was one of the Commissioners for building the 50 new churches, and laid the foundation stone for Christ Church itself in 1715. The inscription is flanked by receding pilasters to form the broad plinth for a complicated architectural superstructure. A small burial casket rests on stumpy legs, with a bust of the deceased on top, and a tall pyramid behind supporting a canopy, with hanging drapes, knotted at the side and then falling to where stand two cherubs, one on each side of the coffin. To each side of them are Corinthian pillars supporting an open pediment. Above, two almost swan-neck pilasters lean inwards and support a rounded open pediment, to form space for a relatively large cartouche bearing a coat of arms, with flowers filling the spandrel on each side. A small pepperpot urn with a flame forms the pinnacle of the structure. The bust of the deceased shows a heavily built man, rather proud and serious, and wearing a periwig. The cherubs, repellent as so many of their ilk, bear a clear family resemblance to him. One of them is wiping his eyes with a fistful of drapery, the other, with downturned torch to symbolise the snuffing out of life, is in the classical 18th Century girl-leaning-against-an-urn pose, standing relaxedly, contrapuncto, with his legs crossed. It is on the base of this figure that Thomas Dunn, the sculptor, signs his name. Astonishingly, the artist of this fine work worked mostly as a mason, and built Christ Church for Hawksmoor, as well as working for him on other churches.
Sir Robert Ladbroke, d.1773, and wife Lady Elizabeth, d.1768, commissioned by Richard Ladbroke, nephew, in 1794; the monument itself was completed three years later. The inscription notes that Robert Ladbroke was knight, alderman, President of Christ's Hospital, Lord Mayor and MP. His spouse Lady Elizabeth was a great grand-daughter of Edward Peck, subject of the other monument. The work is by John Flaxman, and has a full statue of Ladbroke in marble, standing, dressed in his Mayorial regalia, with the folds of a heavy cloak massed behind him, and a ceremonial mace and sword resting on a cushion and two books on the floor. He is shown almost half smiling, an intelligent yet placid look indicative of the 'most mild disposition' referred to in the inscription. A noble and important work.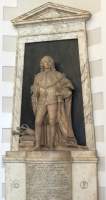 Robert Ladbroke statue, by Flaxman.
The rest of the nave is empty of sculpture, alas, but there are two fonts which I would hazard are of the same date as the church. In the interior porch however, there are a dozen simple wall monuments, mostly in memory of clerics who tried to convert Jews to Christianity. In date order:
Charles Smith of Stratford, d.1777, and wife Judith, d.1808, and daughter Sarah, d.1772, and Judith, d.1832 as an extra panel below the main one, which has an upper shelf.
Revd. Charles Sleech Hawtrey, d.1831 - what a splendid name - who also bore 'a love to the Jewish people' and had an urge to convert them. Styled as a tomb end, with heavily draped pot on top, wide pillars, small brackets of a floral nature, and black backing at the top only. The monument is by William Croggan, cousin to Eleanor Coade, who took over her artificial stone manufactury in Lambeth after her death and ran it as a successful business for some years.
George Thomas King, d.1833, 'a warm and zealous friend to the society for promoting Christianity amongst the Jews'. Simple tomb end with receding sides, simple pot on top, all in off-white marble with black backing to the top.
Revd. Lewis Way, d.1840, again promoting Christianity to the Jews, pinkish marble panel on chest tomb end in white marble, with draped fluted pot on top, solid brackets and apron below, the latter with coat of arms and two branches, one ferny, the other deciduous. Good, solid work.
Revd. James Boardman Cartwright, d.1861, of similar proclivities regarding conversion. Like an Elizabethan chest tomb end, with pinnacles on side buttresses and jolly castellations, against a black backing, with little wreath above.
Revd. Alexander McCaul, d.1863, various titles including Prof of Hebrew at King's College London, and, inevitably, missionary to the Jews. Marble panel with broad stone surround, with lightly inscribed surface pattern, and at the top in an open semicircle, a small open bible.
Revd. John Christian Reichardt, d.1873, erected by Hebrew Christians, white tablet with stone surround, little pediment with bible surrounded by flowers.
Revd. F. C. Ewald, d.1874, another missionary, simple white tomb end on black backing, signed by J. Forsyth, 23 Baker Street. There are two James Forsyths, and this is the elder one, known for funereal and ecclesiastical work in several Cathedrals and churches, not hinted at by this modest work.
William Wynne Willson, d.1877, same society, pink marble minimalist tomb end on black backing.
Revd. Aaron Stern, d.1885, also missionary to the Jews. As an orangey marble table tomb end against a black backing.
We may also note the rather fine World War I memorial, a tall panel in white marble with delicate black veins, two free Corinthian pilasters, a Baroque pediment with star of David, and two finials in lighter marble which look to be replacements. It is signed on a bracket by Harris(?) and Son.
Another panel notes that the Church reopened in 1867 after alterations and improvements, including to the 1836 clock, Robert Hanbury and partners contributing £3,500 of the cost, and the architect being Ewan Christian.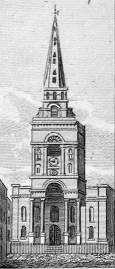 Picture of the Christ Church shortly after it was put up.
With thanks to the Friends of Christ Church Spitalfields for permission to use pictures of the monuments. Their site, with interesting information on the restoration, and detail on Hawksmoor: www.christchurchspitalfields.org.
Nicholas Hawksmoor // City Churches // London sculpture // Sculptors // Introduction to church monuments
Angel statues // Cherub sculpture
Visits to this page from 15 Aug 2012: 7,796