St Mary's Church, Wendover, Buckinghamshire - Monuments
St Mary's Parish Church, Wendover is of flint with stone dressings to the windows, a low West Tower with battlements and a small spire, little more than a spike. The body of the Church is buttressed, and its various roofs give it a slightly sprawling look, despite its relatively modest dimensions. What we are seeing is a 14th Century building, much renewed in 1869 by no less than G.E. Street, who also added the chapels and two porches, north and south. There are fragmentary remains inside on the pillars from a 13th church which was replaced.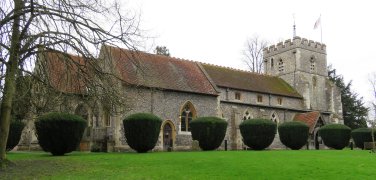 Inside, all is white stone and whitewashed walls, quite light, with a clerestory, and the several simple panel monuments hanging mostly along the walls of the aisles. The monuments are mostly white-on-black early 19th Century panels, with the pick of the crop being three Arts and Crafts pieces.
Interior views, Wendover Church.
Monuments
Elizabeth Hill, d.1738. With streaky marble pilasters to the side, and a broken pediment above; at the base, a shelf supported by curly brackets and a blank, shaped apron in between.

Elizabeth Hill, d.1738.

An oval panel to the daughter of a vicar, but I could not read who.

William Edmonds, d.1817?, erected by his son John Edmonds. White on black, carved as an elegant casket tomb, resting on ball-feet, and with a nice cover. Shelves at top and bottom, and signed by the statuary Ashton, Swallow Street, London.

White-on-black panels: Newman, Savory.

John Newman, d.1820, infant children Jane Newman, d.1805, and Hakewell Newman, d.1807, and wife Elizabeth Newman, d.1845. With a nicely carved low, wide pot on top; there is a missing shelf; and on a black backing cut with a pediment.

Anne Raper, d.1824, plain white on block supports.

Henry Newman, d.1847, Thomas Newman, d.1858, and his wife Elizabeth Newman, d.1848. Plain white plaque on black, with curly brackets.

The Revd. Spencer Thornton, d.1850.

Spencer Thornton, d.1850, Vicar, who died young, 'suddenly called away from his work on earth, to his mansion in Heaven'. Erected by his parishoners, with biblical quotations. Rather ornate for its time. The inscription is on the side of a tomb carved inlow relief, with upper pediment carved with flowers etc, partially covered by a hanging drape which twists round to the sides over steps. A thick shelf below has further carving of two crossed branches and flowers; this is supported by brackets carved as shells, and there is a central 'inverted jelly mould' between them. At the top, a shield of arms, and the whole is on a shaped black backing, which follows the lines of the design, and has its own blocky bracket supports. Really rather a good piece, signed by the statuaries Noakes and Pearce, New Road, London.

Joseph Thomas Savory, d.1867, carved as a tomb chest end, with an upper shelf and pediment, bearing a low relief carving of a wreath and curly ribbon. On a black, shaped panel. By the stonemasons Dunkley of Stoke Newington. This would have been Henry Dunkley; his grandson, Edward Lowther Dunkley, was also a stonemason, architectural carver and sculptor.

Philip Morgan Godwin, d.1900, an infant. A tile panel, with the inscription surrounded by a border of bluebell-like flowers, with twisting and undulating yellow leaves, against turquoise, with a thin edging of gold mosaic. On a serpentine backing, with a wavy outline, and a small mosaic cross above the inscribed panel. Very characteristic of the Arts and Crafts period, and a good thing.

Godwin panels, 1900s Arts and Crafts.

Kathrine Godwin, d.1904. An even better Arts and Crafts piece. The inscription, on pinky-brown marble or alabaster, has to the sides flowers in opus sectile [larger, shaped pieces than used for mosaic]. The petals are in mother of pearl, the leaves and background in tile, the stems of gold smalti mosaic, as is the border. On a shaped serpentine backing, rising to a sort of pediment above, containing a cross, also of mother of pearl, against a blue background, with scrolly lines of inset gold smalti and tow small flowers. Really good work.

Joseph Egerton Savory, d.1905, embossed coppery metal, with a repeating border of Arts and Crafts flowers, on a green serpentine backing. Very much of the period. Signed by A&N Aux, London.

Albert Smith, d.1914, Vicar of Wendover for 46 years. Plain white plaque on black.

Lionel Abel-Smith, d.2011, plain plaque.
Also in the Church:
Some of the arches are 14th Century, and have carvings at the top of the pillars, leafy things and little heads, though some seem rather restored.

I did not see an ancient brass to William Bradschawe, d.1537, and Alice his wife and nine children, recorded as being in the Church.

There are several floor slabs of the 17th Century and later, including to members of the Hakewill family, and to Henry Playstow, d.1674/5 with a long epitaph in flowing script.

The font, 19th Century Victorian Gothic, octagonal, presumably from Street's restoration.

Stained glass, pulpit.

Pulpit, 19th Century, rather a grand alabaster and marble thing, on a single stem, with Gothic openings and black shafted pillars between them, and leafy carvings. In remembrance of the Vicar, Charles Francis Champneys, d.1867.

Some good Victorian stained glass, particularly the window to Henry Harold Godwin, d.1895 – a couple of monuments to members of the family are noted above.

There are a few other modern Brasses aside from the Joseph Savory one noted above.

WW1 memorial, dark plaque, flag etc.
Wendover Churchyard
Crosses in Wendover Churchyard.
The generously sized churchyard contains a variety of styles of headstone and a few other things. We may note just a couple:
By the Church is an old font, hexagonal, presumably displaced by the high Victorian one.

Samuel Owen, d.1874, with a leaf-shaped upper, with a bit of a cross, quite unusual - see picture at top of page.

Some good crosses of various designs, Classical and Gothic, Celtic. That to Henry Harold Godwin, whose window we saw in the Church, is a good one with cut-outs.

There is a super lich gate, with a high slanted roof, presumably another of Street's creations - see picture at top of page.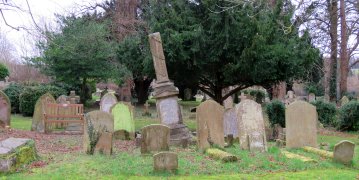 the Church website is at https://www.stmaryswendover.org/Groups/368472/Our_history.aspx.