Samuel Crompton Statue, by William Calder Marshall, Bolton
The statue of Samuel Crompton, inventor of the spinning mule, in Nelson Square, Bradshawgate, Bolton, is a fine example of the sensitive portraiture work of the sculptor William Calder Marshall.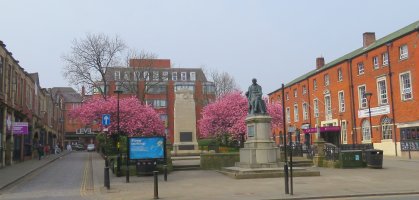 The bronze statue of Crompton is posed seated, cross legged, staring downwards. Unlike many statues, which look down at the viewer, or upwards and outwards to the purpose they strive for, the inventor's gaze is inward turning, lost in deep thought, unseeing of the exterior world. Everything about the statue conveys a sense of unself-consciousness: though on a dignified seat, his pose is the reverse of the extrovert; he turns to one side, twists his legs, and his hand clutches a the top of the chair. He has a great cloak, typical for statues in modern clothing, to give a sense of the noble Roman senator, but rather than wearing his, Crompton sits on it. A thoughtful and subtly posed statue.
Aspects of the Crompton statue, Bolton.
On the stone plinth, which rises in steps and stages, and is rounded at the front and back, the sides bear a pair of bronze plaques with relief sculpture. On the one side is Crompton with his Spinning Mule: he is seated, but here engrossed in looking at some drawing or calculation on a board resting against his knee. In front of him is the Mule,with a series of wheels and pulleys and levers; on the back of the box on which he sits is a violin and scroll and book. The other panel - the inscription of which is almost lost in the speckled granite - shows his grand house, Hall i' th' Wood, which survives today as a museum.
Spinning Mule and Hall i' th' Wood, panels on plinth of statue.
The statue was put up by public subscription in 1862, and is by the sculptor William Calder Marshall. He has several other portrait statues, of which I would pick out Peel in Manchester (shown on this page), and Jenner in London, as among the best; he also had a considerable oeuvre of ideal female sculpture, and designed the Agriculture group at the base of the Albert Memorial (see this page). In the context of Crompton, also to be mentioned is his statue of Learning for Temple Gardens, facing the Embankment in London, which also has an expressive, thoughtful expression.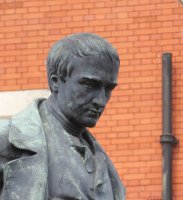 Behind the Crompton statue in Nelson Square is a cenotaph, to the fallen from the Bolton Artillery Regiment in World War 1. In pale stone, this is undecorated bar a simply carved wreath at the top.