An Alphabet of Allegorical Sculpture - W is for Whisper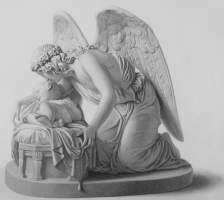 Whisper as allegory is more than just narrative, as in some genre painting of children whispering to one another. Whispering of lovers' vows would again be genre – William Calder Marshall springs to mind in this respect, with his related groups of First Whisper of Love and Whispering Vows to Pan. But an allegorical sculpture of The Whisper is something more significant, an imparting of some truth or secret, betokening trust and a cherishing of the person being whispered to, as in 'this is something which only we two can share'. There is one very well known group on this subject, which is The Angel's Whisper, by B. E. Spence, and an 1863 engraving of it is at the top of this page. The Angel is whispering some blessing or promise of good fortune into the ear of the sleeping infant. The whole pose is the angel is protective, with enveloping arm, protective wing, bowed body above the child. A version of the statue may be seen in Sefton Park, Liverpool, and a close up view of this is shown below. The group has been much damaged, to the hands and some other of the protruding elements, and the angel has lost her wings, transforming her into a mother from a semi-divine being, still most beautiful and despite its sentimentality, touching.
The Angel's Whisper, by B. E. Spence, Sefton Park, Liverpool.
Our second example is most certainly a mother and child group, by the sculptor Thomas Tyrell, and dating from a little past the turn of the century. The little boy's whisper into his mother's ear becomes more of a kiss, and she holds his hand in a caress and her other harm is protectively around him as he teeters on tiptoe to reach up to her ear.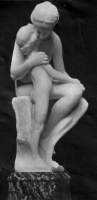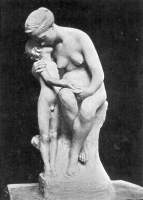 Two views of Thomas Tyrell's The Whisper.
Below is a little brother and older sister group, more playful than the one above, but with a rather similar pose of the figures, and still the emphasis on the protective, close nature of the relationship between the two.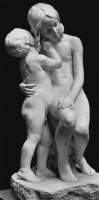 Back to Allegorical sculpture - V //Onward to Allegorical sculpture - Y // Full Alphabet of Allegorical sculpture
Sculpture in London // Sculpture in England // Sculptors
Visits to this page from 11 June 2012: 4,326