An Alphabet of Allegorical Sculpture - O is for Opportunity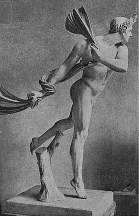 Statue of Opportunity.
I have a single picture of a statue of Opportunity, as a running man, holding a fabric, or seizing his opportunity. His hair is all in front as 'when once with my winged feet I have swept past a man, never again, though greatly desiring, can he follow and catch me up'. A strange and unusual subject for an allegorical statue.
The sculptor was Henry Stormouth Leifchild, rather obscure, working towards the end of the 19th Century. The small number of his works I am aware of do not include anything else like this, though he did have the odd Biblical or mythological figure.
Back to Allegorical sculpture - N // Onward to Allegorical sculpture - P // Full Alphabet of Allegorical sculpture
Sculpture in England // Sculptors
Visits to this page from 1 Apr 2012: 5,758