Illustrations of some statues by Francis John Williamson (1833-1920)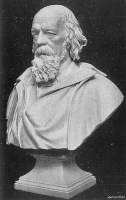 F. J. Williamson's portrait of Tennyson.
This page, supplementary to the main page on F. J. Williamson, illustrates some more of this prolific sculptor's works. He made a particularly large number of portrait busts, exemplified by the bust of Tennyson above. Here is a picture of his statue of the poet Robert Burns.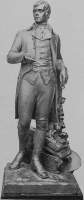 Robert Burns statue.
His most important public statues however were his several statues of Queen Victoria - as well as the one in Hastings, he produced versions for Croydon, Londonderry in Northern Ireland, and an identical one for Rangoon in India. The quality he imbues to the great Queen is sternness, almost iciness, befitting an empress at the height of her powers.
F. J. Williamson's Queen Victoria statues for Croydon, Londonderry and Rangoon.
As an example of a literary work of Williamson, here is Dinah consoling Hetty in Prison, a scene from Adam Bede, the first novel by George Eliot. Though in Victorian dress, the figures are somewhat classical in their pose. The work is interesting in showing the sculptor's treatment of the ideal female figure, and the bent forward head of Hetty is almost Pre-Raphaelite, particularly in her Rossetti-ish hairstyle.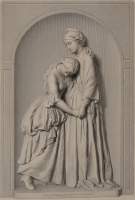 Dinah consoling Hetty in Prison.
Finally, to show a rather different style of figure by Williamson, below are two views of a female nude by him, Hypatia, an early female intellectual, learned in mathematics and the philosophy of Plato, and later a symbol of Virtue. I have not seen the actual statue, but from these pictures we have a rather solid, even fleshy figure, a Valkyrie rather than a Classical maiden.
Two views of the statue of Hypatia.
See also main page on F. J. Williamson.