Leonard Stanford Merrifield (1880-1943)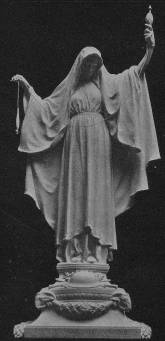 Part of the Merthyr Tydfil Memorial.
L. S. Merrifield is an interesting sculptor working from the very end of the 19th Century through until World War 2. His oeuvre consists of essentially three types: portrait sculpture, ideal figures, and war memorials. His portrait sculpture includes several public monuments and busts, and he was clearly a gifted portraitist of characterful male visages. His figures are notable for lively posing, sometimes rather forced, other times working rather well, to give some originality and flair to portrait statues. Apart from Pantycelyn, his full figures include Richard Trevithick, the inventor, Lord Edward Carson of Duncairn, Bishop Blunt of Scarborough, and E. H. Evans.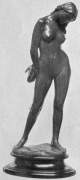 The Slave.
I have been able to identify only a small number of examples of ideal figures by Merrifield, of which the best is The Slave, others including Hercules and Antaeus, The Nymph, and Pieta, a group depicting a veiled, seated woman cradling the naked collapsed figure of a man. In York Minster are four stone figures, of which two are King David and Miriam, comprising the Studholme Memorial, which I think are by Merrifield. He also made statues of Faith, Hope and Charity which I have not seen reproductions of. And there is a nude girl by him for the Frohman memorial in Marlow, Bucks - see this page.
Merrifield designed several WW1 memorials, which give further opportunity to study his ideal figures, and in addition produced some war-related small statues. The Merthyr Tydfil Memorial is a large monument of stone, with three bronze figures: a central angel with heavy drapes, and flanking figures in subordinate positions of a labourer, and a woman with infant – these latter two figures show the strong influence of Merrifield's master, Goscombe John. His War Memorial in Lurgan, County Armagh, Northern Ireland consists of a cupola-style temple in stone on a raised plinth reached by steps, with bronze lamps at each corner, and on top, an Angel of Victory. Merrifield also made an arresting statue of a soldier for the war memorial to the Duke of Cornwall's Light Infantry at Bodmin.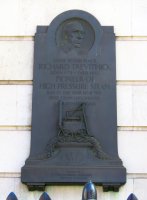 Trevithick monument by Merrifield.
Apart from the memorials and other works whose location is noted above, along with Pantycelyn, Cardiff City Hall contains a bust of Alderman David Jones, and nearby in the National Museum of Wales is a bust of Robert Drane, to whom we owe the ceramics collection of the museum, and the small bronze, Pieta. The Richard Tevethick statue is in Camborne, Cornwall, and Bishop Blunt's effigy is apparently in Scarborough Church. In the Houses of Parliament, the collection of busts of Prime Ministers includes Merrifield's one of Asquith, completed posthumously by Gilbert Bayes.
Merrifield was born in Wyke Rissington, in Gloucestershire, and trained at Cheltenham School of Art, then studied under W. S. Frith at Kennington, and then proceeded to the Royal Academy Schools in 1904. He then had a period under Goscombe John, before setting up on his own account, residing in London. He exhibited at the Royal Academy from 1906, and became a Fellow of the Royal Society of British Sculpture in 1926, having a role in the governance of that body over a considerable period.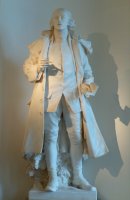 Williams Pantycelyn.