Samuel Ferris Lynn ARHA (1836-1876)
The Irish-born sculptor Samuel Ferris Lynn was primarily a portrait and architectural sculptor, living in London for most of his short life, and his final years in Belfast. He was the sculptor of two important Belfast statues: the Prince Albert for the eponymous clock tower, and Dr. Henry Cooke, pictured below.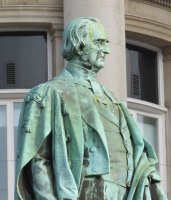 Samuel Ferris [or Ferres] Lynn started his artistic studies in the Belfast School of Art, initially with an intent to be an architect, like his brother William Henry Lynn, a significant Belfast architect. However his success in modelling led him to turn to sculpture, and he became a student at the Royal Academy in London in the 1850s, where he stayed. Indeed, in 1866 he won a two year travelling scholarship, spent the first year in England, and then declined the second year when told that would have to be abroad. He was later studio assistant to two important Irish sculptors in London, first Patrick MacDowell, then in 1862-63, J.H. Foley. By then he had been elected to the Institute of Sculptors, and later became Associate of the Royal Hibernian Academy (ARHA). He exhibited at the Royal Academy from 1856-1875. In 1873 he returned to Belfast, where he died suddenly three years later: the art historian noting darkly that 'his latter habits were intemperate'.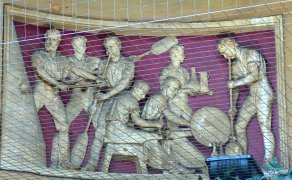 Panel showing glassblowers, by S. F. Lynn.
Lynn is most familiar for his portrait statues and busts, including the two Belfast statues (Albert and Cooke), a seated statue of Galileo for Queen's University there, and the Marquess of Downshire for Hillsborough, County Down, NI. His busts are scattered around various institutions, and are typically in white marble, noble Roman style with swirling, heavy drapery rather than even a hint of modern clothing. Despite Redgrave noting Lynn was 'much employed on ornamental sculpture for public buildings', they are hard to identify. In Belfast, I am aware only that he made the four spandrel angels for the front of the Customs House (under the pediment), with their slender girlish figures (see picture below), and in Birmingham, sculpture for the National Provincial Bank building, which includes free standing summit figures, and panels with well-grouped figures of labourers and craftsmen (one example pictured above).
Example of S.F.Lynn's architectural sculpture.
Lynn's works sent for exhibition at the Royal Academy included a variety of ideal and allegorical figures, tending much more to the sentimental.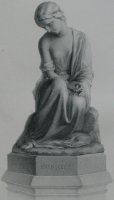 Evangeline, ideal sculpture.