Mary Grant (1831-1908)
Mary Grant was the sculptor of the Fawcett memorial in London and religious work in St Mary's Cathedral, Edinburgh and elsewhere.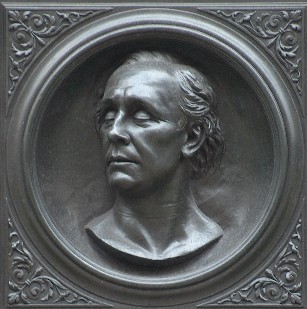 The Fawcett Memorial by Mary Grant.
I came across Mary Grant as the sculptor of the Fawcett memorial on the Victoria Embankment, and have only seen photos of her most important works, which are the statues and plaques for the shrinelike reredos in St Maryís Cathedral, Edinburgh, and a group of St Margaret and the Dragon. Her other religious work includes figures for the screen in Winchester Cathedral, a reredos for a church in Kilburn, and figures for the porch of Lichfield Cathedral. Most of her other work appears to have been busts of the great and the good, including Queen Victoria and her uncle Francis Grant.
Mary Grant had strongly artistic antecedents, as she was the niece of the American painter Sir Francis Grant, President of the Royal Academy, and her grandfather on her motherís side was Lord Elgin, of the marbles. She studied first in Florence, under Fantachiotti, then in Paris under Merier, and then back in England under J. H. Foley.
A fine portrait of Mary Grant, by her illustrious uncle, is in the collection of the art gallery in Leicester.