Sebastian and Lucius Gahagan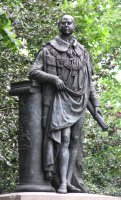 Sebastian Gahagan: Duke of Kent statue.
The Gahagan family of sculptors were active from the late 18th Century through to Victorian times, and originating in Ireland, where the name was spelt Geoghegan, with later members with addresses mostly in London and Bath. Because there were several of them, and much of their output was portrait busts and small figurines, in later years, as collections of art were split up and sold, there was some blurring of which Gahagan had made them, so on closer investigation, the occasional piece said to be by a particular Gahagan tends to turn out to be an attribution rather than a certainty.
The first of the family to achieve a level of prominence was Lawrence Gahagan, who trained in Dublin but settled in London, worked in the latter 18th Century and through till 1820, with several pieces exhibited at the Royal Academy. He specialised in portrait busts, typically on a small scale, though the National Portrait Gallery has a bust of Mary Anne Clarke which is full sized.
Sebastian Gahagan (1779-1838), a son of Lawrence Gahagan, was born in Ireland or England - or rather he was said to have been born in Ireland but his father had settled in England long before that - certainly lived his professional life in England, working first as an assistant to Joseph Nollekins, and later having a sequence of different addresses, living in what seems to have been his most active and successful period through until the 1820s first in Titchfield Street, and then a bit south in King Street, Westminster. He exhibited 18 times at the Royal Academy, and has three significant public works in London to his name. Firstly, very close to his Titchfield home, is his bronze statue of the Duke of Kent (father of Queen Victoria) standing at the northern end of Portland Place in Park Crescent Gardens (picture above - click any picture to enlarge, or hover for caption). Secondly, in St Paulís Cathedral is his monument to Sir Thomas Picton, a classical group showing a bust of the deceased on a pillar, and beneath a lion, angel holding a wreath above it, and a Greek warrior with a male winged figure leaning on his shoulder. Five of his Royal Academy pieces are on the Picton theme. Thirdly, he also has one monument, to Charles Burney, in Westminster Abbey.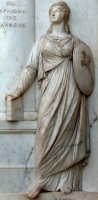 Monument by Sebastian Gahagan.
As well as these, Sebastian Gahagan designed figures of Osiris and Isis in Coade Stone for the long-gone Egyptian Hall in Piccadilly, which survive in the custodianship of the Museum of London - see this page. And in Bath Abbey he has a figure of a girl, classically draped but bearing a shield with a cross, for the monument to Archdeacon Thomas. All his work seems highly competent in treatment of figure and drapery, if hardly inspirational.
There were two Lucius Gahagans, father and son, with the elder being the brother of Sebastian and known as Lucius Gahagan of Bath (1773-1855). He actually worked in his father's atelier in London first, along with his brothers, but by around 1820 is found in Bath, and in that city has three outdoor works. Two of these are the statues of Commerce and Genius, pictured below, in niches in the frontage of 8-9 Quiet Street (a Mercury on the summit of this building appears to be by a different hand). The third is a bust of Garrick on the Garrick Hotel, St Johnís Place Ė weathered, but with presence and a good half-smile. Small plaster busts, rather ugly, are in the collection of the Victoria art gallery in Bath, and back in London, the National Portrait Gallery holds a plaster maquette by him of a certain Mr Beadon. In his early days in Bath he seems to have offered a variety of busts and other works for sale, but later on he fell into poverty.
Commerce and Genius, by Lucius Gahagan of Bath.
These two brothers, Sebastian Gahagan and Lucius Gahagan of Bath, were the most prominent of the family sculptors I think. There were several others - other brothers were Charles Gahagan (d.1860s), was described as a 'carver' when young before becoming a soldier in the 1780s, and Vincent Gahagan (1776-1831), an assistant to Sir Richard Westmacott RA, who had the singular fate of being killed by a statue, as he was working on Westmacott's splendid statue of George Canning (now in Parliament Square) when it broke free of its moorings and fell on him. His own work seems to have been mostly Classical going by the titles of his several pieces exhibited at the Royal Academy, though I have not seen any of the actual pieces. The Academy also list a Sally Gahagan who crops up in Bristol in 1817, and later, the London-based Edwin Gahagan who exhibited in the 1830s and again in 1857. Finally, Lucius Gahagan's obscure son Lucius Gahagan (1798-1866) already mentioned has an equally obscure sister sculptor and modeller, Sarah Gahagan (1801-1866) who lived with him in Chandos House, Bath, and died shortly after him. There was a sale of Chandos House's contents in 1988, which included statuettes and small models of a range of Classical figures and modern statesmen, 'perhaps by Lucius Gahagan', without speculating as to whether that was the father or the son, or indeed any reason why the daughter could not have been their maker.