John Edward Carew (1785-1868)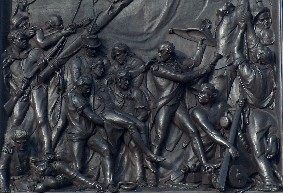 Carew's Death of Nelson.
The sculptor J. E. Carew was born in Tramore, studied art in Dublin, and came to London to work for Sir Richard Westmacott around 1809. He exhibited at the Royal Academy some 22 works between 1812 and 1848, mostly portrait busts. He worked exclusively for the Earl of Egremont at his seat in Petworth (where his sculpture, mostly Greek gods and goddesses, is still extant) in the 1820s and 1830s, and made some sculpture for the royal family, including two chimney pieces for Buckingham Palace. His most prominent work by far is the Death of Nelson, which is one of the four panels on the base of Nelson's column in Trafalgar Square. His also is the Dick Whittington for the Royal Exchange, on the Threadneedle Street side.
Other portrait statues by Carew include William Huskisson in Chichester, Henry Gratton for the Houses of Parliament (St Stephen's Hall), and Edmund Kean for the Drury Lane Theatre. He also carved a few non-portrait monuments, including the Edward Woods Memorial, again in in Chichester Cathedral, the Robert Gibbings Memorial in St Nicholas, Brighton, and Michael Nugent in Kensal Green Cemetery, where Carew himself is buried (though I have yet to find either monument there). A couple of religious works are also attributable to him, including a relief of the Baptism of Christ for St John the Baptist, Brighton, and a reredos for the Chapel of the Assumption, Warwick St, London, though I am not sure this survives.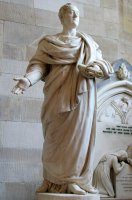 Huskisson statue by J.E. Carew.
Carew's style is very classical, noble, and with considerable grace. His girls have a typically early 19th century look, and a fullness of figure. His male statues tend to the modestly muscular.