Lambourne Church, Essex - Monuments
Lambourne Church, called St Mary and All Saints, in Essex is small and ancient and evocative, and contains a good selection of wall monuments for its size, including 3 with figure sculpture, and works by sculptors Joseph Wilton, Flaxman, and Alfred Gatley.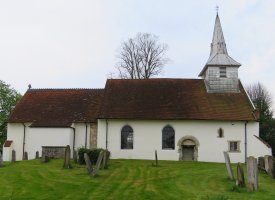 Lambourne Church, Essex.
St Mary and All Saints, Lambourne Church, lies close to the part of Essex absorbed into London. From the outside we see a small, ancient building, with a reset Norman door with the usual zig-zags (chevron) patterning as well another reset door of similar age but no decoration, and a door at the west end dated 1726 with a charming oval window above, marking a significant restoration of the Church at that time. The short three bay nave has a steeply sloping tiled roof bearing a short wooden spire, and a chancel almost as long as the original nave. Little buttresses at the corners feel unnecessary for the low walls. Dates are 12th and 13th centuries, with the bell tower being 15th Century. Inside, all atmospheric dark wooden pews, and a gallery, see below, and the walls of whitewashed plaster, with a highly moulded Chancel arch of 18th Century date.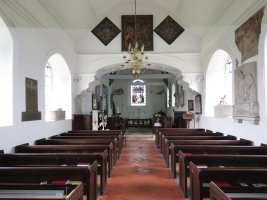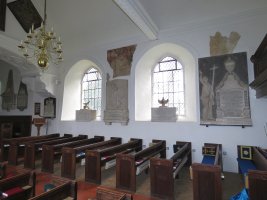 Interior views, with monuments.
The several monuments are along the walls.
Monuments
Thomas Winnissum [Thomas Wynnyff], d.1654, with a lengthy Latin inscription in capitalised gilt on black, as was the custom at the time. He was Bishop of Lincoln, and Dean of St Paul's. With black-shafted pilasters to the sides, topped by shields of arms, and above, an open curec pediment with central cartouche of arms, painted. At the base, a short apron, little carved brackets, and a central winged cherub head with slight drapery. I find myself uneasy with this panel, and wonder how much recarving of the original setting may have been done in the 19th Century. There is the great stone in the floor to his father, John Wynnyff, d.1630.

Johannes Tooke, d.1745, 'Theologus Eruditus', with long Latin inscription noting his three sons and daughter – it was one of the sons who erected the monument – noting the death of his father in 1745, mother in 1749, and brother in 1764. A big obelisk monument, the obelisk bearing most of the inscription, then a central field bearing a high relief narrow-stemmed urn, and a lower portion, quite Baroque, with the remaining inscription, protuberances to the sides, and shield of arms at the base in a little cartouche. Not so typical of the obelisk genre as it evolved subsequently, as we shall see.

Matilda [Vernon] Lockwood, d.1743, noting she 'had a numerous Offspring' – so it is her we can thank for the indeed numerous monuments to other members of the Lockwood family. With a eulogy that ends 'For She had all the advantages of a natural-charming Temper // Accomplish'd Behaviour, and good Understanding // Thatt could adorne this Life // And all the inward Blessings of Christian Virtue and Piety // Which might intitle her to a Better.' Note the 'might' – at this period, it was still not the done thing to presume upon divine judgement that the deceased would go to Heaven, while later generations had no hesitation, and their sculpture often unabashedly shows the rising soul – see the 1854 Capt Lockwood monument noted below. Anyway, this early obelisk monument has the inscription on the obelisk itself, which rises to well over half the height of the total piece. The piece below, without the obelisk, would be a conventional panel with broken pediment with a central pot, and bears the inscription to her husband Richard Lockwood, d.1756 when he 'by a gradual decay Expir'd', and who had erected the monument. The shield of arms, with festoons of carved flowers, is at the base. This obelisk monument, like the Tooke one, is early and not so typical of the genre, having a white rather than dark obelisk, the inscription on the obelisk itself, and lacking the horizontal shelf separating the upper and lower parts. The monument next to it, noted below, is more conventional.

Anna Catherina Lockwood, d.1757, and her husband Richard Lockwood, d.1797. The third obelisk monument, more conventional than its predecessors. The obelisk in dark stone, bearing upon it the family shield of arms and a finely carved draped pot. In the lower part, below a shelf with the usual mouldings, the inscription is surrounded with an inset frame of dark, streaky marble, perhaps serpentine, within a darker, shaped border.

Revd. Robert Tooke, d.1776, Rector of the Parish, 'leaving as his sole heiress his sister Susanna, widow of Peter Calvert Esqr of Much Hadham, Herts'. A decent early white-on-black piece, carved as a tomb chest end with pediment bearing a coat of arms and fronds in low relief, acroteria to the sides but sitting on the upper shelf with no architrave, and cut with feet decorated with egg shapes below. On a shaped black backing. Recorded by Gunnis, the sculptural historian, as being by the stonemason John Peck of Bishops Stortford, though today only the town name remains.

John Lockwood, d.1778, erected by his wife, Matilda Lockwood, d.1793, also commemorated. A good monument, with the inscribed panel, black on white, with upper shelf and surmounted by a female figure with an urn. The figure is the widow, holding an anchor, symbol of steadfastness and love, and she leans against her husband's funeral urn, shown by his small shield of arms upon it; the small pot beside it has a plume of smoke emitting from it. The figure is Classically draped, with something of an emphasis on the roundness of her breasts, and stomach, and plump thigh. Well done, but not conventionally Classical in the style, and the pose is the typically 18th Century casual leaning against the tomb, using the top as an elbow prop, which seems a little less than respectful. She gazes heavenwards, and wears a headscarf which blows out to the side despite the unruffled rest of her drapery, or indeed her long hair. Nevertheless, the drapery is good, especially over the arms. By an eminent sculptor, one of the founding members of the Royal Academy, Joseph Wilton.

Mrs Mary Mitchell, d.1788, a simple, well composed piece, being a flaming urn with cup-shaped bowl and narrow base, resting on a bracket of the upturned bell variety. No backing.

Lady Rous, d.1794.

Judith, Dowager Lady Rous, d.1794, her second husband, the Revd. Edward Lockwood, d.1802, who was Rector of Hanwell, Oxon, and St Peter's, Northampton, his son by a previous marriage, Edward Lockwood Percival, d.1804 and Capt. George Harvey Percival, d.1815, all with a very lengthy inscription. This is flanked by pilasters carved in low relief, with a funereal urn on a tall plinth in three stages above, with generously carved festoons of flowers running down each side. To the left of this is a high relief sculpture of Faith, a female figure in drapery carrying a tall cross, one hand raised, staring upwards. Her face and stance is a little wooden, but the carving of the drapery is ambitious and well executed, in a clingy style to accentuate the curves within. Under her, the motto 'Fidei Coticula Crux, or 'The Cross is the Touchstone of Faith'.

Matilda Lockwood Maydwell, d.1800, and an unnamed infant daughter, window monument, thus a block at the base of a window with an Aladdin-style lamp on top, on a nice base. The lamp has a low relief flower carved upon it, and the base bears the family shields. By the eminent John Flaxman RA no less. See picture at top of page.

Matilda Lockwood, d.1832.

Matilda Catherine Lockwood, d.1832, daughter of the Revd. Edward Lockwood, erected by her nephew and niece Edward and Frances Lockwood Percival. With crossed frame and a slight pediment bearing an anchor carved in low relief, and seemingly cut from a single panel of white marble. This is a modest work by C. Thompson of Osnaburgh Street, London, whose establishment produced a variety of more complicated white-on-black panels in earlier years.

Revd. Thomas Shelford, d.1846, Rector of the Parish, erected by his wife Eliza Jane Shelford. Plain white plaque with thin upper shelf, on black backing, pointlessly signed by S & G Wilkins, New Road, London. He has a lozenge on the floor too.

Capt. George Lockwood, d.1854 at Balaclava, of the 8th Hussars. A good piece with a full figure carved alto relievo, a male angel with a trumpet who at first glance would seem a figure emblematic of Fame, – but the inscription below, 'The Trumpet Shall Sound', refers to the Resurrection, so this is the transformed figure of the deceased rising to Heaven. Anyway, we see an idealised male figure, of athletic build, in the lightest of flying drapes, with one foot still on the earth but poised to fly, one hand raised up, but glancing back and downwards as if in farewell. Well composed and executed, an assured piece by the sculptor Alfred Gatley, dated 1860. He has considerable talent, but never really made it into the top tier, and with a fairly small oeuvre, including just a handful of monuments of which I am aware. There is a certain awkwardness to his pieces, and in this one it is the face, which looked at full on has an androgynous appearance and a tendency to the Eastern physiognomy, hardly fitted to the muscular figure with its Classical drapery. Not that the musculature is Classical either. But these are quibbles – it is a good piece. It stands atop the inscribed panel, and to left and right of that are smaller panels carved in lower relief with the accoutrements of 19th Century warfare: hat, sword, flags on spears, cannon.

Later 19th C Lockwoods: William Lockwood, and his wife Rachel Lockwood

William Joseph Lockwood, d.1854, of the Coldstream Guards, who served under Wellington, also noting his son Capt. George Lockwood, d.1854 in the charge at Balaklava. Erected by his wife and other children. Broad tablet with upper and lower shelves, with repeating decoration, and on top the family shield with crossed spears with hangings. On a black backing, signed by the prolific Thomas Gaffin of Regent Street.

Rachel [Wood] Lockwood, d.1874, daughter of a Baronet and wife of William, noted above, another blocky window monument, with a broad Aladdin Lamp style urn on top, bearing a small coat of arms in a cartouche.

Lt. Richard William Mark Lockwood, d.1914, killed in action in the Battle of the Aisne. Military panel, with wreath in front of crossed spears bearing drapes on top, and a central 8-pointed star, emblem of the Coldstream Guards. A lighter upper shelf, and a heavy lower shelf with feet, both shelves with minor repeating decoration carved in low relief, and a black backing panel.

Isabella, Lady Lambourne, d.1923, block with small cross on a wedge of stone above, a window monument.

Robert Percival Lockwood, d.1929, same style as that to Lt. Richard Lockwood above, but with a small curly pediment on top.

Lt Col. John Cutts Lockwood MP, d.1983, a modern window monument, just a block with no ornament.
Ancient Brass:
There is an ancient brass to Robert Barfoot, d.1547, and his wife Katheryn, d.1569 or thereabouts – a very good brass on the Chancel floor. We have the figures of the couple, more subtle than the simple drawing suggests at first sight. Both stand, hands raised in prayer, facing each other slightly. However, Barfoot inclines only his face, whereas Katheryn stands in three-quarter view. Both are dressed in long robes, hatched for shading; he has fur trimmings to the collar and hem, and she to the sleeves, and wears too a long tassel. Note his shoes, broader at the toe than the heel, found as late as the 18th Century in some monumental sculpture. At the base, two groups of offspring: four sons and a daughter in the one group, and four sons and ten daughters in the other – the boys have the same shoes as their father. Usually, girls would be under the mother, and boys under the father, so this grouping is suggestive that there had been a previous wife, as the larger group is under Katheryn. Charming little figures. At the top of the stone, a sort of quatrefoil with the letters R T?, and a shield with a portrait head within it.
Modern Brass:
We can note the modern brass to General William Mark Wood, d.1883, son of William Joseph Lockwood and his wife Rachael, daughter of Sir Mark Wood, Baronet, hence the name change. With a large coat of arms above, in blue, red and white. Also a plain panel to Charles Edward Lister, d.1984.
Also in the Church:
The gallery, 'built at the charge of William Walker, Citizen and Ironmonger of London', and noting gifts to the Church and Poor of the Parish of Lambourne.

On one wall, two portions of an exposed wall painting, St Christopher apparently: on the one part, we see his upper body and head, a cross in one hand, a small angel seated on his other shoulder.

Several small, 17th Century panels of stained glass, really rather good, in Germanic style with rich, deep colours and excellent detail.

A few pieces of furniture, Gothic, including chairs, one grand and others small but exotic, and a desk.

The Font, typical 18th Century, elegant and slender. See picture at top of page.

By the altar, several high relief, slight modern carvings, including a Virgin and child, and some exposed architectural wall painting, slight fragments of what must have been a grand scheme.

Several hatchments, including three above the Chancel arch.
Outside:
The Churchyard has mostly simple headstones and a few crosses. We may note the following:
Several 18th Century headstones, including a good one to two children, Thomas Babbs, d.1736, and Caroline Babbs, d.1737, an infant. This, by the corner of the Church, bears a low relief carving of a skull and crossbones, surmounted by a winged hourglass, emblematic of death and time passing respectively - see picture below. And I noticed one broken off and sunken cross from 1800, to Threadgold.

A few tomb chests close to the Church, including one retaining nice ironwork.

A World War 1 memorial, fashioned as a Cross Fleury raised on a pillar, and with small steps below, nicely proportioned.
The Church website is at https://www.lambournechurch.com/the-church.
Westward are the churches of Essex in London: see this page.