Great Missenden Church, Buckinghamshire - Monuments
Great Missenden Church, Buckinghamshire, is an atmospheric 14th Century church with a notable tower, containing a number of modest monuments from the 17th-20th centuries, a couple of ancient brasses, and a 12th Century Aylesbury font, among other embellishments.
St Peter and St Paul, Parish Church of Great Missenden, is built of flint with stone dressings, and the main feature is undoubtedly the tower, not for its height, but its breadth, giving a sense of massiveness, increased by the buttressing and battlements at the top. For the rest, the Church is low, not so large, with mostly Perpendicular windows somewhat dominating the walls, and the low, rather flat green roofs not visible from close by. The Church mostly dates from the 14th Century, but that tower has a 16th Century upper stage, and was widened in 1732 to give its current appearance. There are two porches, of which the south one is from the 16th century, and for the rest, there were gradual increases in all dimensions over the subsequent centuries through to a restoration in 1899-1900.
The interior is more symmetrical and ordered than that history would suggest, the beamed ceiling appears higher, and the tall arches give a sense of space. The late 15th Century clerestory, hardly noticeable from outside, is more of a feature from inside. The monuments of interest to these pages are not so special, but are dotted appealingly along the walls of the aisles, adding considerably to the ambience.
Monuments
As indicated, the monuments tend to the simple rather than the exciting, but we have three from the 17th Century, of which the earliest is novel, a couple of obelisk monuments, a number of simple white-on-black panels, a few of which are signed by their makers, and one Arts and Crafts panel. We take them loosely in date order, but with the several panels to the Honnor family as a batch:
William Bois, d.1631, with arch of books.

William Bois, d.1631, [William Boys] with a Latin inscription on an arched, black panel, with a frame made of heaped up books, really rather good – there are other book-monuments, but very few. For the rest, there is a curved pediment above, without much of an entablature, and which is open at the top to fit a small statue of a bald, bearded man, holding the remains of a scythe - he is Time, as a metaphor for the inevitable harvest of death. Beneath him, within the pediment, is a coat of arms with a phoenix, crest, mantling and lion. To the sides of this are the remaining stumps of some lost decoration, perhaps urns or obelisks. What survives of the base consists of two brackets, and looks recarved. Interesting.

Dame Jane Walker, d.1635, who married first Daniell Bonde, later Sir John Boys, writing that 'Towardes Both which shee exprest herselfe perfect in the becoming duties of a virtuous wife'. Another inscription on a black panel, with a stone surround, and on top an arched, open pediment enclosing a cartouche of arms, with a tiny carving of a winged cherub head on top; the base of the monument was hidden, and the sides lack their original pillars - see picture below left.

17th Century monuments to the Boys family.

Ann Eayrs, d.1637, eldest daughter of Thomas Boys of Canterbury, Neice to the Lady Boys of the parish, and wife to Thomas Eayrs, who erected the monument. This last of the Boys monuments is complete: the black central panel has both its stone surround, and the black shafted pillars on the sides, with Corinthian capitals, supporting a broken pediment and entablature within which is a lozenge of arms, ribbon, and summit lion, with wreaths on each side. Above the pillars are carved winged cherub heads. At the base, the lower shelf has pendant pineapple-shaped fruits hanging down from the brackets, and on the apron between, another carved coat of arms, with low relief floral mantling and a booted foot on top - see picture above right. A good piece.

Robert Dormer, d.1729, second brother to Charles, late Lord Dormer, Baronet, erected by his wife, Frances Finch if I read the faint text aright. Tall panel with border with mouldings, upper pediment, and curved apron below a lower shelf. There would once have been more to the sides, likely attached pillars or pilasters.

Vertical format, 18th Century monuments.

Frances Oldham, d.1790, her daughter Harriett Oldham, d.1789, and added subsequently, son Joshua Oldham, d.1817, and husband James Oldham Oldham, d.1822, Patron of the Church, and to Cheshunt College, Herts, where a monument was erected to him. An obelisk monument in white marble. The obelisk at the top bears the inscription - not so usual - and has upon it a low relief carving of an open bible within an oval frame, hanging drapes to the right (one to the left has been lost), and to either side, a high relief pot. All this stands on the shelf forming the mid-point, and beneath which is an inscribed panel, with inlay stripes of pinky-brown alabaster above as almost the only colour on the monument. Curved pilasters to the sides, little stylised flowers in low relief, and a lower shelf, beneath which are brackets with further slight carving of hanging drapes and ribbons, and a curved apron bearing the painted shield of arms and crossed leafy branches. The brackets are inscribed 'Fame how Short' and 'Eternity how Long'.

Thomas Nanfan, d.1770, James Nafan, d.1806, and his wife Sarah Nanfan, d.1823. Cut as a tomb chest end with pediment, mouldings and little feet, on dark rectangular backing panel.

The Revd. Jeremiah Newell, d.1803, Vicar of the Parish, on a panel carved in a casket shape, with outward slanting sides, thin shelf above, feet below.

Honnor family:

At this point we arrive chronologically at the first of a series of panels to the Honnor family, mostly of the same design , which is a white-on-black panel cut with little feet, and with a blocky sort of pediment shape above.

Joseph Honnor, d.1811, of Greenford, and his wife Elizabeth Honnor, d.1819. Neat monument with white panel enclosed in a black, shelly marble frame with upper and lower shelves, small brackets below and above, cut as curly pediment with a low relief carving of a flaming urn. See picture below left.

Panels to members of the Honnor family.

Timothy Honnor - I could not read the date - and his wife Mary Ann Honnor, d.1849. First of the blocky panels.

Joseph Allan Honnor, d.1856, of Rignall, his son Joseph Ives Honnor, d.1857, and wife Mary Honnor, d.1885. Same design, signed by Samuel Manning of London.

Sarah Ann Honnor, d.1863, wife of Thomas Honnor, variant of the Timothy Honnor panel with a shelf. Signed by a local stone mason, J. Staple of Chesham. See picture above right.

Thomas Honnor, 1875, of the same design, this time signed by T.H. Staple of Chesham. Staple of Chesham seems to have been a long-established firm, recorded from 1830s-1880s, first as bricklayer, later stone mason; I have not come across other panels by them.

Jane Honnor, d.1883, wife of Thomas Honnor, variant on the Joseph Honnor panel, with upper shelf and pediment with acroteria ('ears').

Returning to the other monuments:

Elizabeth Ann Ayton, d.1813, wife of John Ayton of Great Missenden Abbey. Tall panel of heavily streaked white marble with thin border, upper pediment with acroteria, and moulded feet below. Notable for its nice script. There is a painted shield of arms below the inscription.

The Revd. Thomas Lloyd, d.1815, Rector or Aston Subedge, Gloucs, and his wife Elizabeth Lloyd, d.1814, and their son Thomas Lloyd, d.1800. The inscribed panel has a border of reddish marble, white pilasters and upper and lower shelves, a triangle rather than a pediment on top, with a pot carved in low relief, and at the base, curved apron with a bit of carved drapery with a fringe, and brackets to the sides with flowers. A colourful monument of a type characteristic up to about 1800 but really quite unusual thereafer. Picture above.

James Jeninges, d.1817, crisply cut black panel with over-large dogtooth feet, looking like there should have been something on top.

Thomas Church, d.1818, 'late of the General Post-Office, London'. White panel with black surround, shelves above and below. At the top, a short obelisk; at the base, wavy apron between two brackets.

More white-on-black panels

The Revd. Robertt Armstrong, d.1820, with a short Latin inscription. Panel with black surround, upper and lower shelves, a sort of pediment shape above, and curvy apron below, between brackets. There is a stub at the top suggesting there may once have been some device or shield at the top.

Mary Esdaile, d.1829, plain white panel with upper shelf.

The Revd. Richard Marks, d.1847, Vicar of the Parish for 24 years. Same design as the Nanfan panel and some of the Honnor ones.

William Callow, d.1908. A charming Arts and Crafts panel, of purplish marble or alabaster, with a pale inscribed panel, and an inner border of mosaic in green, red and gold smalti. A little treasure. Callow is listed as Fellow of the Royal Geographical Society, and of more interest here, Royal Watercolour Society - he was a popular painter of his time, mostly architectural works, including pictures of Venice and other riverside city scenes in warm colours. Made by the important Birmingham church furnishings company Jones and Willis.

Callow monument.

Dick Dalymple Goldingham, d.1966, and his wife Cornelia Frances Goldingham, d.1979. Plain plaque on black backing.
Brasses:
Katerina Iwardeby, d.1436, inscription that she was wife of John Iwardeby, Squire, and daughter and heir of Bernard de Missenden, patron of the Abbey of Missenden. The phrasing suggests the brass was originally in the Abbey.

A standing female figure set in an arch, without matrix [stone in which it was laid] or inscription. She wears cowl, long robes, decorated with fur at the sleeves, and her hands are raised in prayer. Early 16th Century apparently.

Zacheus Metcalfe, d.1595, and his mother, Margaret Metcalfe, d.1596: a helmet and crest which is a female figure. The figure is interesting and the feathery mantling of the helmet at first sight look like her flowing dress. Her face and figure, such as we can see of it, are extremely well rendered, with an elegant curve to shoulder and deck, and little flowers in her hair, which is wavy above, then hangs down in a long plait behind her. Picture above.

There are a few modern brasses:

On the floor among nice tiles, a brass to mark the family vault of James Oldham Oldham, d.1789, 'Patron of the Living [i.e. who chose the Vicar], Impropriator of the Parish and Lord of this Manor'. Decorated with shield of arms, border and motto on a scroll, and with a fine font.

Revd. Jeremiah Newell, d.1803 - we noted his monument above, and this almost black panel would be the grave marker - noting seven children who died from 1788 to 1800, four in the one year.

Revd. Greaves, d.1885.

Revd. Joshua Greaves, d.1885, Vicar. The inscription in a quatrefoil within a square, with ornamental flowers. The red capitals and border of leaves are typical of this sort of panel. Made by Gawthorp of London.

Henry Badham, d.1934, Vicar of the Parish, with finely inscribed branch, and with a speckled stone frame.

Dame Alice Daisy Warmington, d.1935, wife of Sir Marshall Debham Warmington, Baronet. In embossed blackletter, with an ornate border of wild roses enclosing a Biblical quote.

John Voss, d.1965, ringer at this Church. Plain plaque.
Also in the Church:
As noted, there are a number of accoutrements and small features of the Church which encourage the visitor to linger and explore. The following are notable here:
The font predates the extant Church considerably, being a late 12th Century piece of the 'Aylesbury' type, which appears in a number of local churches, thus an octagonal bowl, plain here, a rather short central stem, with a band of carved stone around it like a rope, and then a square base with segments of circles on each side, with relief carving. The type is quite common in these parts, and after seeing three or four, the casual church visitor's eye will be trained to notice them thereafter.

Font, and St Peter statue.

There are various remnants of 14th Century windows and niches, and a line of pointy arches which are from around 1900 I think, but apparently designed after fragments of 14th Century material, and a piscina, all of which help to please the eye and give the Church a sense of organic development; the Victoria County History gives much detail for those with an architectural bent.

There are a variety of angels and beasts carved as corbels and terminals to the arches, many or most of which have clearly been restored or recut in the 19th Century, but are worth looking for: the dogs are particularly well composed.

Two of the corbels.

Attractive 19th Century floor tiles, somewhat after medieval precedent. And a number ancient tiles, taken from Missenden Abbey.

The stained glass includes a few bits of ancient glass, along with some 19th and 20th Century panels of merit; notice for example the sporty figures (see picture below) and the depiction of Christ College, Cambridge.

Two stone statues flanking the altar, 1930s I would guess, representing St Peter with his key, and St Paul.

Two other modern statues: Love One Another, by Megan de Griolamo, in memory of Charles Dunford, 1976, Vicar of the Parish; and a larger standing woman with infant, perhaps a Virgin and Child, by Brigitte Stride of the Misbourne School, 1975.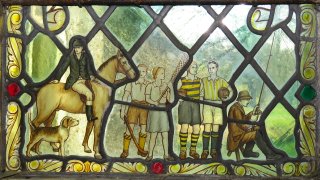 The Church website is at https://www.missendenchurch.org.uk/Articles/497484/St_Peter_and.aspx.