King Edward VII Memorial, Northampton, by George Frampton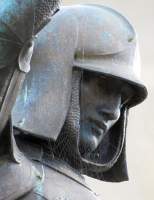 Head of St George, King Edward Memorial.
A few minutes walk from the centre of Northampton, along St Giles Street, past St Giles Church, and continuing along Spencer Parade to he corner with Cheyne Walk, leads us to a fine work of sculpture by the sculptor George Frampton: the King Edward VII Memorial.
It stands on the corner, with behind it the buildings of Northampton General Hospital, the one time King Edward Hospital, and consists of an architectural structure in the beautiful local stone, with minor scrolling and some text, with a central bronze bust of Edward VII, and above it, a smaller-than lifesize group of St George and the Dragon.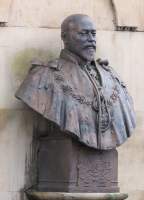 Bust of King Edward VII.
The bust first. The portrait of the King is easily recognisable, similar to other portraits, and is shown with beard, moustache, and closely cropped hair. He faces directly forward, and is shown with a bulky robe, spreading foreward and sideways, over which a great chain of office hangs, with a pendant showing a mounted St George riding over the dragon, this being half covered by a cord the King wears around his neck, which provides a element of variation in an otherwise symmetrical composition. Under the coat we see two medals, one behind the other. The size of the bust is large relative to the head, similar to a number of other busts by Frampton.
On the base of the bust is his coat of arms, in low relief, as shown on the reverse of coinage of the time, surrounded by a belt, and crossed sprigs of oak loosely tied with a ribbon.
There is another copy of this bust in Bolton Town Hall, on a rather different monument. They were both made in the year or so after Edward VII's death in 1910.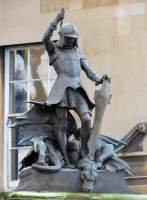 The statue of St George and the Dragon is a splendid example of New Sculpture, showing the warrior saint as a lithe, slender rather than muscular figure, wearing elegant and spiky plate armour and helm over a kilt, and tall armoured boots. His left arm rests on his shield, and his right arm is held aloft. Originally, he held a long, down pointed sword –almost his own height - by the blade, thus holding the hilt aloft as a crucifix. All that is left now is a stub, a bit like a small dagger.
The dragon, collapsed underneath his conqueror, lies with his head lying down over the base of the group, and St George stands astride his neck, so the body lies behind him, with a wing on either side, so that the effect is of equal bulk on either side, though the wing on the right hand side as we look at the monument has nothing underneath, while the wing on the left, raised up somewhat higher, has the scaly crocodilian body and tail underneath, and one exposed bony leg. (For more pictures of St George and the Dragon sculpture, see this page.)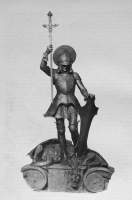 Frampton statue of St George with intact crucifix.
Like the bust of Edward VII, this group is not unique: Frampton's Maidstone War Memorial has an almost identical St George and the Dragon, with the same pose, but carrying a flag on a pole rather than a sword. He made another version, with the sword, but seemingly a different hilt, for Radley College War Memorial, resting on a different base taller and with scrolled sides akin to the top of an Ionic pillar. In London once stood in High Holborn the Pearl Assurance Memorial, with another variation of this figure by Frampton, with the hilt of the sword covered by a wreath to give a Celitc cross, and the dragon with less spiky wings. When the Pearl Assurance company moved its headquarters to Peterborough, apparently they took their war memorial with them, and after a later takeover by another company, the statue seems to have been lost.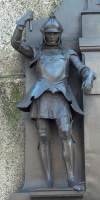 Statuette called 'Fortitude' by Frampton.
There is still in London one very small version of this figure. Frampton made a number of memorials consisting of a central part, with plaque or bust, with two miniature figures at the base, and on the Victoria Embankment is his monument to W. T. Stead, where the male figure, called Fortitude, is a small variation on the St George figure. He is without shield, and his right hand holds a small stick, much like the Northampton monument today, which may once have been something larger, though whether sword or cross or flag I cannot say.
We might mention that there is another memorial to Edward VII featured on these pages, which is the Edward VII Memorial Fountain, Whitechapel. And another one in Birmingham, on this page. And an amusing statue of him in London's Kingsway, pictured near the end of this page. And still in London, the national equestrian portrait of Edward VII on this page.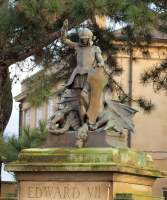 Northampton // Statues in English towns
George Frampton // Sculpture pages
Visits to this page from 19 Jan 2013: 6,627