Maidstone Queen Victoria statue, Kent - sculpture of the month for July 2017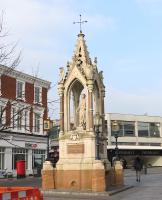 Queen Victoria fountain, Maidstone, by John Thomas.
In Maidstone, Kent, is a fine statue of Queen Victoria by the notable Victorian sculptor John Thomas. We are most used to Queen Victoria in her maturity, as a grand, solid figure of the Empress, sometimes standing, more usually seated, in voluminous robes. By contrast, the Maidstone statue depicts the young Queen, slender and upright, with a still girlish form, youthful face, and elegantly posed arms. She is crowned, and carries a sceptre in one hand, but otherwise could be an allegorical Classical figure, were it not for that familiar face.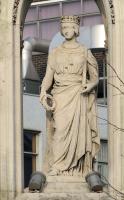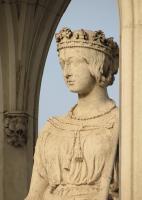 Views and detail of the statue of Victoria.
She wears a light shirt, like a Greek Chiton, a necklace of pearls resting on her exposed shoulders, and some stringy tie with tassels which serves to hold the top of her cloak, which splays out to the sides and adds a breath and dignity to the figure. Her arms are bare below short sleeves, and the hand not holding the sceptre carries a wreath. Below, her skirt consists of swirling, fairly heavy drapes down to her feet, with some thinner underskirt again taken from ancient Greek garb.
The figure is well composed to be viewed from all around, and the view from the left hand side is particularly graceful. The statue stands within a shrine-like surround, most Victorian Gothic, and this both adds to the gravitas of the work as a whole, and serves to protect the statue from the effects of weather and time. The tall, square base of reddish sandstone and white limestone serves as a drinking fountain, and has its corners four street lamps, to combine utility with beauty for the townsfolk. The Gothic arches above are generously proportioned so as to show the statue within to advantage and not obscure the view, and at the corners are thin granite pillars with carved capitals, and supporting small standing angels, long winged and elegant, though these have been damaged and worn. Finally, above rises the pointed, crocketed spire, with a cross at the top.
The whole is typical High Victorian in style, and a plaque at the base notes that the fountain was the gift of Alexander Randall to his native town in 1862, the best period.
John Thomas, the sculptor, was one of the most prolific and dependable Victorian sculptors, producing large volumes of consistently high quality statues, found on public monuments and civic buildings across the country.
Go back to sculpture of the month for June // Onward to August
Sculpture in some English towns // Sculpture pages
Visits to this page from 1 July 2017: 3,857