St Luke's Church, Berry Street, Liverpool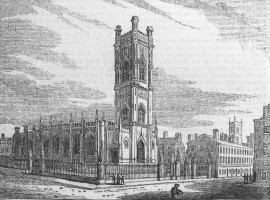 St Luke's Church, by John Foster.
'St Luke's is, in architectural character, entitled to prior rank among the churches of Liverpool, erected within the present [19th] century. It is a successful specimen of the Pointed or Pure Gothic style of the fourteenth century; and though not strictly of the Florid style, considerable enrichment has been introduced, both externally and internally.' - 1830s guidebook.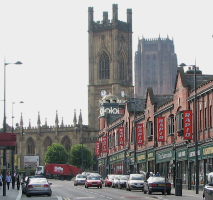 St Luke's Church, Liverpool Cathedral in the background.
Alas, St Luke's was bombed, and though the roofless ruin is preserved as a World War II memorial, the rich interior is gone, and the stained glass by Mr Lyon of Liverpool (bar a small pane in the Crypt, not open to the public), and there is no grand collection of carved monuments for those interested in such things to see. However, the walls survive intact, and the noble tower, so that externally it presents a fine appearance. The best views are from the north east, rather downhill, looking along Bold Street or Renshaw Street, where the tower and side of the church present a fine closing off of the street scene.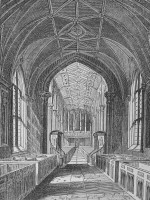 The richly carved interior and ceiling, now lost.
The building of St Luke's commenced in 1811, for the Corporation of Liverpool, to the designs of the architect John Foster, and completion and consecration took place a full two decades later in 1831, so that it was his son, also called John Foster, who supervised the latter part of the building work. There never were burials around the outside of the church, but there is a modern (1990s) Irish Famine memorial there. We are fortunate in that the exterior decorations of the church do survive, the 'projectile buttresses, surmounted by lofty pinnacles, with crockets and finials' of my 1830s guidebook. We show here a couple of the details from the church and the surrounding piers (posts) from the surrounding iron fence, to show the imaginative and delicate carving of the stone of this most excellent church.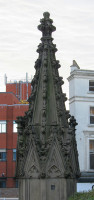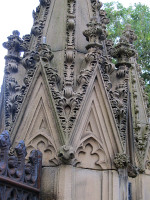 Gatepost and detail of carved decoration.
I have not been able to visit at a time when the interior is open. Pictures of the interior which I have seen suggest there were never that many monuments on the walls, but at least one does survive, to Henry Lawrence, of Lincoln's Inn in London, and members of his family. The monument consists of a stone tablet, with fluted Ionic side pilasters, and an open curved pediment containing a bulky shield at arms carved with the usual knight's helm on top bearing large feathers. At the bases of the pillars are further shields, creating a central space with room to record one further relative, above the shallow apron; it may be the monument was lengthened to incorporate this addition.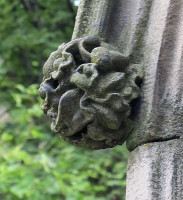 One of the corbels.
St John's Gardens // Liverpool's Queen Victoria Memorial // Other sculpture in Liverpool
Statues in English towns // Sculpture pages
Visits to this page from 1 Dec 2013: 4,361